Swedish supergroup ABBA announced their first new album 'Voyage' in four decades. The band has said they would stage a series of virtual concerts using digital avatars of themselves in East London next May, which has already begun construction.
The virtual stage show has been created by George Luca's special effects company using motion capture and other techniques with a team of hundreds of people. It has been almost 40 years since they decided to take a break and vowed they would never return.
In 2000 the foursome reportedly turned down an offer of $1bn for a 100-date tour. Bjorn said in 2009:
"We will never appear on stage again, we want people to remember us as as we were in our past selves, young, exuberant, full of energy and ambition."
The record-breaking Swedish pop icons are officially back together, however will appear in digital form for their show in London. The foursome has artificially rejuvenated themselves. They say the virtual versions of themselves are:
"Weird, wonderful and go beyond being simply holograms."
The avatars (or Abbatars as they have already been dubbed) will see the group at different stages of their career and will be joined on-stage with a 10-piece live band in the new arena.
Asked why Abba had chosen London to host their digital performance. Benny Andersson said:
"London is the best city to be in. When it comes to entertainment, theatre, musicals, concerts-it is all here. It has been here for years and years. There is a big audience traveling here for that reason. It was a no-brainer."
Bjorn Ulvaeus similarly agreed:
"We have always felt the Brits see us as their own."
Britain has a deep connection with ABBA. It was in Brighton, the southern resort town, where the band announced themselves to the music world in 1974, with the winning performance of 'Waterloo' at the Eurovision Song Contest.
The band have also revealed they will release their first studio album since the 1980s a follow-up to 1984's 'The Visitors' which had been the group's final album.
Benny and Bjorn revealed that the new album was recorded at the former's home studio in Stockholm will also include a new Christmas song.
Abba has already premiered two new tracks, 'I Still Have Faith in You' and 'Don't Shut Me Down' which will feature on the album. These tracks have held their momentum, with both songs being streamed over 500,000 times with 'Don't Shut me Down' being the most downloaded song so far.
In a letter to the fans, the group wrote:
"We simply call it 'Voyage' and we're truly sailing in uncharted waters. With the help of our younger selves, we travel into the future. It's not easy to explain but then it hasn't been done before."
For Benny, the most joyful thing about this project was being involved in creating the concert together with everyone and being back in the studio after 40 years.
"I think hearing Frida and Agnetha singing again is hard to beat."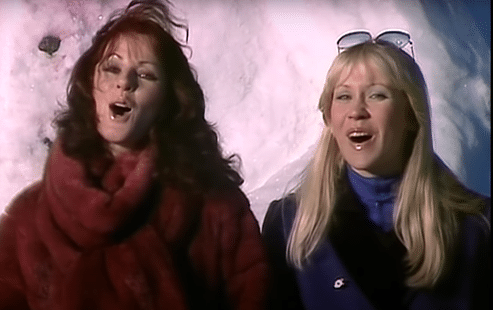 Elsewhere, some fans have noted the similarity between Abba's neon avatar images and the costumes used in the movie Tron: Legacy which was scored by Daft Punk.
One Twitter user wrote:
"Since Daft Punk is no more, we need an Abba- scored Tron film."
Another fan likened the avatar look to that of the Power Rangers. The band are the rangers we've all been waiting for to save us. They captioned the image of the band in their full-motion attire.
Many fans have flooded Twitter to share their love for the band's comeback after 40 years, the surrealness of hearing their voices in 2021. One fan wrote:
Another fan shared her excitement in purchasing the ticket for the band's show with a hilarious meme:
Abba's song catalog was already one of the most successful and brilliant of all pop music, with a total of 19 Top 10 hits. However, each member of the band gravitate towards one song from their discography:
Abba's boundless creativity and timeless melodies indeed make the fans eager to show their support in welcoming the band's innovative endeavors. Wayne McGregor the show's choreographer notes:
"At its heart we simply have new songs, classic songs… ABBA is DANCE and always will be. See you on the dancefloor."
Abba's music never fails to bring joy and happiness universally to fans. Check out ths article for the top health benefits of music.