Is anyone else still on a 90s hip hop/rap high from Sunday? From beginning to end the performance as a whole was spectacular. The 80s-90s babies got to throwback to the days when these songs were just hitting the airwaves (yes we had those back then) and the time in our lives that we were all going through. Such a different world it was back then. Eminem taking a knee for a full minute after his performance was not viewed as a bad thing to fans either, the NFL is a different story.
The NFL really thought telling Eminem not to kneel was really going to work? He's going to do whatever he's going to do. He's the rapper he is because he's pushed the boundaries and broken through them. Taking a knee isn't harming anyone or taking anything away from the performance. He sticks to what he believes and doesn't care who that pisses off.
It's Dre Day!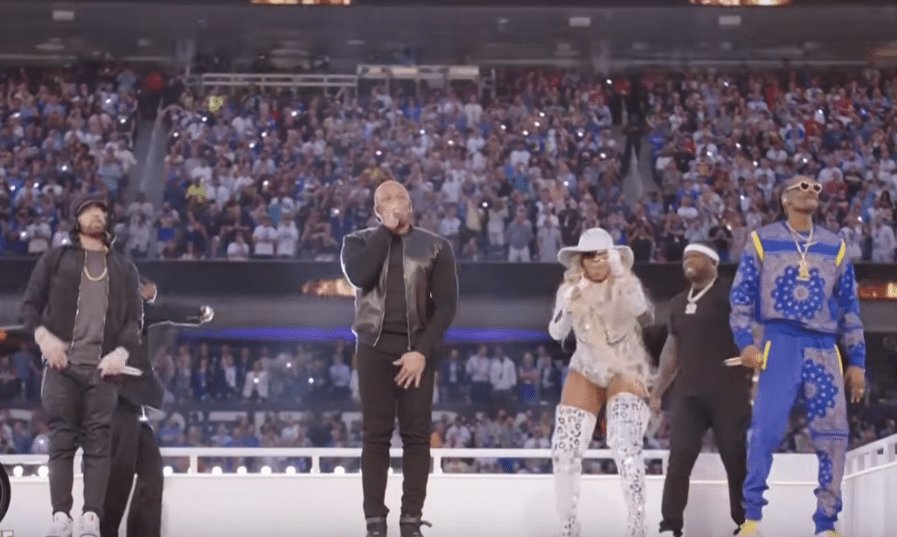 Eminem kneeling did not take away or even distract from the rest of the show. True Slim Shady fans know what he stands for and that he will always do what he believes is important to highlight and his voice will be heard. There's no stopping or changing who he is so it isn't a big surprise that there's no backlash from this. With people still buzzing from Sunday, many are asking/hoping that they will go on tour together for an, even more, epic performance. Will this ever happen? I hope so!
Throw it back to when this performance was announced.