In 2014, Kim Kardashian broke the internet. By far the most famous family to popularise the curvy trend, the Kardashian's recent return to slimmer frames has raised concerns for many. Is this the end of the curvy era?
Kim Kardashian: Break the Internet
Photographed shooting champagne onto a glass balanced on her backside, Kim Kardashian's iconic cover for Paper magazine in 2014 truly broke the internet. In a less tame appearance, she posed for the cover with a bare backside. At the time of the magazine's release, the star already had 25 million Twitter followers and was the third most prolific user on Instagram. Almost every household, and certainly every news outlet, knew her name.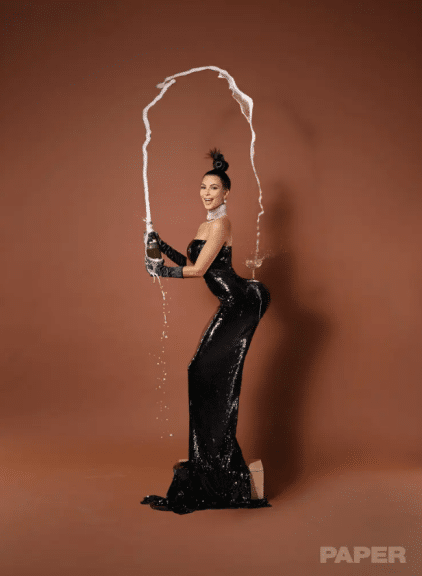 Tess Holliday for Cosmopolitan
Fast forward four years to Tess Holliday's appearance on the cover of Cosmopolitan. With many claiming the cover sparked recognition of the plus size body, Tess's size 24 body prompted others to love their bodies too. Speaking about her cover, Tess even claimed, 'if I saw a body like mine on this magazine when I was a young girl, it would have changed my life'. Twitter users seemed to agree, as their admiration came in abundance, and praised Cosmopolitan for representing women of different sizes. Cosmopolitan writer Laura Capon wrote, 'seeing a fat woman unapologetically make it, without changing herself, or losing weight, is a victory for us all'. The body positivity movement was in full swing.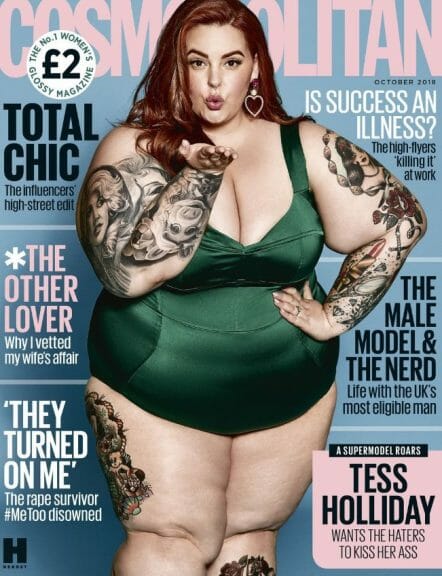 Return to Size 0?
Cut to the present day, and it seems the Kardashians, notably Kim and Khloe, are sporting much slimmer frames. It is rumored that the sisters have undergone stomach surgeries, BBL removals, and have noticeably lost weight. Kim's appearance at the Met Gala saw her undergo a crash diet to fit into Marilyn Monroe's iconic dress. Despite the internet's outrage, this seemed to mark the beginning of a new era.
TikTok user Aleksa Servian claims this is part of a bigger movement – fashion's return to a size 0. She notes that the Kardashians' popularisation of the Brazilian butt lift increased surgeries by 77% in 2014.
Aleksa claims,
'even though the BBL was unrealistic and out of reach for most people, it paved the way for a self-acceptance of natural curves'.
She worries that the nature of our capitalist society encourages bodies to flow in and out of fashion. Trend cycles are increasingly fast. Aleksa claims that now that BBLs have become attainable for most people, the ideal female body must shift to generate more profit.
A Dramatic Change
The slender physique of the 90s and 00s models seem to be coming back into fashion. Low-rise jeans are becoming popular again after dominating the fashion industry in the early 00s. The trend is worrying, and many users are concerned with Kim's dramatic weight loss. Many online find it 'scary' how much her body has changed over the years. Anonymous insider sources that recently spoke with the U.S. Sun found that the Kardashian family is 'worried' that Kim is losing too much weight. It has much to do with 'rebounding from a very controlling marriage' amidst her divorce from Kanye West.
Is Kim's slender frame and popularizing size 0 the next trend? The body-positive movement seems to be at stake. Though, the ever-expanding availability of plus-size fashion suggests curves are here to stay, even if they are being somewhat pushed from the spotlight. With bodies flowing in and out of trend like the seasons, it is hard to say what the consequence will be.