Actress Rita Wilson has dismissed reports suggesting that her husband, Tom Hanks, was involved in a heated altercation at the Cannes Film Festival during the red carpet event for their movie "Asteroid City."
Various media outlets had speculated on the nature of an image showing Wilson and Hanks talking to a festival staffer, interpreting it as an uncomfortable or tense moment, with claims that Hanks was pointing angrily.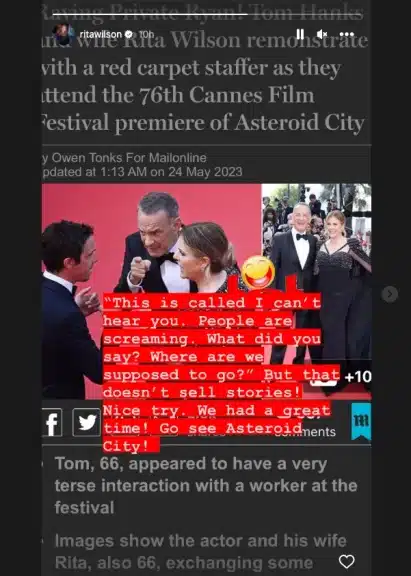 Wilson took to Instagram to mock these interpretations, providing context for the photo. She explained that the moment captured in the image was due to the chaotic nature of the event, with people screaming and asking questions, making it difficult to hear. She expressed her amusement at how the media tried to spin the situation, stating, "But that doesn't sell stories! Nice try." Wilson emphasized that they had a great time at the festival and encouraged people to watch their film, "Asteroid City."
In the movie, directed by Wes Anderson, Wilson and Hanks share the screen with an ensemble cast including Scarlett Johansson, Tilda Swinton, Jeffrey Wright, Jason Schwartzman, Steve Carell, Bryan Cranston, Adrien Brody, and Margot Robbie.