When it comes to men's fashion, you can't underestimate the power of a well-fitted pair of pants. The right pants can elevate your style and create classy looks for any occasion.
This article will explore men's pants, each designed to suit different events and situations. From classic dress pants to versatile jeans, let's dive into the world of men's pants.
Pants For Formal Occasions:
Dress Pants
Dress pants are a timeless stalwart of men's fashion. Designed with a tailored fit, they exude sophistication and elegance. High-quality fabrics like wool will drive the price but make for a polished look.
Choose versatile colors like grey, navy, charcoal, or black, and consider details like pleats or flat-front designs. Also popular at the moment, a checked or tartan pattern can really catch the eye.
Dress pants are perfect for weddings, business meetings, and any formal event that demands a refined appearance.
Tuxedo Pants
When it comes to black-tie affairs and parties, tuxedo pants are the epitome of style. These pants feature a satin stripe down the sides, adding a touch of luxury. This pairs exquisitely with a tuxedo jacket and a crisp dress shirt, for a complete ensemble that exudes class and sophistication.
Tuxedo pants are a must-have for those special occasions that require an impeccable black-tie look.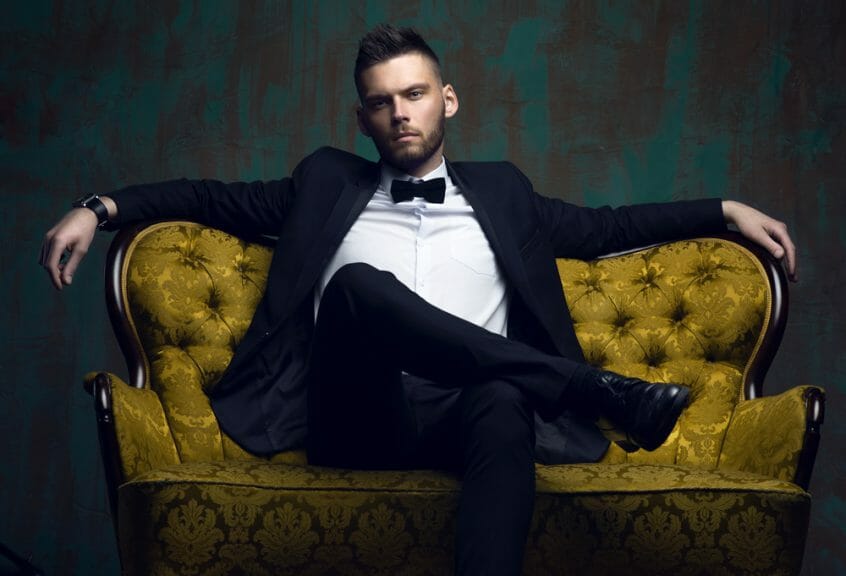 Everyday Pants:
Chinos
Chinos are the pinnacle of versatility and comfort.
These lightweight cotton pants strike the perfect balance between formal and casual. Coming in a range of colors that allow you to express your personal style, you can pair them with a button-down shirt for a smart-casual look, or throw on a t-shirt for a laid-back vibe.
Chinos are ideal for casual occasions, workplace settings, and everything in between.
Jeans
No list of men's pants would be complete without mentioning jeans. They have become a universal fashion staple loved by men around the world.
No matter your style, no wardrobe is complete without a pair of denims. From slim to relaxed-fit, and various washes from light to dark, jeans offer endless possibilities for creating stylish outfits.
They pair effortlessly with a blazer and a button-down shirt for a smart-casual look, or try a casual vibe with a t-shirt and sneakers. Jeans are ideal for almost any situation, including everyday wear, weekend plans, and informal gatherings.
Current Trends
Cargo Pants
Cargos are all the rage at the moment for those seeking a rugged and utilitarian appeal.
With their multiple pockets and durable fabric, cargo pants blend functionality and style. They are perfect for outdoor adventures, streetwear-inspired looks, and casual outings. Pair them with a simple t-shirt, utility-inspired jacket, and beanie for an effortlessly cool ensemble.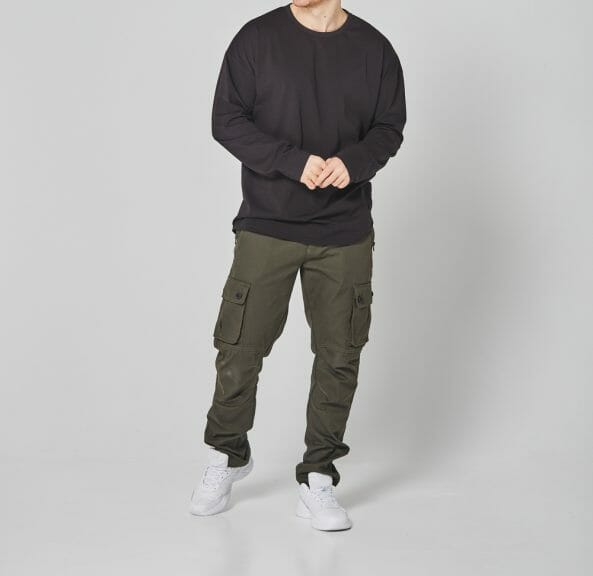 Joggers
Joggers have taken the fashion world by storm with their comfortable and stylish design.
They often feature a tapered leg and elasticated waist, offering a modern, athletic-inspired look. However, many baggy styles of joggers have become extremely popular also.
When worn with a hoodie or a casual t-shirt they make for a relaxed and trendy outfit. Joggers are ideal for lounging, exercising, or running errands.
These are just a few of the many types of pants that can enhance your style and increase your confidence.
Embrace the variety and versatility of different men's pants to elevate your wardrobe and showcase your unique fashion sense. With an array of options at your disposal, stylish looks await you at every turn.
So, start to explore the world of men's pants and step up your style game today!