As the technological industry makes advances, other industries, like the fashion industry, follow. While technology plays a major role in the advancement of fashion, the minds of the designers showcase the possibilities of fashion.
Recently, brands fully based on AI have been launching and transforming how the fashion industry runs and the limits of what people see as fashion. AI and technology have been making fashion more accessible and immersive to shoppers and designers.
Macy's Digital Fashion Platform
On October 18th, Macy's launched their new digital engagement platform called mstylelab. Mstylelab is an immersive fashion experience where style transcends reality. Through this, the major department store chain is combines and blends the physical and digital realms of fashion. The platform takes users into the metaverse, where they go on a journey down 34th Street. There, users can personalize and claim their own digital fabric that represents their community identity.
The metaverse showcases Macy's latest brand, The 34th, in a virtual New York City street setting created by the metaverse technology platform Journee. The platform aims to attract new audiences to Macy's by creating an immersive shopping experience where a user can personalize their own experience.
When a user enters the metaverse, they can collect their first star and then head through the Macy's portal to start the journey. From there, the user will then be on 34th Street, which includes digital designs from their collection. Users can collect more stars by moving their character onto a billowing red platform. Moving onto the platform also launches the character up to view the digital designs. From there, they have the option to shop the clothes from each design.
The Metaverse Mstylelab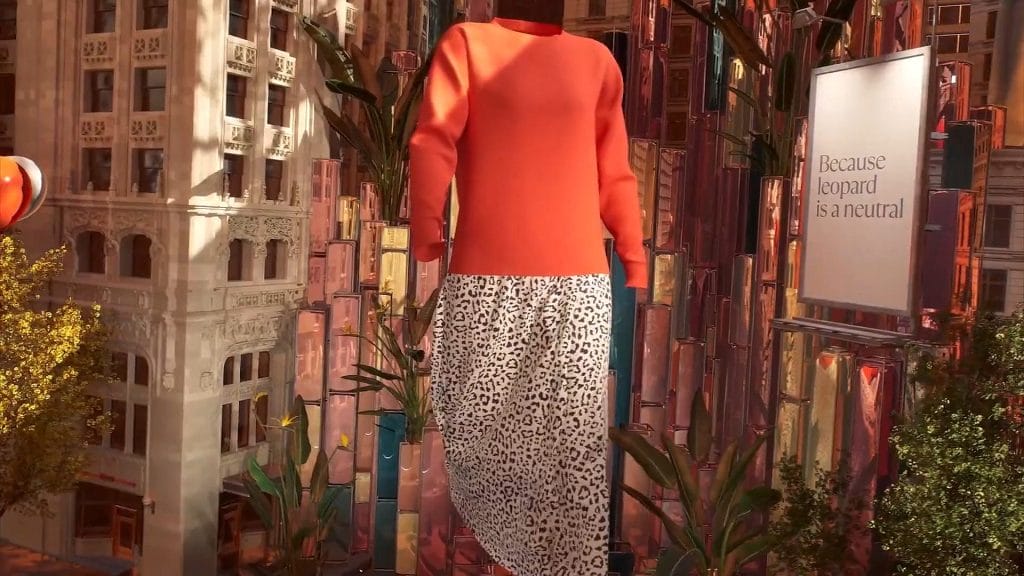 The first look consists of a checked car coat, a collard V-neck sweater, and ponté kick-flare ankle pants. Next, the second look includes a three-button classic cardigan and a sequin pleated midi skirt. The third look is made up of a polka dot trench coat, a crewneck sweater, and high-rise wide-leg jeans. The fourth look consists of a women's crewneck sweater and a print slip skirt. The final outfit includes a suede moto jacket, a ribbed long-sleeve Henley top, and high-rise straight-leg jeans.
On 34th Street, there is a total of five different designs a user can look at before they can take the escalator at the end of the street to the next level. The escalator takes users to the 34th Street Brand Shop, where users can take a closer look at each of the designs. The 34th collection itself includes a wide range of clothing made for and with women of all types.
The goal for this project is to drive innovation in the fashion retail industry while creating a community of self-expression and discovery. Macy's also hopes to lead a conversion of fashion and technology as they move forward with this project. Future plans include new immersive experiences and various partnerships, for example avatar try on and additional immersive spaces. To experience Macy's metaverse of technology and fashion, click here.
Adobe's Digital Dress
Project Primrose is Adobe's latest project of a fully interactive digital dress that changes within a second by the push of a button. The research scientists behind the dress wanted to model high-tech couture by showcasing its endless possibilities. Adobe presented their dress at their creativity conference, Adobe Max, as researcher Christine Dierk adorns the strapless sequin dress.
The dress is woven with sequins that are also reflective light diffuser modules which use liquid crystals. The sequins resemble miniature screens that display various patterns and content. Although, the content available has a limit of those created by Adobe software, including Adobe Firefly, Adobe After Effects, Adobe Stock, and Adobe Illustrator.
To control the dress, a user can use the handheld button to change the pattern shown on the dress. Within an instant, a plain dress transforms as patterns dance along the sequins, revealing a new design. In addition, the dress also includes sensors within the material that allows the pattern to change on its own.
Project Primrose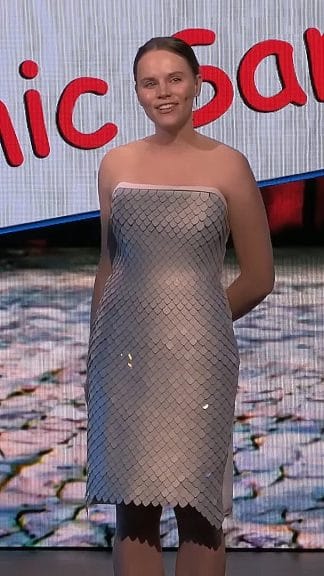 The dress can also be animated, as it can reflect any moving pattern and will also respond to movement. Although, during the demonstration, the feature where it was supposed to respond to movement did not work at first and appeared glitchy. In addition, the plates only cover the front half of the dress, leaving the back a plain cream fabric.
The plates of the dress can also be made in different shapes, but many believe that the plates would not be comfortable to wear. Many also suggest that the plates make the dress heavy and uncomfortable to wear for consecutive hours. Due to the fact that the dress consists of technology, washing and cleaning the dress does not seem possible.
The material of the dress includes flexible, non-emissive textiles that create static and everchanging designs. The scientists also plan to use the same materials and technology in the dress for other things like furniture and other types of clothing. Project primrose is the start of a future of interactive and dynamic fashion with various means of expression.
Artificial Intelligence
Withing the past few years, brands and shops have been opening while solely running on AI generated designs. While that may sound complex, most of them run in a similar fashion. AI has also been useful in other areas of the fashion industry, including marketing, trend predicting, inventory optimizing, and predicting product demands. Other forms of technology, like the metaverse, digital IDs, and virtually reality have also become prevalent in the fashion industry.
One way brands use AI is to enhance how they can collect data in regard to their products and audience demographics. With this data, they can customize their products for their individual customers. Another prevalent use is brands will frequently create or generate ideas and products based on customer preferences. This helps boost the brands likeability within their target audience.
Often times, mainly with AI focused brands, companies will use AI to generate designs from start to finish. A design can start with a simple word or phrase that an AI system can take into consideration when creating products. From mood boards to highly detailed designs, AI has been incredibly useful in the design making process.
Marketing is one of the most prevalent uses of AI in the fashion industry, as it can track insights and create personalized marketing campaigns. Since AI can predict trends, it can take that information and improve the targeted marketing for optimal exposure and results. Overall, AI is bringing the fashion industry to a new level of innovation and immersive customer-centered shopping.
AI Advancement in the Future
Currently, AI is already transforming what we know now as it can predict trends, create marketing strategies, optimize customer experience, and even create designs. AI could easily take over most aspects of the fashion industry, including the aspects of physically shopping. AI can create an immersive shopping experience that caters to the customer themselves, both in person and online.
With AI, designers, brands, and stores can use virtual try on to not only help their customers, but also connect with them. Virtual try on can help shoppers feel welcomed, as they can have an immersive feel for what they are buying. This can also help brands cater to their customers' needs based on their personal preferences. Another improvement is that this can also remove the hassle and stress of returning clothing that does not fit.
One of the most controversial topics when it comes to AI and technology is its role in taking over jobs. AI and technology could improve customer experience as it can optimize customer service. Although, the problem with this is that it will take away jobs from a majority of workers. Another problem that arises is how impersonal Ai and technological interactions are. While it could create a good shopping environment, it takes away human interaction in one of its most basic forms. As social creatures, this could heavily impact the mental and social aspects of our lives.
It is hard to exactly tell where the direction of AI and technology will take us, but with current advancements, the possibilities are not so far away as we may think. To read more about technology and the metaverse, click here.