The current cost of living crisis (also known as 'cossy livs', because nothing with a nickname can be too scary) has left people struggling to cover necessities such as food and heating. Shopping for luxury clothing items is simply out of the question for most.
So, how are 'GANNI Girls' posting hauls upwards of £500 on TikTok? And, more importantly, how are brands with such high price tags still thriving when the majority of us are barely surviving?
The Cossy Livs Isn't For GANNI Girls
In a recent TikTok, @ellsatthedisco commented on the discrepancies to be found on social media at the moment. On one hand, we have influencers overjoyed at the prospect of buying several new coats this autumn. On the other, those who are praying that thumb holes come back into fashion so they can keep sporting their trusty worn-out waterproof.
'I have not replaced my concealer in over a year, it's so f****** crusty it's like dragging a piece of burnt toast under my eyebags.'

@ellsatthedisco, TikTok
Though lacking in concealer, this TikTok is filled to the brim with comments. Many of these highlight public frustrations with the wider culture of fashion influencing. One user, @nuggett7119, states: 'I just saw one* in a long GANNI green/yellow cardigan, I looked it up, and it's £395, and I have no heating'. Another commenter, @bohonono1987, explains: 'I've started calling them "Shopping Influencers," and it's put into perspective about what the point of them actually is.'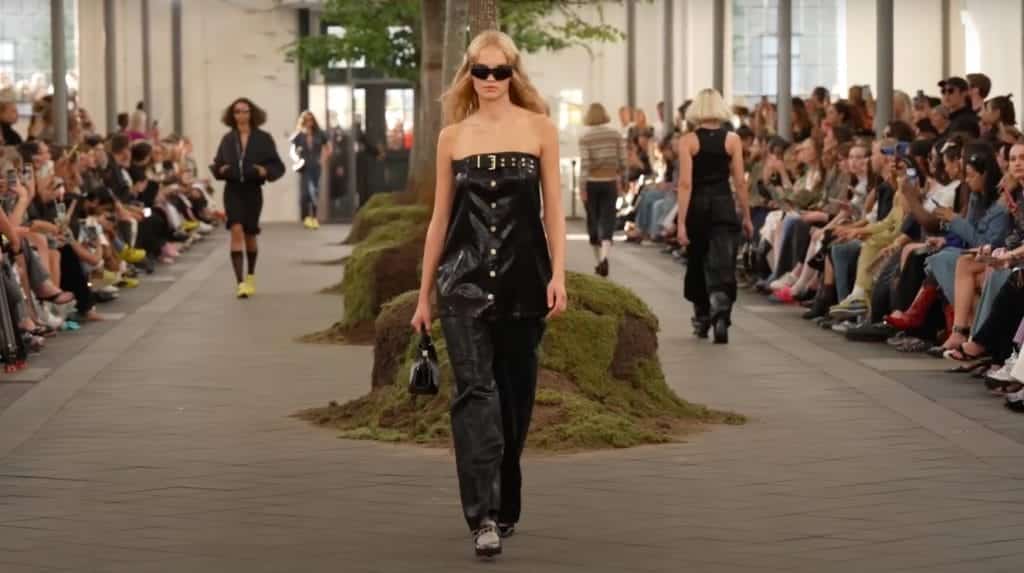 Transcend The Trend
It's no secret that fast fashion has had a negative impact on consumer culture for several years now. However, unlike brands that use exploitative practices that harm the climate and community alike, GANNI has made a pledge of sustainability. The brand's tagline is: 'Clothing that transcends trends – Secure forever clothing'. In stating this, GANNI provides a stark contrast to the ever-changing trend cycles that have defined modern fashion for so long.
In January 2023, 'The Drum' reported that designer brands are declining in popularity due to the cost of living crisis. However, there are two types of brands that have seen a recent increase in sales. Low-cost, fast-fashion brands (think Primark) and brands that promote sustainability and longevity of wear. With its commitment to ethical production, GANNI fits into the latter of these two categories.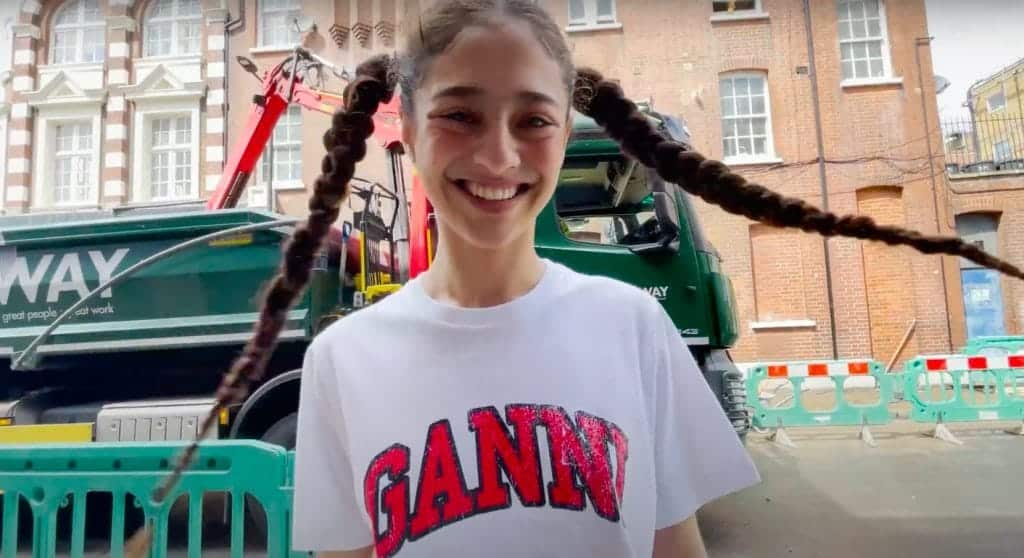 Not only does the brand release an annual accountability report, it also ensures that 50% or more of its fabric composition is certified recycled, lower-impact, or organic. Moreover, GANNI recently launched re-sale options such as a peer-to-peer marketplace. Not only do they retain accountability for their own practices, but they also encourage responsible consumption. The GANNI website incorporates tips on how to wash, dry, and store your clothes to promote longevity of wear.
Conversations With Friends
This means that GANNI has not only risen but remained in popularity. Through conversations with students at Oxford and University College London, Trill Magazine gauged a sense of ethical consciousness that defines the Gen-Z consumer market.
Rebekah Wright, Investigations Editor at UCL's The Cheese Grater magazine, discussed how she tries to consume 'slowly and sustainably', despite influencer culture normalizing 'the idea that it is normal to buy a whole new wardrobe every season which obviously it's not.'
This idea of conscious consumption is exactly what GANNI intends to promote. Ayaka Hogg, a student at Oxford and editor of The Oxford Scientist, notes how GANNI 'happens to be very aligned with the current trend cycle, or they're just very good at adapting the brand quickly to fit with it.'
The GANNI Girl Haul
Previously, we've seen TikTok feed into fast-paced trend cycles, consisting mostly of cheap, poorly made garments from exploitative companies. However, as we've seen, GANNI certainly does not market itself as low-budget or commercial. GANNI's mission statements hold them to climate accountability. Moreover, they intend their pieces (though expensive) to be long-lasting wardrobe staples. For these reasons, GANNI's popularity marks a change in fashion consumerism.
Ultimately, purchasing from GANNI isn't feasible for most. It can be incredibly disheartening when a brand that is so drastically out of budget for you seems to be everywhere on social media. However, 'GANNI girl' hauls costing up to £1000 are far from realistic. Nor (I don't think) does the brand fuel this over-consumption, as GANNI prides itself on ethical awareness:
'We don't identify as a sustainable brand, because at its core fashion thrives on newness and consumption, which is a major contradiction to the concept of sustainability. […] We're not perfect but committed to making better choices every day, minimising our social and environmental impact across the entire business.'

GANNI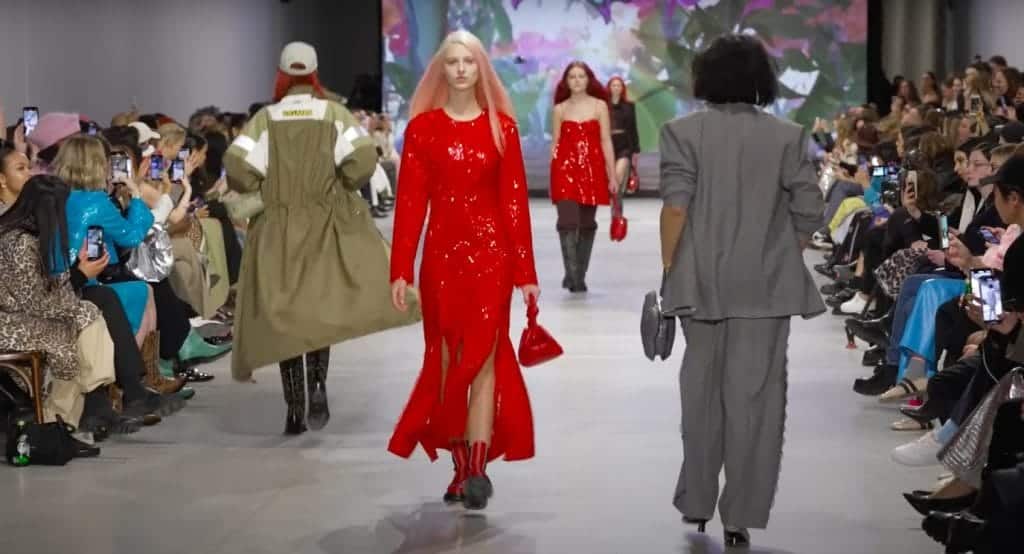 If you type 'GANNI Haul' into TikTok, you'll find that its influence keeps alive this excessive consumerism. These individuals are either fortunate enough to focus their disposable income solely on clothes or brands send them items free of charge. Yet, although it's not perfect, this move away from poorly produced, incredibly cheap clothing is an improvement.
The fact that GANNI is trending alongside major high-street brands is indicative of a movement towards slower fashion. The perpetuation of the 'GANNI Girl' aesthetic could result in pressure to buy into microtrends and infringe upon an individual's personal style. However, there is a strong drive towards second-hand fashion and conscious consumption. So, hopefully, we're set to see improvements throughout the fashion industry as a whole.
*This is in reference to a fashion influencer, they are clearly a rare and endangered breed