Let's face it; jeans shopping is one of the more difficult tasks in life.
There are a million things to consider: waist size, leg length, color, shape, fit, and of course, checking how deep the pockets are. And at the end, each body type has no concrete option: 'Go with what feels most comfortable,' they say.
But with millions of options to choose from, it can feel daunting to go out and search for the next 'perfect fit.' But, after researching all shapes and styles of jeans, here are the best jeans for your body type.
Figuring Out Your Body Type
Everybody is unique, but each woman's body often falls under five basic silhouettes: Triangle, Inverted Triangle, Circle, Rectangle, and Hourglass.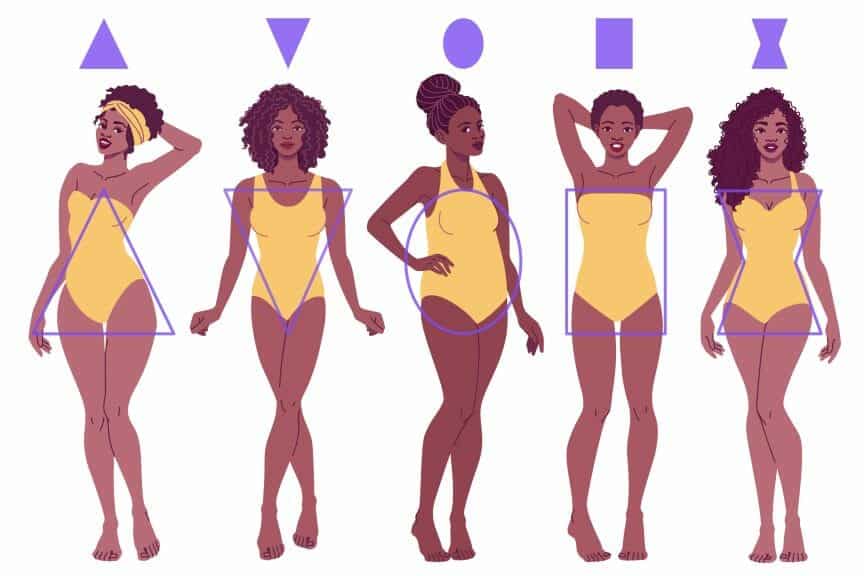 Learning about which body type you have makes it easier to differentiate between what suits you and your shape and what to avoid when shopping for clothes.
For example, an hourglass figure has a prominent waistline and hips. Therefore, you would wear something tight and formfitting to accentuate these parts. But baggy jeans would work better if you wanted to hide these body parts.
It's up to the individual decision, but learning to accentuate your best features will always provide the best look.
Below is a list of different body types and how best to dress according to them.
Petite Body Types
With short legs, the aim of wearing jeans is often to elongate the legs but still maintain the petite shape of areas such as the waist and stomach. Therefore, one of the best options for petite bodies would be more formfitting jeans- such as skinny jeans or straight-leg cuts.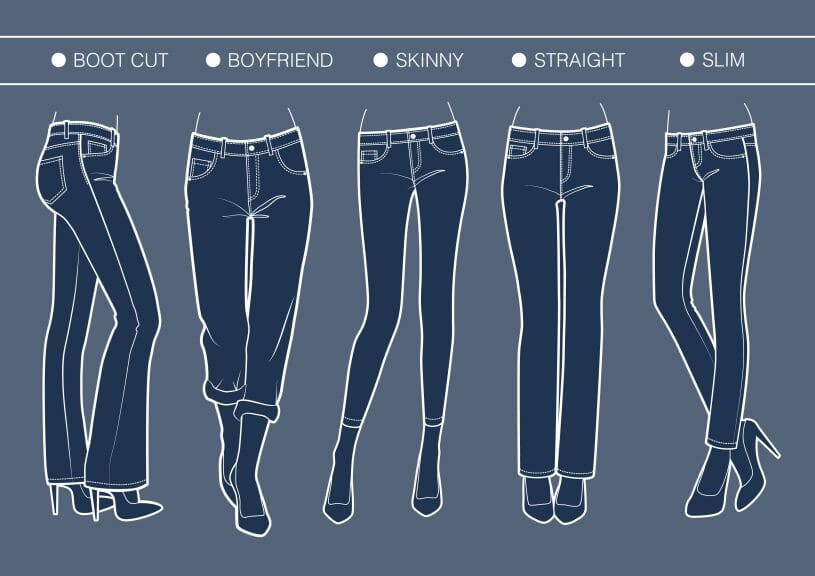 The skinny jean will elongate the body by hugging the curves and creating an illusion of long slim legs. Furthermore, a cut-off on the ankle will show some skin at the bottom of the leg, adding to the illusion of a taller body.
Wearing heeled shoes will also lengthen the legs and create a taller figure to accentuate height further. This can also be done by ensuring the jeans have a higher waistline.
Tall Body Types
For those lucky enough to be blessed with long, model-like legs, jean shopping is still just as difficult. Options such as ankle grazers, cropped, or mom style may not always work, as the length to cover the leg needs to be extended. Otherwise, the proportion of the body could be completely thrown off.
This is where flared jeans, or bell bottoms come in handy. Known for accentuating long legs, the flare at the bottom will compliment the long legs but also hug the body across the waist and thighs. This will create more of an hourglass silhouette and balance out the proportions of the body nicely.
Flared trousers are also trendy and can be dressed up or down, so these jeans can double as casual and formal clothing.
Hourglass Body Shape
The best fit for bodies with a bit more curve would be trousers that hug the waist and hips. For this, there are many options.
Skinny jeans will work well, as they are cut off above the ankle to provide balance and hug the curves on the hips, waist, and thighs. The continuity of the formfitting style will also give elongation to make the legs look longer and slimmer.
Wide-leg jeans are also an excellent option for an hourglass figure, as they provide a tight fit around the hips and waist but give a more relaxed fit towards the ankles. Wide-leg jeans create a balance between the shoulders, hips, and ankles, making a streamlined, slimming effect.
Rectangle Shape Body
A rectangle shape is opposite to an hourglass, where there is usually no defined waistline. Therefore, the intention of styling rectangle-shaped bodies would be to create more silhouettes. Like most jeans, defining the waist is essential, which can be done using middle to high-rise jeans, especially with belts.
Also, searching for jeans with more oversized pockets that will shape the bum is a good option for rectangle-shaped bodies.
For silhouette creation, jeans which have a flare will create the illusion of curve, and add more shape to the body.