Michigan's National Cherry Festival very nearly turned disastrous when a swinging pendulum-style ride with people aboard threatened to tip over.
According to local news outlet WPBN, the amusement park attraction is known as The Magic Carpet Ride.
As pictured above, riders are seated on a pendulum that swings back and forth, continuing to gain height until the arm makes a complete 360-degree turn.
The cause of the incident at the Cherry Festival is not yet clear but the ride appears to come precariously loose from its unstable foundation until both passengers and bystanders are in grave danger.
Following the example of one brave fairgoer, many others rushed to use their bodies as counterweights by climbing on the ride's unsteady base.
Eventually, likely thanks to those who put themselves in harm's way to secure the malfunctioning machine, everyone made it off the ride safely.
The festival's executive director, Kat Paye issued a statement on Friday:
The magic carpet ride that malfunctioned last night was removed and is in route to its manufacturer to be inspected. Inspections of the rides happen daily and written reports are filled out and completed on each ride every morning prior to operation

I have spoken with representatives of Arnold's Amusements after the incident last night and again this morning. I am grateful for the quick response of staff and community members and very thankful that there were no injuries.
Some have questioned why the operator didn't immediately shut down the ride but unfortunately, the emergency stop was clearly unable to fight momentum.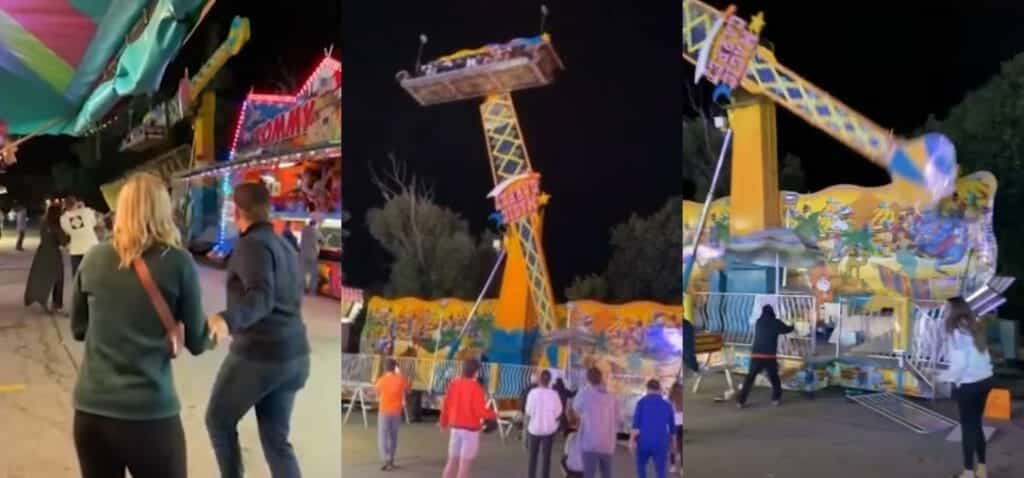 After a motor gives it an initial push, the ride will continue on its own unless it is stopped by an outside force. The operator likely did hit the E-Stop but momentum kept the ride swinging even as it nearly toppled over.
Damn you, inertia!
Read more: Cruise Ship Will Have World's First Roller Coaster at Sea