Images Via
Everyone's probably experienced one instance of road rage, whether happening to see someone else's frustration whilst driving, or experiencing it themselves. However, you might not have seen a road rage incident this intense before.
CCTV footage released by the Greater Manchester Police show lorry drivers and the driver of a pick-up truck talking to each other in a relatively civil manner at the beginning of the video – but that's where it starts to go sour.
The pick-up truck driver begins to get angry for reasons unknown after apparently exchanging numbers, and tackles one of the lorry drivers for something in his hand (either his phone or wallet).
That's not all, though. This guy is so mad that he jumps up the front of the truck and tries to break the mirror, and when that isn't enough – GET THIS – brings a shovel and smashes the driver's window out.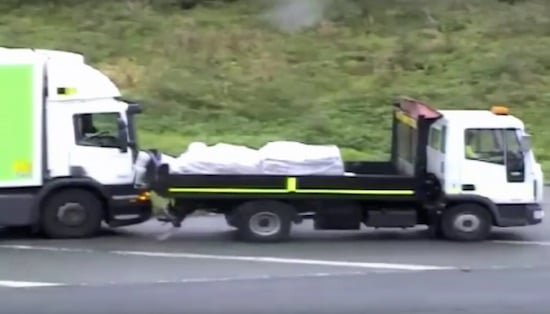 Who's brave enough for a customer service review?
As the British are the most inventive with their curse words, check out this compilation of insults from British drivers if you want to learn some for yourself. This one will NOT disappoint.