TikTok has a wealth of beauty-related content, from makeup tutorials and hacks to trending new looks and styles. But a new, darker type of beauty content is gathering popularity: mortician-Tok. Morticians show how they prepare the deceased for burial or cremation, which includes washing the body as well as applying makeup and even styling hair. The hashtag #mortician has amassed 286.5 million views and counting as morticians take to the app to share how they prep bodies, mix makeup and dress bodies for burials.
Some of the stars of mortician-Tok have become influencers in their own right, such as @mortuarytech, Eileen Hollis (@hollisfuneralhome ), and mortuary science student Mimi (@mimithemortician). They often answer questions posed in their livestreams and comment sections, most of which are concerning what makeup is used on bodies. Their content provides answers to TikTok users' morbid curiosity surrounding the taboo subject of what work goes into preparing a body and ensuring the person looks their best for the grave.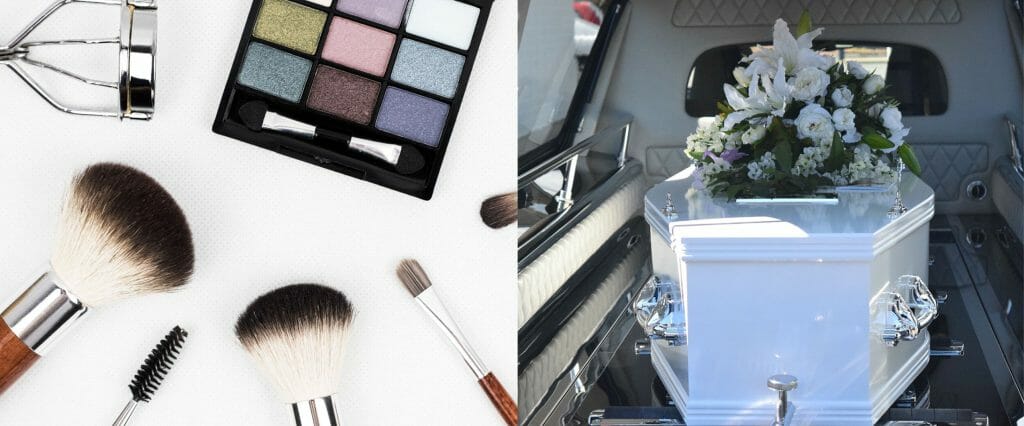 Eileen Hollis's most popular video, which parodies the #GRWM trend ('get ready with me', a popular TikTok series) shows her mixing makeup pigment with Vaseline to make skin tint for a dead person. Other videos on her account explain how she uses a combination of specially formulated mortuary cosmetics (such as The Dodge Company and LolaSe7en Mortuary Cosmetics) and well-known brands. Often time, the family of the deceased will provide the person's personal makeup bag, which ensures the skin tone and lip color are correct.
A great deal of time and care is put into getting the makeup correct on bodies. As skin changes occur during death, such as discoloration, color correction products are used to neutralize these skin tone changes. Other times, restorative art skills and full coverage are needed, where specially formulated mortuary cosmetics are used, which are thicker and melt more easily into the skin, allowing the makeup to blend. However, the makeup brushes and blenders morticians use are the exact same kinds you'd find in anyone's makeup bag.
How Do Morticians' Decide How To Do A Person's Makeup?
In terms of how morticians know how to do the specific deceased person's makeup, they often ask the family. Eileen, in an interview with Refinery29, mentioned how she asks the family for multiple pictures and tries to get as much information as possible on how the deceased individual dressed, did their makeup, and styled their hair. However, some people make pre-arrangements, planning their funeral outfit, makeup, and hair in advance. Eileen recounted how one client had set aside her whole funeral outfit, makeup bag, and favorite slippers for her funeral day.
In the end, it's the mortician's job to ensure a body is ready for burial and cremation, however, they also hold the responsibility of presenting the person in a dignified way. Makeup, hairstyle, and clothing are all vital parts of an individual's identity, therefore presenting them in their signature look for their funeral restores their humanity and dignity. The morticians of TikTok have opened the eyes of many people to how much care, consideration, and skill goes into their job. Although it may seem morbid and macabre to apply makeup on a dead person and dress them up, really it helps keep their dignity even in death.