A Medical student took to TikTok to explain some of the creepy reasons why he does not show MRI scans of babies to their mothers.
This TikTok doctor, who goes by the handle @madmedicine, says he'll only reveal the scans if parents really want to see them – but warns them that they will probably regret it once they've seen.
In a recent video from his channel, he explains that babies look very weird when they are in the womb and this can frighten the parents.
And when we say weird, we mean really really weird.
In the clip, the young medic says: "The creepiest and funniest thing I've ever seen in medicine are MRIs of babies during pregnancy."
Standing in front of an MRI scan, he continues: "The image behind me is an MRI of a baby during pregnancy, and, yeah…"
The medic then moves out of the way to reveal the image of a tiny head with a pair of big bulging eyes. The baby's face appears in the MRI image as having a striking resemblance to a villainous cartoon zombie creature.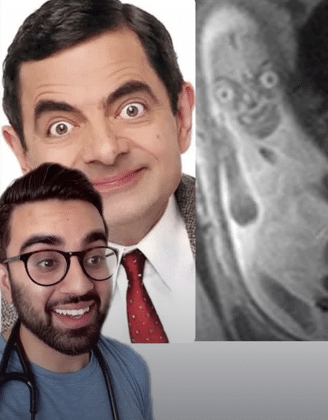 In a following video, he replies to a question from a following wondering if he would show the images to an expecting mother.
Unsurprisingly, he states: "First of all, I don't know how I would explain this to an expecting mother, like 'Hey this is the thing growing inside of you. This is pretty creepy."
"Second of all, I doubt any expecting mother wants to know her child looks like this."
Since the video was posted, it has been viewed over 1.7 million times, with the doctor's followers being suitably freaked out.
One follower commented: "This is Insidious 4, right?"
Another joked: "The second MRI looks like Mr. Bean."
So, to all expecting parents: maybe don't ask to see your baby's MRI scan.