A Disneyland Paris employee has received the full wrath of the internet after a video of him ruining a proposal was posted on Reddit & went viral.
Proposals are a tricky thing to ace – not that I have any experience in planning one. There's so much to think about; the place, the time, the atmosphere – the reply once you take an arrow to the knee. 
If everything goes to plan (and sometimes, even more so when it doesn't!) you end up with a beautiful memory to look back fondly on. 
When our friend – who has taken on the name 'Ante' for anonymity reasons – decided to pop the question outside of Cinderella's Castle is Disneyland Paris, he wasn't expecting to be 'escorted' off the stage with his fiance (congrats guys!) following behind. 
I'm sure he certainly wasn't expecting a Disneyland Staff member to physically snatch up the ring either. 
In a video that has been shared around the net & viewed millions of times across all platforms of social media, as Ante takes to his knee and opens the box, in a moment that should have been perfect happiness for the newly engaged couple, the Disney employee swoops in between the two, snatching up the ring and gesturing for them to vacate the stage.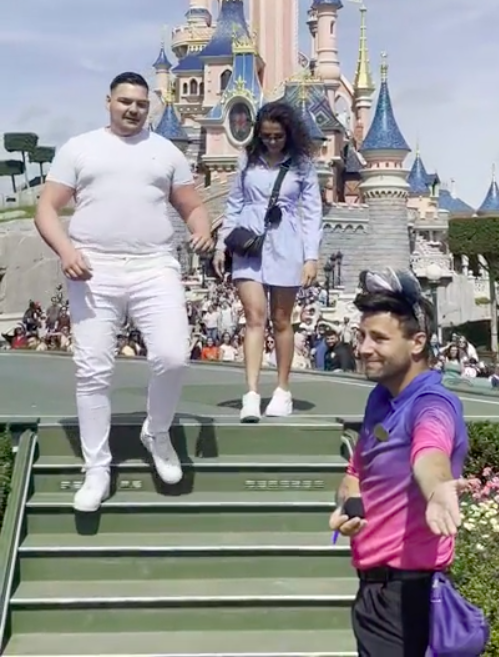 The internet was not happy at all, with many throwing criticism at the Disney staff member for being, well, a bit of a douche, really. 
The boos heard in the video at his expense pretty much summarise the general opinion of internet-goers too. 
Disney has publicly criticized the actions of the staff member, announcing that they would be taking actions to 'make it right' in a public apology to the couple:
"We have offered our sincere apologies to the couple concerned and we will do everything we can to make this up to them."

Disney
Ante has confirmed that they have offered the couple a free weekend in a Disneyland park and hotel of their choice, but that he has declined the offer, stating that "I don't want to visit Disneyland anymore. They can't give us the moment back and that's the only thing I want – to get a second chance."
Take a look at the video for yourself below:
This takes the cake.. (Ring🤔) A Disney employee snatches a ring mid proposal from weddingshaming
Read More: [Watch] Disney's First Glimpse At The New Pinnochio Remake