Currently, a rottweiler named Mater is the only K-9 unit being tested using Command Sight, a set of augmented reality goggles. Command Sight might be able to teach combat dogs in the military and police force how to receive orders at a distance.
Command Sight, Inc. is a Washington based company founded by Dr. A.J. (Alan Robert Jr.) Peper in 2017. It is regarded as the first "Animal-Wearable First Person View System" complete with "a head fitting designed to fit the head of an animal, and an output subsystem coupled to or integral with the head fitting and configured to output a signal to the animal."
By using these AR goggles, the U.S. military plans to teach the combat K-9's how to follow directional commands while soldiers are not in their direct line of sight. This offers more protection for their human handlers in dangerous situations.
Command dogs are taught from an early age how to detect explosives, drugs, and other hazards by smell. Their handlers teach them through numerous commands and instructions on how to do this, and their presence is often required to be nearby. Whether they use laser pointers or hand signals, the handler's proximity is necessary.
According to Justin Bronk, a researcher at the Royal United Services Institute (Rusi) defense think tank, "An ability to direct dogs with visual cues through augmented reality goggles without having to maintain close physical proximity has obvious tactical benefits in a variety of situations."
During the testing phase the handler can see on a video screen through a remote feed exactly what the dog sees: the dogs are trained to see a visual indicator, and follow it to a specific spot. This gives the handler an intimate look into visuals that reflect exactly what the dog sees.
Unfortunately, this technology is not available commercially, meaning the public will have to wait sometime before we can see through our beloved furry friend's eyes.
Dr. A.J. Peper, also Mater's owner, has commented on the test run: "His ability to generalize from other training to work through the AR goggles has been incredible. We still have a way to go from a basic science and development perspective before it will be ready for the wear and tear our military dogs will place on the units."
Though the technology is in its early stage of development, Dr. Peper claims that the results so far are "extremely promising."
Some people believe it to be an incredible expense, like Justin Bronk, but it has the potential to be useful. AR goggles are not a new technology in the U.S. military. Nevertheless, it is questionable at this time how all dogs might respond to the dog goggles, as they will be primed and fit for each individual dog. Only more research will tell. One recurring struggle is the fact that the goggles aren't wireless, limiting the mobility of Mater.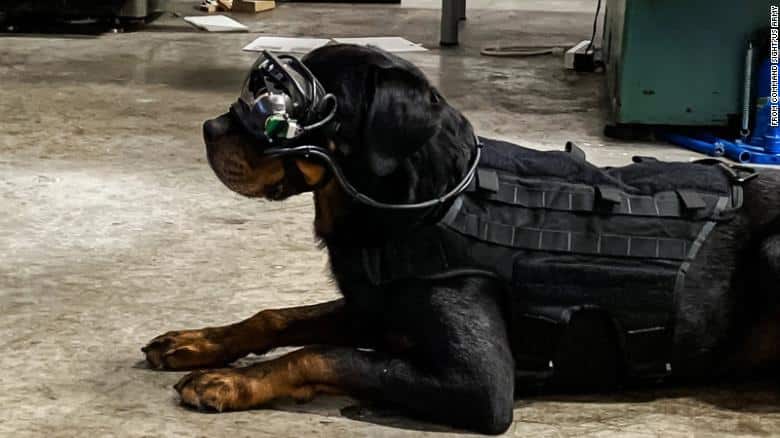 It is unknown whether this project will lift further off the ground from the stages of development, but the U.S. army has some financial support if they want to take the project farther. A wireless version of the AR goggles is in development, hopefully allowing the handlers to soon work with K-9's like Mater off the leash.