Buckle up for a brain teaser: this seemingly simple puzzle challenges your logic and common sense to get to the answer– let's see if it will stump you too!
Math wizard Presh Talwalkar of the Youtube channel Mind Your Decisions posted the "Cat in the Hat Puzzle" on his channel two weeks ago. With 262,000 views to date, he suggests that over 167,680 of those views will not get the correct answer to this brainteaser.
The Puzzle in Perspective
So, what is this "Cat in the Hat Puzzle"?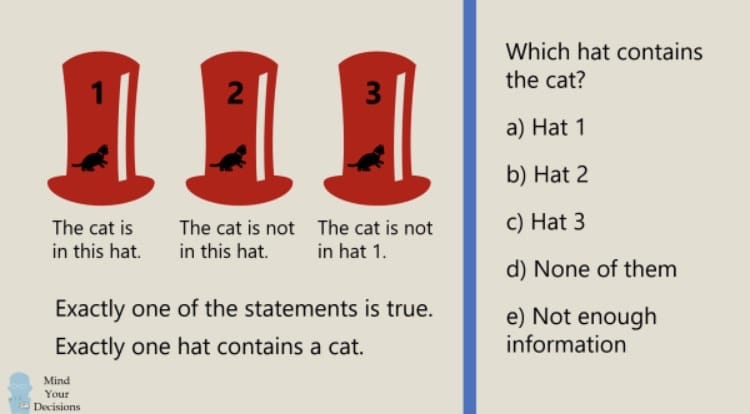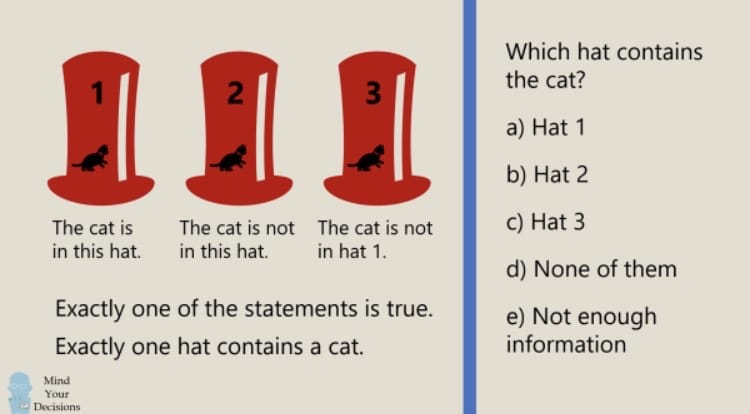 The problem goes as such:
There are three hats, each with its own statement.
The first hat states, "The cat is in this hat."
The second states, "The cat is not in this hat."
And the third hat states, "The cat is not in hat 1."
Then, it is stated that exactly one of the statements is true, and exactly one hat contains a cat.
After you are given that information, you're then told that your answer choices are: a) Hat One; b) Hat Two; c) Hat Three; d) None of the hats; or e) Not enough information.
Let's Try to Solve the Puzzle!
Now, do you think you have the right answer to solve this puzzle? You can watch Presh Talwalkar's full video on Mind Your Decisions below to get some hints! Or, if you want to be extra sure, you can watch the full video playout and see it explained below.
First, let's reveal some key hints: there can only be one true statement, and there is only one hat with the cat. Now, most people will want to line up the straightforward statement below as "true" as is, while trying to determine that it also has the cat.
What does that mean? There can be an existing true statement attached to one hat that does not have the cat. Ultimately, the puzzle says there is one true statement and one hat with the cat. Therefore, the hat does not have to have a statement attached to it that is also true.
SPOILERS: One you've understood this about the puzzle, it is clear that the cat is in… HAT 2! Follow me here: let's assume the cat is in Hat 2, okay? The statement attached to Hat 2 is false then. That also means the first statement attached to Hat 1 is false, too. Hat 3's statement would then be true, as the cat is not in Hat 1. This answer satisfies the parameters of the puzzle, therefore the cat is in Hat 2, and the one true statement is attached to Hat Three.
If you want to be even more frustrated by puzzles, check out this similar article: 2,000 Piece "Hell Puzzle" Takes Difficulty to a New Level, or visit Presh Talwalkar's Youtube Channel Mind Your Decisions!