Following the tragic death of George Floyd by Minneapolis Police Department officer, University of Minnesota president Joan Gabel has announced that the school will no longer contract the Minneapolis Police Department for additional law enforcement support needed for school events.
In a letter addressed to students and faculty members of the university, U of MN president Joan Gabel announced that the school would be cutting ties with Minneapolis Police Department and no longer contract their services for events including football games, concerts, and ceremonies. Gabel also stated that MPD would no longer be needed for their specialized services for K-9 explosive detection units in the university.
"Our hearts are broken after watching the appalling video capturing the actions of Minneapolis Police Department (MPD) officers against George Floyd leading to his tragic death," Gable stated. "As a community, we are outraged and grief-stricken. I do not have the words to fully express my pain and anger and I know that many in our community share those feelings, but also fear for their own safety. This will not stand."
Read the full letter here: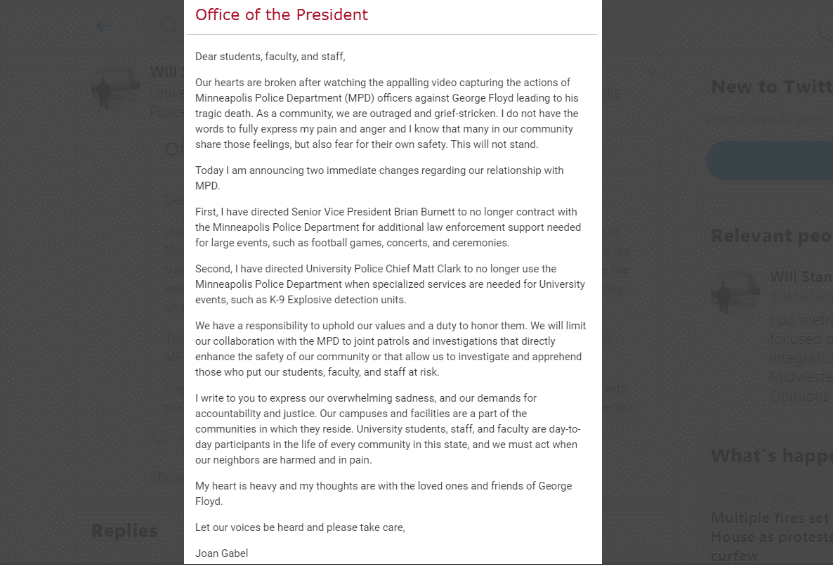 Minneapolis resident George Floyd, a black 46-year-old father of 2, was arrested on Monday, May 25 by Minneapolis police for allegedly using a counterfeit 20$ bill in a shop. After being detained and in police custody, Derek Chauvin, one of the four arresting officers, knelt on Floyd's neck for 8 minutes and rendered him unconscious.
The video footage filmed by a witness present at the scene shows Floyd complaining that he can't breathe, and officers violating MPD policies resulting in Mr. Floyd's heartbreaking death.
The video has since gone viral, and worldwide protests have risen against racism and police violence, demanding justice not only for George Floyd but the countless other black lives that were unjustly taken as a result of police brutality.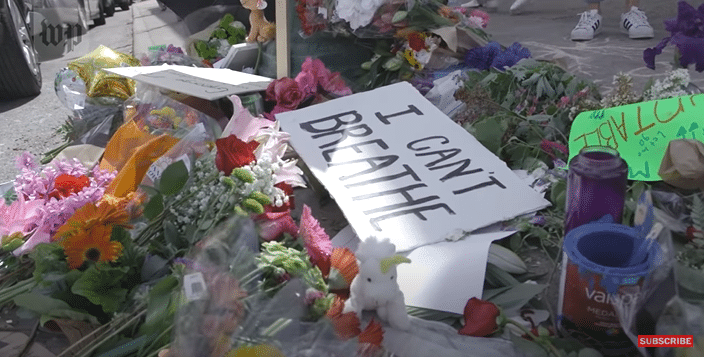 Derek Chauvin and the 3 other officers on the scene were fired the day after the death of George Floyd, and Chauvin has since been charged with third-degree murder and second-degree manslaughter.
In an interview with CNN, Philonise Floyd, brother of George Floyd, made a plea for the arrest and conviction of the other three police officers. No other arrests have since been made.