For many students at UK universities, this school year ended not with an "X" or a "check," but with a question mark. Professors in the University and College Union, or the UCU, are striking for better pay and better working conditions through an ongoing marking boycott that started April 20th.
History and context
The UCU is comprised of 145 institutions around the UK. It has coordinated strikes and other industrial action plans since 2018.
Workers of UCU institutions believe they are being provided with inadequate wages and unfair work conditions. This causes them financial and personal unease that could inhibit their ability to work––unless their demands are met.
The demands for the current strikes are as follows:
"A reverse to a reduction in pension benefits.

A pay increase of at least inflation (RPI) plus 2%, or 12%, whichever is higher.

Nationally agreed action to close gender, ethnic, and disability pay gaps.

An agreed framework to eliminate the use of precarious contracts, such as zero-hours employment.

Nationally agreed action to address excessive workloads and unpaid work, including addressing the impact that excessive workloads are having on workforce stress and ill-health."
The Higher Education Statistics Agency, or HESA charted salaries for various academic positions, from teaching assistants to professors. The most recent table shows such salaries from the 2021/2022 year, shown below: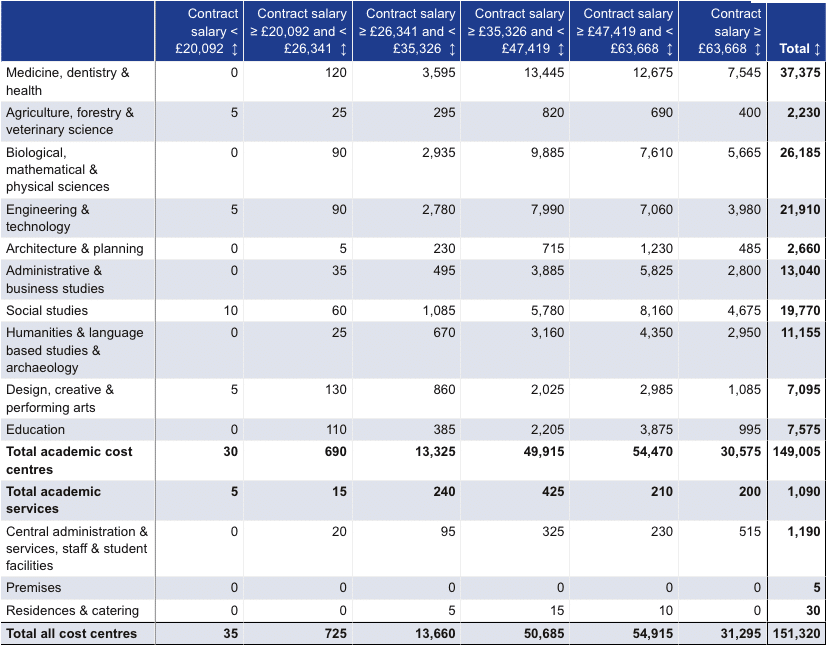 Further increasing the dissatisfaction of UCU strikers are uncertain, temporary contracts that pay by the hour. These contracts affect roughly one-third of the staff in the UCU institutions. To communicate and achieve change regarding this dissatisfaction, the UCU organised industrial action.
What is happening now?
Industrial action this past year includes striking from teaching and lecturing, as well as peacefully protesting and joining picket lines.
There is the possibility of improvement. Five institutions reportedly made a "breakthrough" with the Universities and Colleges Employers Association, or UCEA, in March. The agreement did not result in any long-term improvements, however, and the striking continued.
As of April 20th, professors at many UCU institutions have been participating in a marking boycott. They are refusing to mark student work, from tests and papers to final exams. This course of action is affecting students, leaving a concrete mark––or lack thereof.
In response to professors' new approach, the UCEA is allowing schools to legally decrease or fully dock pay from members of their staff who are boycotting. UCEA's reaction inspired greater news coverage of the strikes, providing even more support for UCU efforts.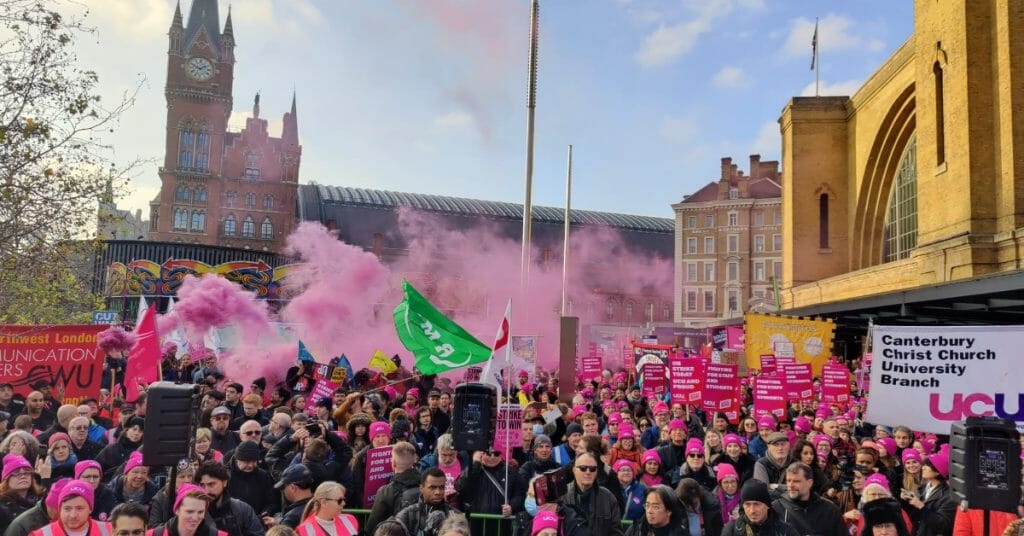 Who is this affecting?
The UCU has compiled a list of institutions affected by these strikes. However, every student at these institutions is not affected equally. Different schools try to mitigate the impact of the boycott in different ways. Furthermore, not every professor at the affected institutions is part of the UCU.
International students are facing hurdles in the form of expiring visas. This makes potential re-sits difficult to attend. Graduating students from various countries may be unable to receive final degrees. Their job prospects and academic futures must remain uncertain, leading some students to sue their universities.
Despite the harmful effects for students, however, many still support the UCU and its demands, revealing just how important this issue is. One may think that if the people whom the strikes are actively hurting still support the cause, then surely others should as well.
Conversely, one might believe that the students' support is purely self-serving––the quicker the strikes are over, the quicker students receive their degrees and get back on their academic track.
Regardless of their motives, students' support for the strikes makes it clear that they are suffering the consequences of the marking boycott.
Why should we care?
Both the causes and effects of the current UCU strikes and boycotts should grab our attention. The world needs teachers; the world needs students; and teachers and students need each other. Of course, teachers also need to be paid a liveable wage.
The strikes and boycotts make it clear that there is no easy solution to this problem. However, we are not entirely helpless. Other industries, such as public transportation, are striking alongside the teachers. This gives many people who are otherwise disconnected from academia the chance to show their stance.
For people looking to support the workers in academia, the UCU spreads the word about how to join their picket lines and write to the people who have the power to increase wages. You can find them at the sites below: