Over 100,000 students have decided to sue their universities after a year and a half of online learning due to the pandemic. With the pandemic shutting down any in-person opportunities, on top of many professors striking, students feel that the money they paid for university has not been worth it.
The year is 2020. GCSE and A-level exams were canceled after the country was put into lockdown. Students receive grades based on an unfair algorithm and class rankings. Those who make it to university arrive to be confined to their flat after just a week of mingling with other students because everyone has caught covid. Universities have made courses go entirely online with the exception of a few lab lessons, and all socials consist of a few drinking games in your room while on a Zoom call. Life is not great.
University life continued like this for a year and a half, with many people not attending their first in-person lecture until January 2022. By March 2022, professors decided to strike, resulting in more disruption to learning, with lectures, seminars, and workshops canceled altogether. We thought that would be the end of it. However, a year later, throughout February and March 2023, striking hit again. By April, university professors declared a nationwide marking boycott. With negotiations still going, it is looking more and more likely that many of those students who spent months confined to their halls in 2020 will now be graduating without a degree. Oh, and let's not even talk about the cost-of-living crisis.
University staff have every right to strike. For years, they have had support from students. However, the marking boycott has come at the worst time for final-year students who joined during covid.
Over 100,000 students have signed up for Student Group Claim in order to claim back money for their degree. The first case to reach court was against University College London (UCL) in April.
How Does It Work
Student Group Claim uses two litigation services: Asserson and Harcus Parker. They function on a no-win, no-fee basis. This means that it is completely free to claim money back from universities. If students win their case, then the group takes 35% of the money in order to cover the legal fees.
The group claims that universities could owe students up to £5000. International students could claim much more. University fees in England currently cost for undergraduate courses £9250 per year if you live in the country, while international students pay up to £40,000.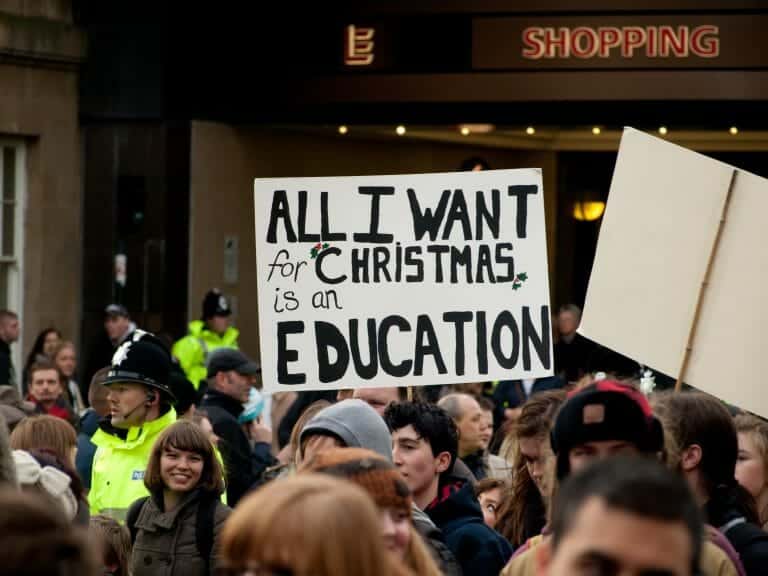 Solicitor Ryan Dunleavy, who is a partner at Harcus Parker, said,
'Students studying at universities in this country pay some of the highest fees in Europe. This continued, with no fee reductions, throughout major disruptions to teaching and access to facilities caused by Covid-19 and university staff strikes.'
'This is despite the fact that many universities significantly increased student numbers and overall fee revenue while taking furlough money and saving on bills such as for heating.'
'In short, for the universities we have looked at to date, all of them financially prospered while failing to deliver to students the services for which they had contracted. This is a breach of contract matter where we argue that the students should be repaid the difference in value between what they were promised and what was provided.'
So why did universities charge the full fees? According to UCL, who spoke to Sky News, they insisted that they followed government guidelines at the time in order to give a 'high-quality academic experience'.
What The Students Have To Say
UCL student Daniel Amery is one of the many students who have signed up to claim compensation. He said,
'The higher education market fails to protect the student-consumer because the contract-to-educate is usually very obscure. There are rarely any terms setting out whether the course will be on campus or online, nor any terms setting out tuition hours. This means the next time there are campus closures or strikes students will not be entitled to redress, which is why we need the courts to step in to provide fair consumer protection.'
After speaking to other students about their experiences during the pandemic, it seems that everyone has similar thoughts about the situation.
A student at the University of York said that the pandemic 'ruined my experience of university overall.'
At London South Bank University, students had the same feeling. One student said that the first year 'wasn't worth the money in student loans.' When asked if they would submit a claim against the university, one student said, 'well, yes, but I doubt I'll get it'. Others admitted that the thought hadn't crossed their mind.
When I asked one student from UCL if they would take legal action against the university, they said: 'Yes and No. I have signed up for it previously but then went against it. I understood why they were striking and the purpose of it. I'm also scared of the consequences of it.'
A Long Way To Go
Universities have really let down their students over the last few years, and it is not very surprising that so many are taking legal action. The strikes and marking boycotts have come at an awful time. Everyone is frustrated.
Hopefully, universities will resolve the marking boycott soon so students can at least graduate with a degree. It looks as though the court cases will be continuing for a while.