Does the idea of signing up to (or re-downloading) Tinder, Bumble, or Hinge fill you with dread? You're not alone if the process of swiping, talking stages, getting ghosted, and only managing to go out on a few first dates is something you want to avoid at all costs.
'Dating app fatigue' has become a very real issue that countless singles are struggling with. Dating has become a soulless and emotionless task thanks to dating apps. But meeting other singles IRL can be difficult, awkward, and anxiety-inducing. However, one company believes they've created a solution to all the obstacles people face in IRL dating: a small turquoise ring.
Introducing the solution to dating app fatigue
This little ring, called the Pear ring, claims to be the solution to dating apps. The way it works is simple; if you're single, you wear the ring. According to the company site, the ring "makes it easy to know who is single around you and open to meeting new people IRL." Essentially, the Pear ring cuts out the anxiety around approaching someone who is either taken or not looking for anyone.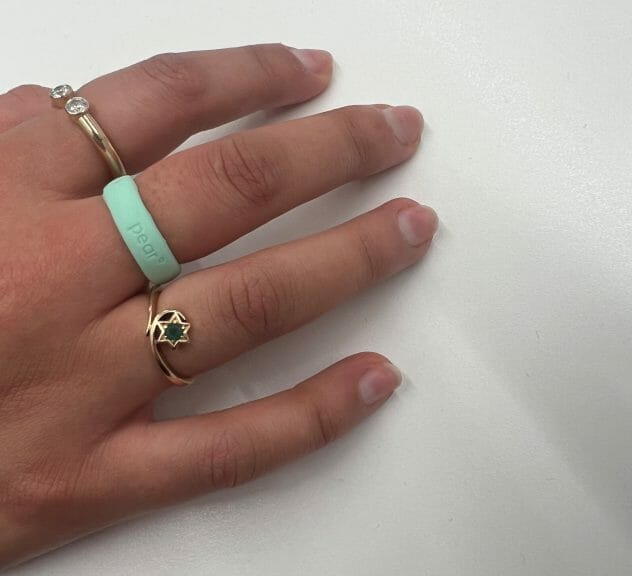 In an interview for this article, a representative for Pear explained that the reliance on dating apps stems from "no way to know if someone is single and open to new connections in the real world." The main appeal of dating apps was that they only show other singles looking to meet someone special, so they reduce the chance of rejection (in theory, at least). However, the Pear ring is the IRL version of someone with an active dating app profile.  In their own words:
"The little green ring around someone's finger means you're allowed to go say hello and be friendly."
Of course, this ring can't give you amazing flirting skills or help you to move beyond casual chatting, but it does cut out the most terrifying part of meeting people 'organically.'
Trials of the rings have shown that it really does work!
Pear tested out how their rings influence social interaction before they started selling them by handing them out at bars. Every single time, they saw people become more talkative and approachable once they had the rings. Of course, this led to more people talking, hitting it off, and actually getting somewhere in terms of meeting potential partners. Since their trials were a success, they began selling the rings so anyone could buy them.
But it wasn't just the trials that proved that Pear rings might be the next revolution in dating culture. Plenty of people have started posting about their experience of wearing a Pear ring. Overwhelmingly, many of those who post about their experience note how quickly they met someone because of their ring and how much better their dating experience has become now that it is physical rather than digital.
Since the success of the first two releases of rings, Pear is already working on a third release. This time round, they've hinted that they will make different kinds of rings specifically for those in the LGBTQ+ community. So, is it up to Pear alone to end the dating app era?
The Pear ring is just part of the anti-dating app movement
While Pear is getting a lot of credit for doing something new and creative to change the way we date, it didn't start the trend of people ditching dating apps. There's been a definite increase in people trying to meet potential partners IRL, especially for millennials and Gen-Zers. Dating apps have been the default for almost a decade now, but 2022 was when people began to seek ways to meet people without swiping or scrolling. This has been reflected in the number of new events being created, which help facilitate organic meetings. Singles parties and even speed dating have returned over the past year or so as people seek non-digital ways to meet a partner.
Dating apps have noticed that people are craving a real-life aspect of dating and are starting to arrange meet-up events. Bumble has hosted free IRL dating experiences in London, such as a bonfire night, a dog walk, and coffee meet-ups. A new dating app called Thursday works by organizing meet-up events for users every Thursday in New York and London. Overall, the dating world is transitioning from entirely digital to more physical.
Is Pear and other IRL ways of dating the way forward?
Is this the end of dating apps? Maybe! There's undoubtedly greater discussion about how dating apps have ruined sex and relationships for many people. This has pushed people back out into the real world for dating. Products like Pear rings are added extras, making this transition from digital dating to organic dating smoother. However, swiping and messaging will always be a more accessible and safer option than going out there and making the first move. Dating apps will still have a place in our love lives, but hopefully, we will be less reliant on them and more inclined to form deeper physical connections with others.