Swiss skateboarding legend Simon Stricker has smashed the record for longest manual on a skateboard.
Very similar to a wheelie which can be performed on a bicycle, a manual is a skateboarding trick that involves balancing on only the two back wheels of the board whilst rolling along, requiring some pretty solid balancing.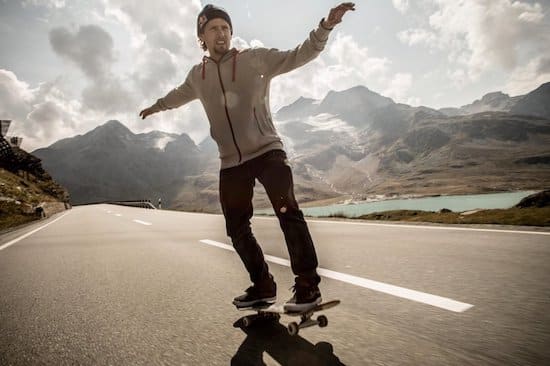 Stricker took on the challenge on the Bernina Pass, a road in Switzerland, and travelled for an astonishing 2.17km, hitting speeds of 45km/h as he travelled downhill and around bends in the road. It is thought that previously the record for the longest manual stood at around 1.5 kilometres.
Simon Stricker, who began skating age 10, is one of Switzerland's many talented riders, who has worked on projects with sponsor Red Bull, such as a tour of Ireland. This was another collaboration with Red Bull, and you can watch their video here:
To watch more sick skateboarding, check out this skate docu-series starring Bam Margera.
Images Via