Even though Team China didn't qualify for the elimination round, the players still deserve applause after demonstrating a long-awaited improvement for the country in international basketball events.
Liyongwei Xie pushed the ball into Team China's possession after Team USA missed the three-point shot from the corner. Xie dished a long-distance pass to Haoran Wang who simultaneously settled down in the left corner.
After driving to the basket, Wang drew a foul from Team USA's Ian Jackson. In front of thousands of live watchers, China took their first-ever lead over America in decades after Wang made two free throws. This historical moment immediately sprawled around Chinese social media.
China etched its second-best record at the event
The FIBA U19 Basketball World Cup is the under-19 men's world basketball championship. It is organized by the International Basketball Federation (FIBA). China had its best record in 2013, placing 7th. This was after the event expanded the number of qualifying teams to 16. In 2019, China embarrassingly ranked last. The team lost 6 of 7 games, including a 63-point crushing defeat by France.
This year, though, China was divided into an awkward group with high-ranked teams including France, Canada, Spain, and the USA. Team China grabbed 10th place overall, with 2 wins and 5 losses. This year China set its second-best record in the competition.
China's tremendous improvement between the two years might not show on the scoreboard, but Team China's game process is visibly improved.
In combat with Canada and the final champion Spain, China dramatized the leading stretch in the midway and only lost 9 points to both teams eventually. Against Team USA, China surprisingly closed the initial 17-point loss in the 3rd quarter.
Overseas players shine in Hungary
One reason for China's ascension is players who play and train overseas. This year, China sent four overseas players to Hungary, the largest number of players in recent years.
Xie, who hails from the Chinese Club Shanghai Sharks, plays at Utah Preparatory School in America. Junjie Wang trained and played in NBA Global Academy (Australia) with Xie in 2022. The duo received NCAA DI offers from the University of Portland and the University of San Francisco. Wang committed to USF.
Instead of playing rigidly, which is often Team China's weakness, Xie and Wang showed exceptional versatility and aggressiveness on the court. Xie made tough shots against Spain, including a stunning mid-court buzzer-beater at the end of 3rd quarter. Wang frequently attacked the basket inside the USA's zone, contributing to China's later lead over the USA.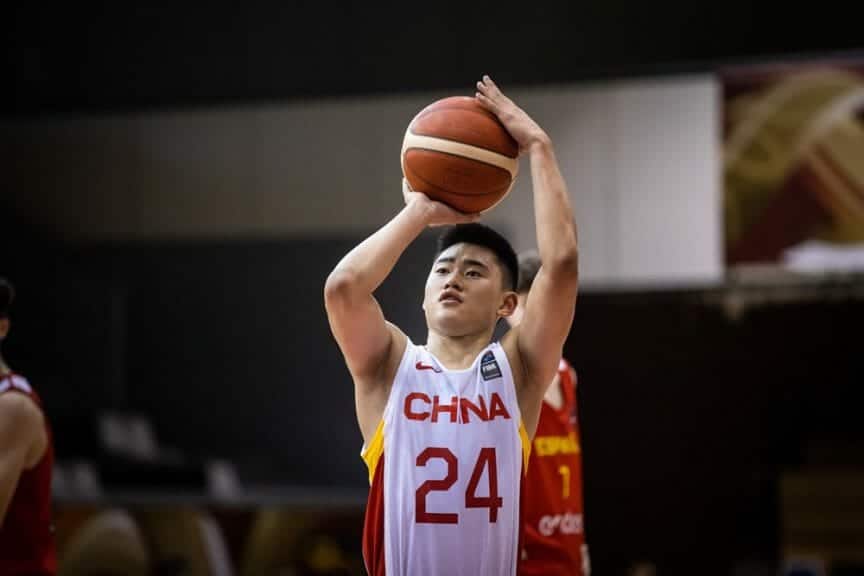 A gold from Italy
Among all players of the national team, Wei Lun Zhao develops himself on a different path. Players selected for national teams normally come from the domestic youth development system (e.g., clubs). However, Zhao, who grew up in Italy, played Series B (Italian third-tier basketball league) for Campus Varese at the age of 16, averaging 17.3 points and 4.1 assists per game in the 2022-23 season.
As the youngest (17 years old) and the shortest (5′ 11″) Chinese player to compete in the world cup, Zhao had his key moments in China's second game against Canada. Zhao notched 18 points in the 4th quarter and narrowed the point gap by 10 points. He scored 25 points overall with a 90% shooting percentage.
Zhao maintained a 46.2% in 3-point shooting percentage, representing a higher maturity and solid skillset than most young play guards in China.
The domestic still lead the force
However, the force that drives the team on the offensive and defensive end unexpectedly comes from a player who grew up in a domestic club.
Hansen Yang, from Qingdao Eagles, led in rebounds and assists per game and ranked 2nd in average score for the team. The 7'1'' player averaged 12.6 points and 10.4 rebounds during the tournament. He can score from the low post and pass at the free-throw line, earning the nickname "Chinese Jokić" by the commentator. Yang also dominated the first spot of block average among all players in the event with an astonishing stat (5.0).
It's surprising to see China diversify its range by selecting players from outside clubs and oversea programs. Houran Dan, a substitute center, just graduated from high school this year. After winning the national championship in May, he subsequently wore another jersey to represent China.
Although Dan's effect on the team is not remarkable, his national debut motivates more Chinese high school players to dream big.
What's the next step China should take?
After legendary center Ming Yao's retirement, China entered a harsh period on the international basketball stage. The results of the U19 FIBA World Cup give a powerful reward for great efforts from the Chinese Basketball Association (CBA) and other clubs that cultivate young players.
Many Chinese fans are reminded of Fanbo Zeng, who played at Windermere Preparatory School in Florida (US) and achieved a 4-star recruit with a No. 33 ranking in college prospect, per ESPN.
While Zeng chased his NBA dream in 2021, domestic basketball institutions realized the importance of sending good players aboard to practice with better training systems. This series of actions helped the country maximize the talent pool in foreign countries.
Moreover, the progress of domestic programs shouldn't be ignored. The emergence of Yang impressed Western sports media. He was selected to the second-best team of the event by FIBA. According to the source, Yang's affiliated club Qingdao Eagles even arranged a trio of Serbian assistant coaches to train him.
If Yang can step up in the future, it would be a fantastic story: a native club successfully produced NBA potential material. This would encourage more clubs to invest in young players' growth.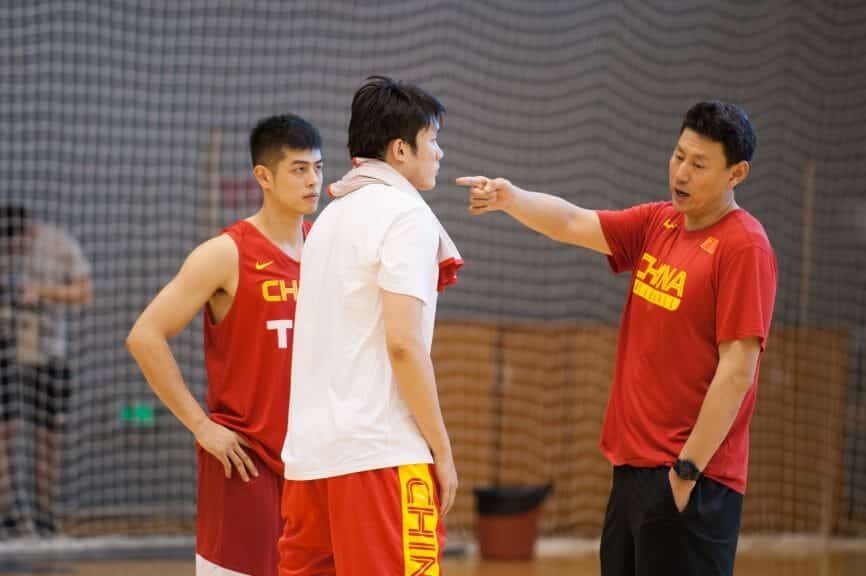 What about the league?
China can also optimize its league.
Yang seems to be the most professional player on China's roster. Nevertheless, Yang didn't have sufficient high-level game experience before traveling to Hungary. This fact arouses Chinese fans to call out for canceling the age limit of the entry to Chinese league.
It's well-known that Luka Dončić, an NBA superstar, played Spanish professional league for Real Madrid at the age of 16. If the Chinese league loosens its entry requirements, the country may not miss gifted youths like Dončić anymore.
The level of a league determines the basketball level of a nation. Increasing the league's competitiveness can help coaches discover more potential players. But, considering a series of long-term problems that remain in the league for decades, such as match-rigging, corruption, and restrictions on creativity, China has a far way to go.
As European countries gradually pose a threat to the basketball overlord the USA, it's time for China to take the next step.