The most popular sport in the world just got a little more interesting.
When you think of football, it's probably first and foremost of professional athletes that are toned and totally professional about the game (and don't kid yourself, you're probably looking for the hottest one on the pitch).
Fantasies aside, the fact that it is such a popular sport across the world means that players are expected to be at a certain level of fitness and in good condition so that they play as well as they can. Thousands of biographies of iconic sportsmen and sportswomen have preached healthy eating, balanced diets and taking care of your body, which is essential to be involved in sports – or not, if you're in Norway.
Seriously, I can't tell if they're absolute legends or total nut-cases.
Probably the craziest venture ever sets two teams against each other that are REQUIRED to have a blood alcohol count of 1.0 to allow them to play, and if they score a goal and their blood alcohol count is 1 or less, it doesn't count.
(As a side-note, the Norwegian blood count measure is likely a lot less than the English or American 1.0, since that would mean that players would be dead from alcohol poisoning.)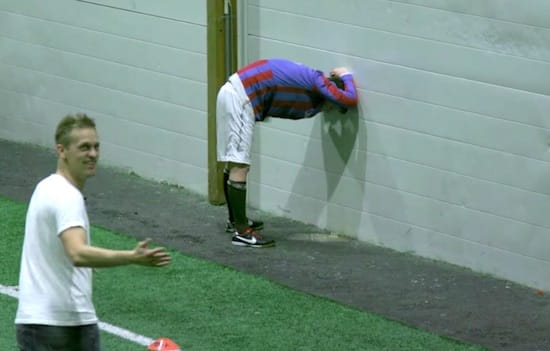 Even though this could be potentially dangerous, that adds to the hilarity of it – the pre-game drinks and banter lead to a few scuffles, pizza all over the floor and slovenly slurs all around… which doesn't even compare to the epic failure of a game that for one guy meant "screw it" and lie down on the pitch like a kid ready for nap-time.
An absolute golden moment in the world of football, everyone.
If you want to read more about the weird and wonderful community that is the football crowd, check out the Irish football fans that band together to wreck a car – and then fix it!