Simon Nellist, age 35, was killed in a freak incident by a great white shark on the 16th of February, 2022.
The Great White is known to be a hugely dangerous breed of shark, named one of the "big three" most likely to be responsible for shark attacks alongside Bull and Tiger sharks. With the shark purported to be 15 foot long, RAF veteran and scuba diving instructor Neillest didn't stand a chance as he was attacked while swimming near Little Bay.
This came just days before Sydney authorities were planning to install shark prevention methods, such as safety lines, which would have potentially prevented the fatal attack. Social media has exploded with the news of the tragic timing of the incident. 
Furthermore, according to his aunt Jacqui Seager, 62, Nellest had seen sharks in the area where he conducted daily swims before; however had never felt under threat of attack.
So, what made this interaction with a shark so different? And why has the ISAF deemed it to have been provoked? And what has the response been to such a tragedy?
The Simon Nellist Autopsy Report
After graphic footage emerged online documenting the Nellist's murder at the hands of the shark, Simon Nellist's autopsy report was quick to follow. Occurring on a Wednesday afternoon, a shark attacked Nellist about 150 meters from the beach at Buchan Point.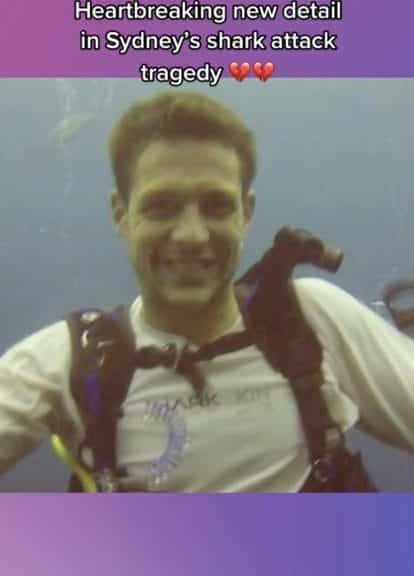 Simon Nellist's autopsy report reveals that the shark attacked him at a vertical point, indicating that it believed him to be some form of prey, such as a seal. The wetsuit he was wearing could have further confused the shark into coming to this conclusion.
Beach-goers could hear Nellist''s calls for help, however, by the time search and rescue had appeared, it was too late. It reportedly took two hours to uncover his remaining body parts.
Why Has ISAF Declared Simon Nellist's Death as a Provoked Incident?
The ISAF is an international research institution on sharks. It is particularly interested in unprovoked shark attacks, 57 of which occurred in 2022. However, only five of these were fatal [https://www.cbsnews.com/news/shark-attack-simon-nellist-australia-provoked/]. 
Nevertheless, Nellist's death was considered to be a "provoked" attack as per Simon Nellist's autopsy report. However, the ISAF does not blame the Cornishman himself. Rather, the fishing surrounding the area of attack lured the shark into an area that it would not otherwise be in, tragically leading to Nellist's death.
Gavin Naylor, director of the ISAF, explained in a statement,
"In the tragic case of Simon Nellist, there were people fishing nearby. Fishing activity attracts sharks primarily because fish caught on lines struggle and generate vibrations that lure sharks."
The Response to Simon Nellist's Death
After the Simon Nellist autopsy report appeared, many have criticized the Sydney government for not responding quickly enough to the threat of sharks in the area in order to avoid fatal incidents.
In the wake of the attack, people expressed frustration about the fact that authorities had not made safety nets a priority despite February being peak shark season. In response, many have argued that Nellist should have known the risks of swimming in an unsafe area.
However, a very different reaction has occurred as a response to graphic footage of Nellist's demise. Many witnesses filmed the attack on their phones. In the weeks following the incident, they shared gory footage. They shared it with countless viewers across WhatsApp groups, news outlets, and social media. This raises the question: How much should we consider the victim's family and friends and honor their memory? Should we prioritize this over focusing on the attack?
Riley Stuart wrote an article titled 'A Man's Death Became A Gruesome Viral Sensation. In the article, he called out those who had watched and shared these videos, highlighting what it says about us.
Nellist's family insists that Nellist would have been against the killing of the attacker. They also disagree with the increase in drum traps and safety nets, which harm more sharks. Many people are calling for safe waters to be a priority in Sydney to prevent such attacks from happening again. Nellist is one tragic incident. It has fueled the debate regarding the rights to such waters: do they belong to man or shark?