The National Association for the Advancement of Colored People has issued a travel advisory urging Americans to reconsider traveling to Florida, following similar statements from the League of United Latin American Citizens and gay rights group Equality Florida. According to the NAACP, Florida Governor Ron DeSantis has become "openly hostile toward African Americans, people of color, and L.G.B.T.Q.+ individuals."
The Advisory
The NAACP's advisory, issued on Saturday, does not explicitly ask people not to travel to Florida. However, it encourages travelers to be aware of recent politics in Florida, especially DeSantis's efforts to control school curricula, which, the NAACP argues, erase Black history from public education. According to the NAACP, "the governor and the state of Florida have shown that African Americans are not welcome in the state of Florida." The advisory suggests that Americans should avoid visiting the state and supporting it with tourist dollars, urging,
Before traveling to Florida, please understand that the state of Florida devalues and marginalizes the contributions of, and the challenges faced by African Americans and other communities of color.

The NAACP's Florida travel advisory from Saturday
In the statement from Saturday, the NAACP explains that the advisory is a direct response to "Gov. Ron DeSantis's aggressive attempts to erase Black history and to restrict diversity, equity, and inclusion programs in Florida schools." Last week, DeSantis signed legislation defunding diversity programs at public colleges and universities in the state. DeSantis has long been an outspoken critic of "woke indoctrination" and leftist agendas in schools. In a statement from May 15, DeSantis stated that the new law will ensure that "Florida's institutions encourage diversity of thought, civil discourse, and the pursuit of truth."
According to NAACP President and CEO Derrick Johnson,
Let me be clear – failing to teach an accurate representation of the horrors and inequalities that Black Americans have faced and continue to face is a disservice to students and a dereliction of duty to all. Under the leadership of Governor Desantis [sic], the state of Florida has become hostile to Black Americans and in direct conflict with the democratic ideals that our union was founded upon.

Derrick Johnson, NAACP President and CEO, Saturday, May 20
NAACP's Legislation Critiques
The NAACP's Florida State Conference initially proposed the travel advisory to the Board of Directors, citing Florida's recent laws surrounding education as well as voting rights for incarcerated people and concealed carrying of guns. The NAACP's press statement says that the advisory is the result of "unrelenting attacks on fundamental freedoms from the Governor and his legislative body."
The NAACP issued its first state travel advisory in 2017 for Missouri, warning that "individuals traveling in the state are advised to travel with extreme CAUTION" since "race, gender, and color-based crimes have a long history in Missouri." Like the NAACP's new Florida warning comes in the wake of new legislation, the Missouri travel advisory followed Missouri's Senate Bill 43, which made it more difficult for employees to prove membership in a "protected class" (such as a marginalized race or gender).
Advisories From LULAC and Equality Florida
The new Florida advisory follows in the wake of similar statements from civil rights organizations LULAC and Equality Florida, which both cite recent legislation in their warnings for people to reconsider traveling to the state.
On Wednesday, the League of United Latin American Citizens (LULAC) issued a similar advisory against traveling to Florida. Earlier this month, LULAC expressed concern over DeSantis's new immigration policy, which he signed on May 10, requiring private employers in Florida to confirm employees' eligibility to work in the United States, among other restrictive new measures. On Wednesday, Domingo Garcia, LULAC's national president, said that Florida is using immigrants as "political piñatas" to further DeSantis's political agenda.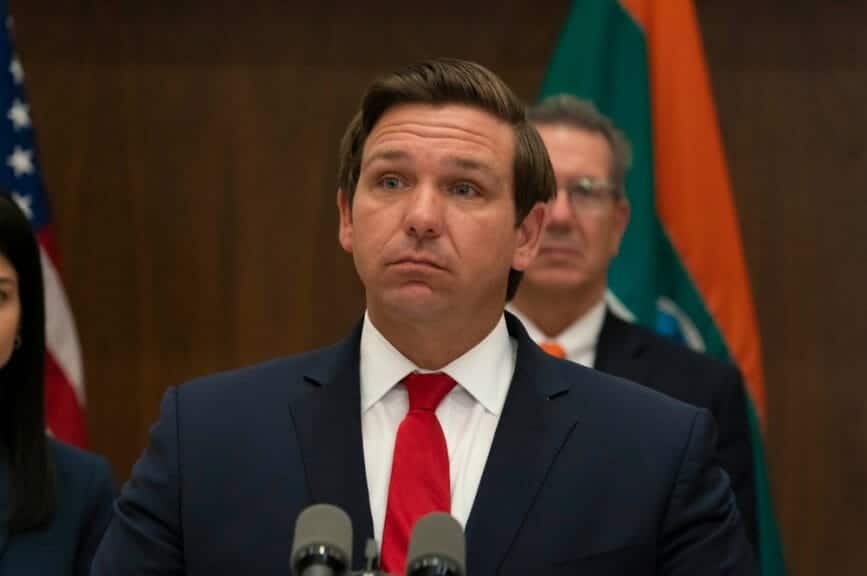 Meanwhile, gay rights advocacy group Equality Florida also issued a travel advisory last month. Among other concerns, Equality Florida cited Florida's infamous "Don't Say Gay" bill from last year, the bill that prohibited public school teachers from discussing sexual orientation and gender identity in elementary school classrooms. Like the NAACP, Equality Florida argues that education is crucial to promoting equality and views DeSantis's restrictions on gender identity education as "school censorship" that makes Florida "less safe" for children. In the organization's statement, Executive Director Nadine Smith wrote,
As an organization that has spent decades working to improve Florida's reputation as a welcoming and inclusive place to live, work and visit, it is with great sadness that we must respond to those asking if it is safe to travel to Florida or remain in the state as the laws strip away basic rights and freedoms… We understand everyone must weigh the risks and decide what is best for their safety, but whether you stay away, leave or remain we ask that you join us in countering these relentless attacks. Help reimagine and build a Florida that is truly safe for and open to all, and where freedom is a reality, not a hollow campaign slogan.

Nadine Smith, Equality Florida Executive Director
Cruz and King Respond to the NAACP
In a Tweet, Senator Ted Cruz (R-Texas) called the NAACP's advisory "bizarre" and "utterly dishonest" and said that Dr. Martin Luther King, Jr. "would be ashamed of how profoundly [the NAACP has] lost their way."
Hours later, Bernice King, MLK's youngest daughter, responded with her own Tweet, saying, "What my father would be deeply concerned about is the harmful, discriminatory legislation in Florida."