During former Fox News anchor Tucker Carlson's time at Fox, it was not hard to understand why he had become such an asset for the station. Replacing former news anchor Greta Van Susteren in November 2016, on his first night on air, Carlson received a viewership of approximately 3.7 million. This was notably more viewers than usual in comparison to former airings of On the Record. Fox had seemingly made the right call in giving the 7 pm ET prime-time slot to a spirited Carlson.
In April of 2023, Fox would ultimately rethink their decision, and part ways with the on-screen phenomenon known as Tucker Carlson. According to the Independent, whisperings of workplace harassment and misogyny may have been a factor in the former Fox News anchor's termination. With a costly Fox-Dominion lawsuit just barely over the horizon for the station, perhaps they figured keeping Carslon on was more trouble than it was worth.
During his seven-year run on air, Tucker was fearless in his approach and never held back when it came to expressing his views on minority groups. One of his most popular views was "The Great White Replacement Theory," a theory where immigrants would come to America and "replace" the white population, making their voice and vote obsolete. Even without evidence for his claim, his theory must have been a popular one, seeing as his ratings remained at an all-time high.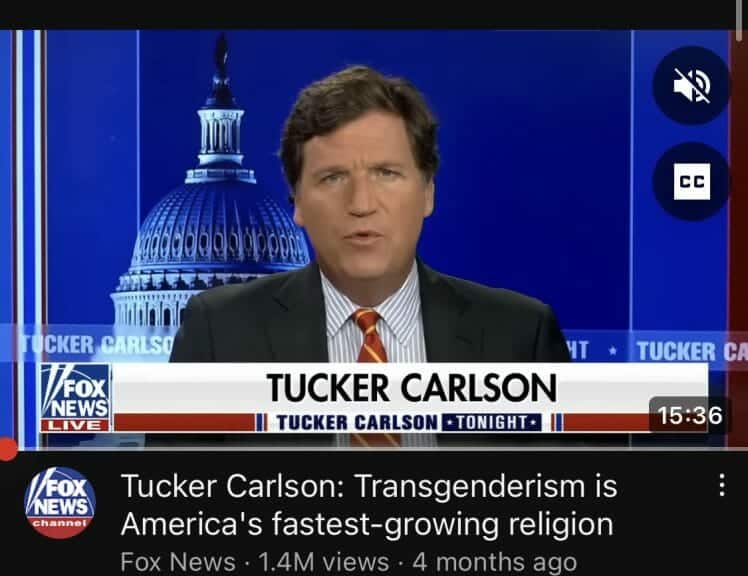 At Fox News, Tucker became a figurehead for free speech, giving voice to the average, conservative male, often expressing views that his viewers were too afraid to say aloud. With Tucker Carlson being recently ousted from the Fox Company, there was lots of speculation surrounding who would replace him. However, after a rough trial period of guest hosts, Fox decided to give the prime-time slot to none other than Jesse Watters.
For those unfamiliar with Watters, he is no stranger to the Fox News network. Between 2015 and 2022, Jesse Watters hosted his own Fox News show segment, Watters' World. Unlike Tucker Carlson's prime-time show, Watters' World took a more lighthearted, conservative approach—including on-the-street interviews.
When Jesse Watters received the coveted Fox News slot, his on-screen persona seemed to grow darker.
Many speculated that Jesse Watters would be the lighthearted, conservative mascot he had always been. However, that has not been the case. On July 17, Watters officially claimed Carlson's former glory, as the new prime-time host, and he has not held back on his conservative views—it seems that he has doubled down. His stance has grown less lighthearted and is beginning to lean in favor of eugenics toward America's growing homeless population.
On June 16, Jesse Watters opened his show with a lengthy monologue on San Francisco's homeless population. "San Francisco turned itself into a cemetery… San Francisco doesn't even allow you to cast judgment—how dare you think children shouldn't have to step over urine-soaked junkies on the way to school? Urine-soaked junkies have rights too, you know… San Francisco junkies have more rights than you do," Watters claimed, all while depicting glimpses of various homeless people on the streets of San Francisco.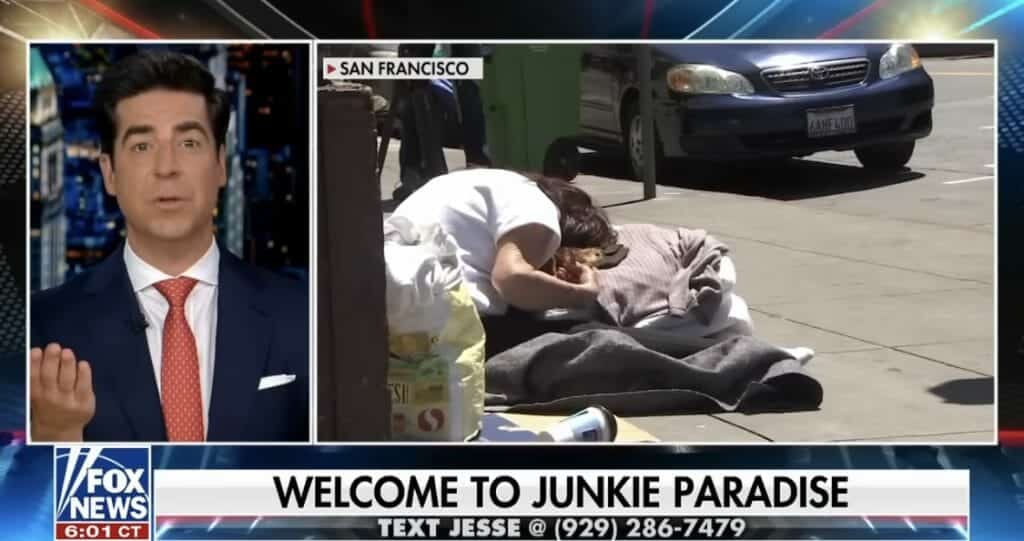 While some may justify Watters' speech as simply a critique of a failed state government, this is not what Watters is doing. Instead of treating homelessness as a nuanced topic, Jesse depicts homelessness as a personal failing.
Like Watters, many other Fox News hosts treat homelessness as a moral issue and write homeless people off as addicts.
If some members of the homeless community are indeed addicts, addiction is an illness, just as dementia and type-2 diabetes are. More sinisterly, in his rant, Jesse Watters decides to invoke the magic word—children.
With all the right-wing claims of protecting children from the "child-grooming" left, Watters knows exactly what he is doing when he invokes children into his prime-time monologue. By listing the homeless community as a potential threat to children, Watters is more likely to get his viewers on his side.
The most dangerous part of Jesse Watters' monologue is where he uses the homeless population as a scapegoat.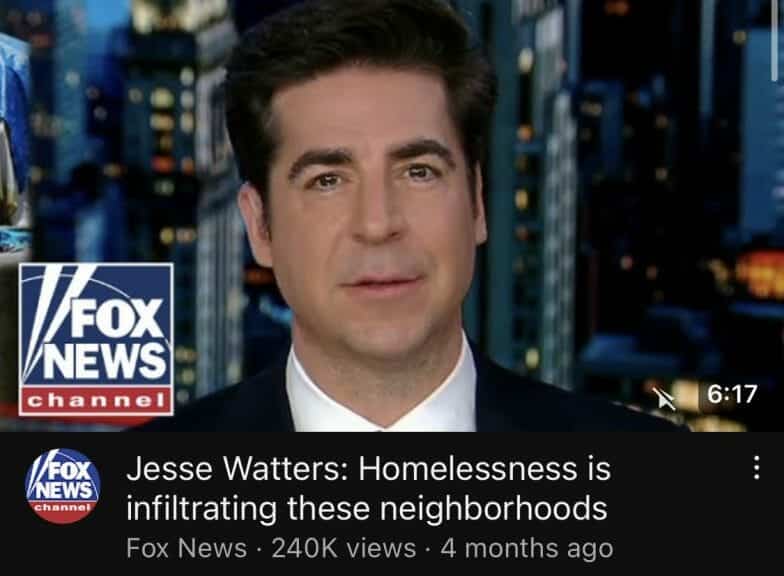 Watters blatantly claims that the homeless population of San Francisco has more liberties than his viewers. Instead of depicting the homeless crisis in America as an actual crisis, Watters depicts it as a privileged way of living. This framing may prove to be dangerous to the homeless population in an unprecedented way.
The idea that homeless people do not deserve to have the same rights as housed people is eugenicist language. If Watters continues to demonize members of the homeless community, public scrutiny against the homeless population may rise and boil over—leading to potential hate crimes.
Homelessness is not a moral failing, and it is up to our government to pull all stops and begin to address this ongoing crisis. Interested in learning about micro-shelters and their role in combatting the ongoing homelessness crisis? Click here for more.