Former President Donald Trump returned to the political stage last weekend with a speech at the North Carolina Republican Party State Convention. Trump spoke for nearly 90 minutes but the internet honed in on something strange occurring… below the belt.
"It's great to be back in Greenville with so many proud North Carolina patriots who love our country, support our military, respect our police, honour our flag and always put America first. We don't put America second," Trump said as he opened his speech. "As we gather tonight, our country is being destroyed before our very own eyes."
As the former President continued to undermine the results of the 2020 election and praised Republican efforts to restrict voting, we might question how Trump's influence will impact not just the 2024 presidential race but the future of so-called American democracy.
Or, we could watch this slow zoom-in on the 45th President's crotch (I'm so sorry) and ask the admittedly less salient but arguably harder to answer question: "Why do his trousers look so weird?"
It does appear that the front of Trump's trousers is missing a zipper and apart from that, just looks… wrong.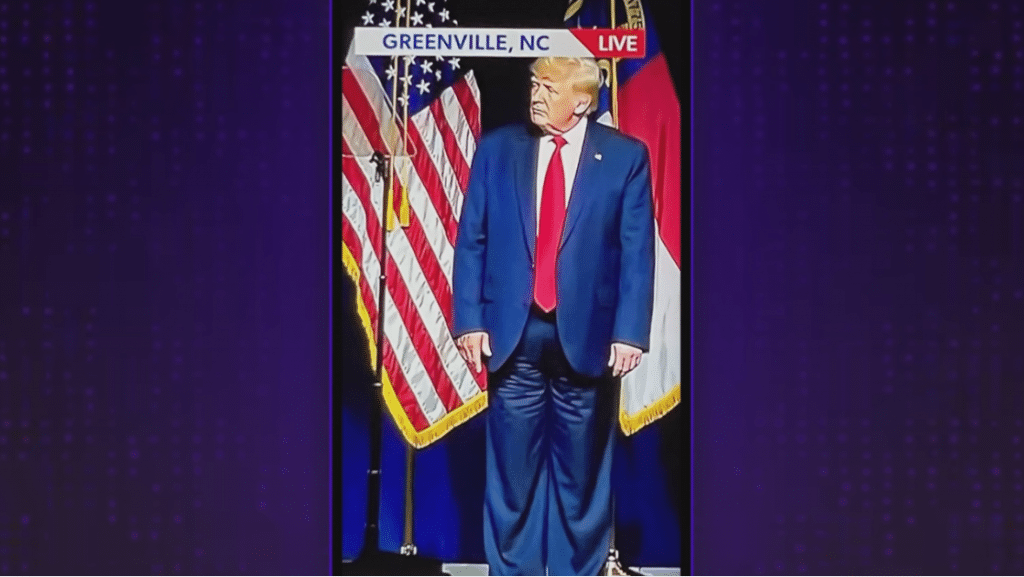 Despite incredibly scientific analysis conducted by Twitter users pointing out supposed out-of-place "ass wrinkles" or the possibility that Trump is wearing elasticated maternity-style trousers (or perhaps a diaper), Snopes says otherwise.
After watching the 90-minute speech and looking through photographs taken at the event, Snopes rated the claim that Trump wore his pants backwards as false.
Zipper or no zipper, I maintain that something was still off. Perhaps it's just the sight of Trump back in front of an adoring crowd of his unwavering supporters.
Unfortunately, this speech is billed as the first of many public appearances ahead of the mid-term elections as Trump continues to hint at a renewed presidential campaign in 2024.
We are going to win North Carolina's all-important US Senate race and lay the groundwork to make sure Republicans carry the great state of North Carolina in a year I look forward to, 2024.

We are going to do numbers you have never seen before. I stand before you today confident that the people of North Carolina will decisively reject Joe Biden and the radical Democrats.
Read more: Donald Trump's New Media Site Comes To An Abrupt End