Following the Supreme Court's decision to overturn Roe v. Wade, Republicans are struggling to define "pro-life". While some retain strict anti-abortion views, others consider certain exceptions. Regardless, a clear definition is necessary in order to determine the party's anti-abortion policies.
Republican Lawmakers
The issue of abortion emerged as one of the biggest points of contention in the Republican presidential primary for 2024. Each candidate attempted to find a balance in supporting right-wing views while retaining some moderation. They tried to impress Republican voters with strict anti-abortion policies until the general election when they must water down their ideas for the moderate and independent public.
This balance, however, is not always effective, as seen in last year's midterm elections. Many Republican candidates strongly opposed reproductive rights during the primaries, only to soften their language when facing Democrats. Voters were not fooled, though, and Republicans lost a seat in the Senate.
"I think every Republican senator running this year in these contested races has an answer as to how they feel about the issue. And it may be different in different states, so I leave it up to our candidates who are quite capable of handling this issue to determine for them what their response is."

Senate Minority Leader Mitch McConnell, Sept 2022
This back-and-forth is not reassuring for any voters, so it is necessary for Republican candidates and voters to universally define "pro-life".
"As far as the Republican Party, I don't think we've ever really defined what it means to be pro-life. Unfortunately, we have a wide variety of people who say they're pro-life. Some believe in no abortions at all. Some believe in exceptions. Some believe when you hear a heartbeat. Some believe other things."

Cameron Sexton, Tennessee House Speaker
Abortion Legislature
In Idaho, Missouri, North Dakota, Utah, and Wisconsin, GOP lawmakers have introduced or are planning to introduce bills that reconsider who is exempt from their state's near-total abortion bans. Of course, some anti-abortion groups view this as a betrayal of their cause and continue to ask for restrictions.
The current laws, however, have left doctors vulnerable to prosecution and some have even changed the way they practice medicine. Physicians have complained that the laws are so confusing they have delayed or denied treatment in fear of retaliation. With laws that are too broad, doctors can't decipher which healthcare emergencies allow for an abortion. As for laws that are too narrow, doctors may not be able to use their medical judgment in a life-or-death scenario.
"Politicians aren't doctors — they shouldn't be legislating personal medical situations. They can't anticipate every complication that could arise in a pregnancy."

Jessica Arons, senior policy counsel for ACLU
Even the exceptions being considered to be added to abortion laws are trivial. Abortion rights activists view it as an attempt by Republicans to save face without actually allowing increased access to healthcare. For example, some states require victims to file a police report to qualify for the rape or incest exception. This requirement excludes those who may not be able to or do not feel comfortable going to the police. Moreover, Ashley Coffield, CEO of Tennessee's Planned Parenthood, claimed that in the 10 years she's worked there, not one case of rape or incest qualified for Medicaid coverage.
"This is about taking care of patients. It's about getting the government out of my exam room and letting me do what I do well, which is to practice medicine and save people's lives."

Nicole Schlechter, OB/GYN
Anti-abortion advocates still want more, though. Since most abortions happen within the first 12 weeks of pregnancy, activists are asking for a six-week or complete ban on abortion.
Hypocrisy of Pro-Life
Though anti-abortion activists have attempted to label themselves "pro-life", their stance on other issues contends that. NARAL Pro-Choice America is dedicated to calling out this hypocrisy.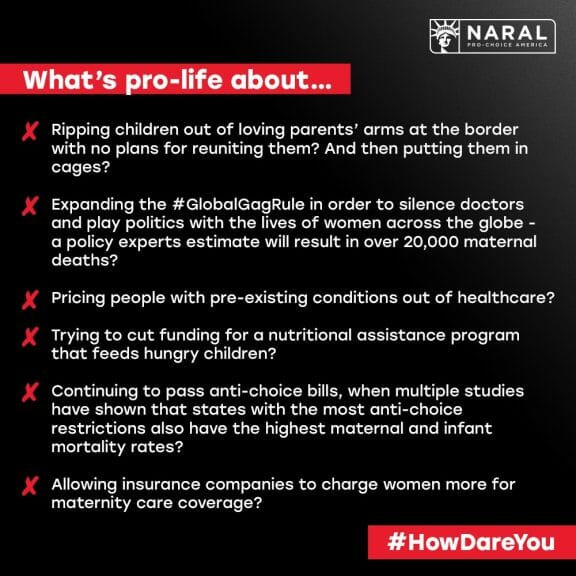 Making Abortion Illegal
Already, the US has the highest maternal mortality rate of any developed country, with Black women experiencing the highest rates. According to an article in American Progress, researchers have found that a nationwide ban on abortions could result in a 24% increase in the number of maternal deaths.
Additionally, even with a nationwide ban on abortions, they would still happen. The ban will only deter women from getting safe abortions. For this reason, shortly after the overturning of Roe v. Wade, Bracey Sherman, an abortion rights advocate, shared a step-by-step process with Congress on inducing abortion using pills.
Overall, it seems like the pro-life movement is gaining traction. Following Roe v. Wade's dismissal, anti-abortion advocates are asking for further restrictions. However, without a clear definition of pro-life, it will be hard for the movement to enact change.