The mind boggles at what possesses a dog to turn on its owner but the timing of this incident. which occurred sometime around November 2nd, may not be a coincidence.
The Plano Texas Police department reported on social media that the incident had manifested when a Texan man went in for a seemingly friendly cuddle but within seconds a shot was fired.
As the furry assailant thrust itself into the arms of the Texas man, his paw had become lodged into the trigger of the gun which was sitting in the victim's waistband. A shot rang, and a thigh answered. Plano Texas Police Department had this to comment on the incident:
"Fortunately, it was just a through and through shot – it didn't hit a main artery or anything," said Plano police officer David Tilley in a phone interview. Officer Tilley continues "He took himself to the hospital and he's fine."
The police department had this to say through their social media platform but there is no further information on the canine's whereabouts although he was last seen driving a blue sedan with blacked-out windows and wearing a T-shirt that says: "not a good-boy".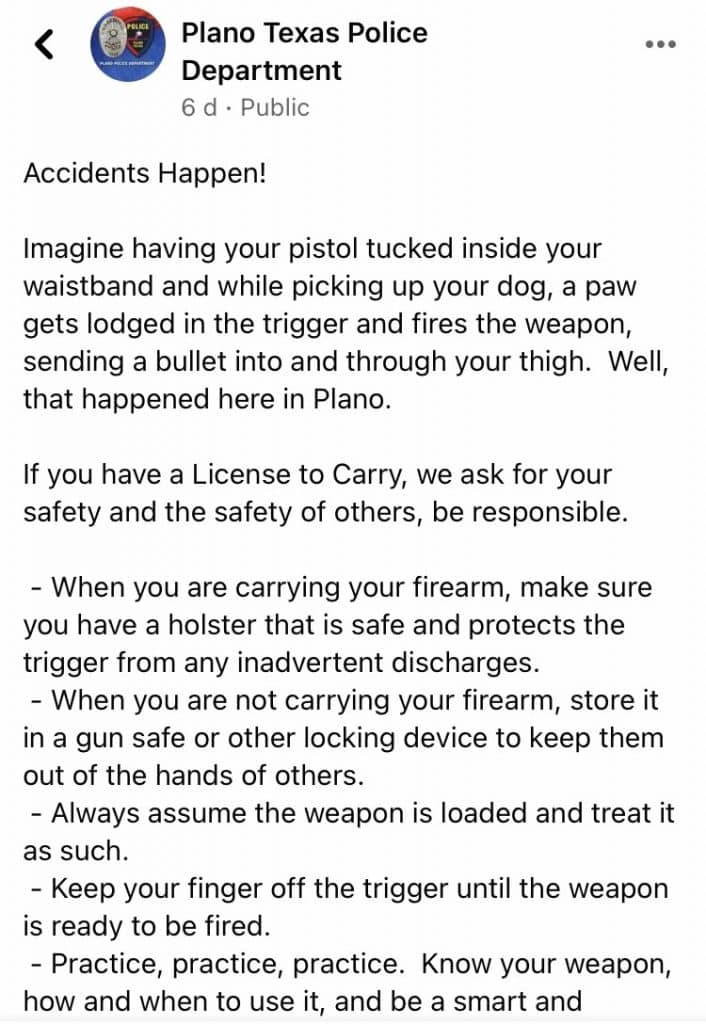 It is safe to say that the timing of this incident does not go unnoticed. Only two days prior to the US election and it seems that this could have been a fervent attack based on political affiliations. With no other basis for fact other than I believe it to be true, I can say with strong conviction that this four-legged individual was acting as an agent for Joe Biden. This is the true reason behind the Democratic win even though this state did vote in favour of Trump and the Republican party.
Gun safety is an imperative responsibility in gun ownership and some may even say that not owning one at all is the safest option. Holster your gun with a function to keep the trigger in place.
My nephew is working on a sketch of the dog at large but he has run out of green crayons for the grass but he will get this to the authorities as soon as it is finished.
If you want to continue reading something a paw lighter then may I direct you here, to read up on how a poor drawing of a dog won an art competition. It was not my nephew before you ask, he is still on official police business.