On August 31st, a convicted felon escaped from Chester County Prison. On September 13th, a BORTAC K9 unit dog caught him.
Yesterday morning around 8:00am in Chester County Pennsylvania, the manhunt for escaped murderer Danelo Cavalcante ended with with help of a special MVP–that is, Most Valuable Pet. Yoda, the four-year-old Belgian Malinois, provided critical aid in subduing Cavalcante, 34, after a near-14-day search for the escaped prisoner in rural Pennsylvania.
Who is Danelo Cavalcante?
Cavalcante, originally from Brazil, was tried last month for the brutal stabbing of his ex-girlfriend Deborah Brandao, 38. In April of 2021, he stabbed her roughly 40 times to stop her from telling American authorities that he was wanted for murder in Brazil. Brandao's murder happened in front of her two young children.
For this crime, Cavalcante received a life sentence without parole. Cavalcante was imprisoned in Chester County Prison until he could be transferred to a different facility.
Escape and Evasion
A mere week after he was imprisoned, video surveillance shows Cavalcante escaping by "crab-walking" between two walls. He then scaled a barbed-wire fence. A near-two-week-long manhunt followed, involving over 500 officers from across the nation.
Over the course of the search, the perimeter of investigation was expanded from four square miles to 10 square miles and then surrendered altogether after Cavalcante commandeered a vehicle and drove it 25 miles.
While Cavalcante was on the run, schools, family homes, and even a botanical garden were forced to secure their premises against him.
Hundreds of SWAT, FBI, state, federal, and local enforcement officers utilising full combat gear, K9 units, horseback, and aircrafts searched for Cavalcante.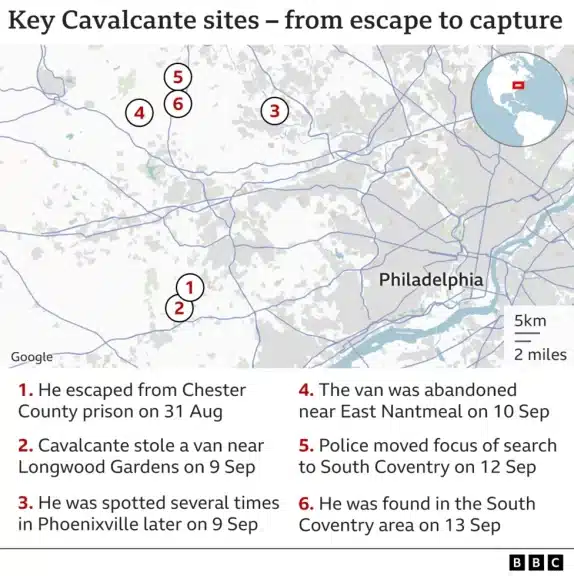 Cavalcante managed to evade all of them until Monday, September 11th.
That night, he broke into a garage to steal a .22 rifle. The homeowner shot at him with a pistol but did not hit him.
At midnight the following night, Cavalcante set off a burglar alarm nearby, notifying officers that he was in the area. Around 1:00am, thermal imaging found a heat signal that ground officers encircled. 24 officers closed in on him around 4:00am.
When Cavalcante attempted to escape by crawling through the underbrush, Yoda was the key figure to subdue him around 8:00am.
Yoda and K9 units
Yoda is a Belgian Malinois, a breed the American Kennel Club describes as "smart, confident, and versatile." They also say a Malinois is "a world-class worker," and it is smaller and lighter than a German Shepherd. All of this makes Belgian Malinois' sought out for K9 units.
Yoda was from the tactical K9 unit with US Border and Customs Patrol (BORTAC).
As Yoda makes clear, K9 units are an incredibly useful asset that law enforcement officers can utilise for various. In this case, neither Cavalcante nor the officers seizing him had to use any lethal weapons.
Yoda was trained as a "bite and hold" dog. This means he would attack and seize a suspect on command, using his bite to contain the suspect until officers could handle the situation themselves.
In this case, Yoda bit Cavalcante on the scalp before he "latched onto Cavalcante's leg," rendering him unable to escape. This method requires no tactical weapons like guns or batons and is therefore ostensibly less dangerous for all parties involved.
However, the nature of K9 units and police dogs–trained to attack on command–means that they can also be misused. In July, an Ohio police officer released his police dog on a Black man who had his hands raised, resulting in hospitalisation for the victim's injuries.
But, in Yoda's case, the K9 unit served its purpose with tail-wagging success.
What happens now?
Upon his recapture, Cavalcante was examined by medics and moved to the state barracks in Avondale via a SWAT vehicle, state police said. He will have another court date soon for a felony escape charge, after which he will continue his life sentence.
Cavalcante's re-imprisonment comes as a relief to locals living around where he escaped. It is also reassuring to people in Brazil who believe he should pay for the crime he committed there.