The family of the 15-year-old student is suing the school claiming the student was singled out for not singing the pledge of allegiance by a special needs teacher for being African-American.
In American state schools, playing the Pledge of Allegiance is the law. However, students don't need to partake in reciting it.
In South Carolina, a student at the River Bluff High School in Lexington was allegedly firmly stopped by a teacher for not stopping to sing the pledge of allegiance as it rang in the hallway speakers.
The teacher, Nicole Livingston, a particular education instructor, firmly stopped the student, 15-year-old Marissa Barnwell, on November 29, 2022.
The lawsuit was filed this February, alongside the released video surveillance footage depicting Livingston stopping only Barnwell on the way to class whilst letting other students continue walking by.
The lawsuit claims that the South Carolina Department of Education, Lexington County School District One, Livingston, and Principal Jacob Smith, are accused of negligence and violating Barnwell's civil rights by choosing not to perform the pledge.
The evidence deducted from the video shows that Barnwell was the only African-American student passing in the hallway, and therefore, the Barnwell family claim that stopping her to force her to sing had political and racial reasons.
Barnwell says, "She approached me, she grabbed me, she pushed me up against the wall, and I was not prepared for that."
She adds, "I have never seen this lady a day in my life, so when she approached me so angry and so upset, I had not known how to react to her."
Barnwell had decided to stop reciting the pledge of allegiance when she was in elementary school. She claimed it felt false to recite the lyrics, "liberty and justice for all," when it is evident that in contemporary America, there is mass economic and civil disparity amongst its population. So the phrase only stands "for all".
The High School has been contacted for a comment, but no statement has yet been released.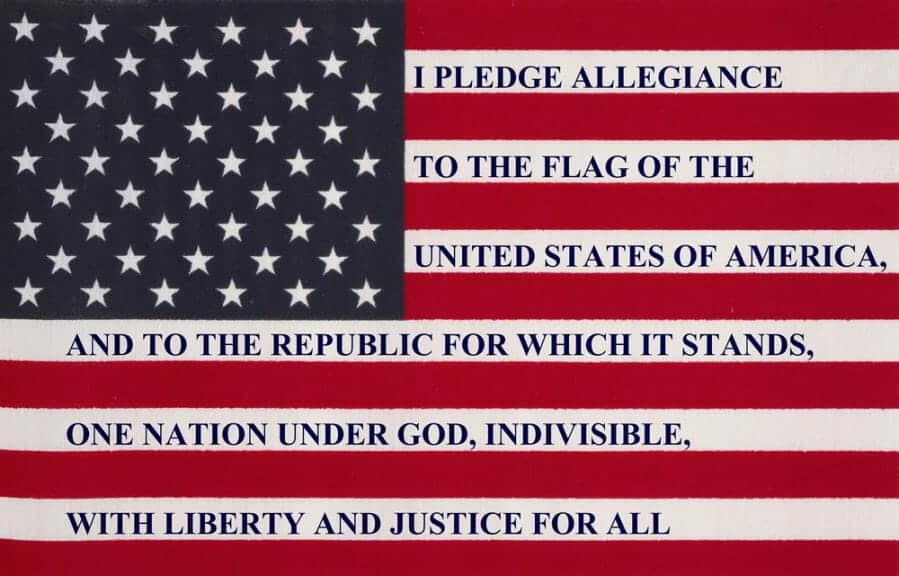 Barnwell has continued going to the high school but was severely upset and disappointed that there were no repercussions after this assault.
Shavell Barnwell, the father of Marissa, has seen the footage and considering all the other students were allowed to keep walking, he asks why his daughter was "singled out".
Why would the teacher single out my daughter whne you could clearly see that other students were walking in this video, but that particular day she zoomed in on my daughter, and when she grabbed her, you could see the grab was a forceful grab, and you could see she was hodling on to her with aggression.

Shavell Barnwell, public statement
The South Carolina code states that although the pledge of allegiance is mandatory in state schools, people have the right to exercise the freedom of protest and the freedom of speech and choose whether to participate.
It quotes,
"Any person not wishing to say the Pledge of Allegiance or otherwise not participate in saying the Pledge of Allegiance is exempt from participation and may not be penalized for failing to participate. A person who does not wish to participate may leave the classroom, remain in his seat, or express his participation in any form which does not materially infringe upon the rights of other persons or disrupt school activities."
The Barnwell family feel that Marissa was singled out because of her race.
Marissa Barnwell shares in a statement,
The fact that I was exercising my right to freedom of protest, freedom of speech, I feel like because of the stigma behind not stopping or standing there in the moment of silence, I feel like she targeted me because I was Black and that she knew that this was something political.

Marissa Barnwell
Attorney Tyler Bailey is representing the family in the lawsuit. Bailey considers the family brave for filing this lawsuit against the school and standing up for the civil right to protest and freedom of speech.
Bailey shared in a statement that,
The beautiful thing about America is that we have the constitutional right to freedom of speech. It cannot be argued that students or teachers shed their constitutional rights to freedom of speech or expression at the schoolhouse gates. Our consitutinoal rights are sacred, and the violatino of those by people placed in authority to teach our kids is unacceptable.

Tyler Bailey, family attorney
Tyler Bailey supports the family and considers Marissa Barnwell a "brave" person for standing up for her civil rights.
Read here why E Jean Carroll is suing Donald Trump.