Image via
As with many cities around the globe, the homeless crisis in Dublin has reached a fever pitch. Conor McGregor, MMA fighter and former UFC champion, has announced plans to provide solutions for several local families who've fallen victim to the epidemic.
McGregor took to Facebook to announce the housing project earlier this week, sharing several photos of the development as well as interactions with neighboring families.
The star noted in his post that there are currently eight three-bedroom houses near completion, all of which are intended for homeless families currently living out of hotels around the city.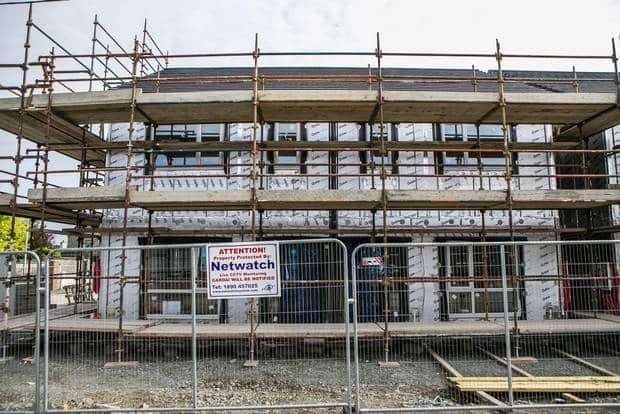 Though much of the public response is positive, there are detractors who question McGregor's motivation. One commentator wrote, "Fair play for doing your bit to ease the homeless crisis, but I think people here wrongly think Conor is building houses to give away. This is property development i.e. a for profit business. Good luck to him, he's entitled to profit from his hard work. But it ain't giving to charity."
McGregor's post is indeed vague, offering no details regarding the project's funding or of the selection process. With an estimated ten thousand living on the streets in Dublin, this project offers little to assuage the crisis.
While it does provide a solution for at least eight families in need, it is unclear how this solution is being managed or funded.
Even Dublin City Council is unaware of the details regarding the project. In fact, they were not notified at all. It is unclear who McGregor has been working with, and no details, apart from those shared in the Facebook post, are known.
If the housing project is intended as charity, wouldn't he claim as much? The language of the post gives no indication that he is giving these homes to the families, nor does it signal a personal dedication to address the rampant homelessness in the city.
However, even if the housing is merely an investment scheme for McGregor, the rent offered must be considered accessible enough for the families to afford. As noted by The Irish Times, high rent and housing costs are the primary contributing factor in family homelessness in the country.
With this in mind, perhaps McGregor's venture, though not entirely philanthropic, may help to deflate this major cause of homelessness by offering affordable housing.
For more information on the homelessness crisis in Ireland, check out Focus Ireland's website.