Hundreds of Amazon workers walked out of the office last month to protest the company's return-to-office mandate and rising greenhouse gas emissions.
For those passing by the Amazon Spheres – three spherical conservatories that house over 40,000 plants and operate as part of Amazon's headquarters in downtown Seattle – on a weekday at noon, it's not unusual to see large crowds of people hustling to their favorite lunch spots or from lunch-time appointments.
But on Wednesday, May 31, passersby were met with something a little different. A large crowd had amassed in the courtyard outside the Spheres, as pizza was served and Chance the Rapper played over the loudspeakers. Signs that read "Amazon, try harder," and "Short-term thinking equals lost trust," were held up for all to see. The mood was temperate yet excited and hopeful.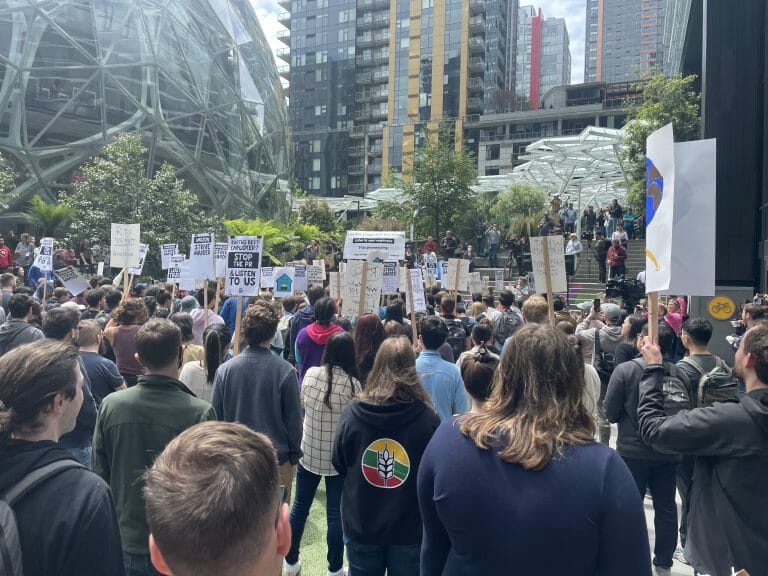 This group, composed mainly of Amazon workers, had gathered after a company-wide walkout took place that day. They were there to protest the company's broken climate pledge and return-to-office mandate.
The Amazon Employees for Climate Justice (AECJ), a group of Amazon employees advocating for climate and other intersecting issues, hosted the rally. In 2019, the group organized a global walkout of over 3,000 Amazon employees that led to the company announcing its Climate Pledge.
Why the Walkout Happened
Part of the Climate Pledge included Shipment Zero, a goal to make half of the company's shipments carbon-neutral by 2030. Earlier last month, Amazon quietly dropped the Shipment Zero goal from its website, replacing it with an update that says, "We've decided to eliminate it."
Amazon's attempt to sweep the elimination of Shipment Zero under the carpet did not go unnoticed, and AECJ stated that it was one of the main reasons for the walkout and rally. While Amazon's broader shipment goal is to have all shipments be carbon neutral by 2040, many Amazon employees believe that still isn't good enough.
"I know that Amazon's goal of being carbon neutral by 2040 is not enough," one current Amazon employee said. "Scientists are telling us that we need to see a drop in our emissions in the next couple of years to avoid the worst effects of climate change. Despite this, I'm in meetings where leadership kicks the can on climate until a decade from now because The Climate Pledge doesn't have any steppingstones in the years prior to 2040."

Current Amazon Employee
In addition to dropping Shipment Zero, AECJ also stated that Amazon is failing to address the climate crisis in a number of other ways. Some of these failures include the company undercounting its carbon footprint by excluding third-party sold products, increasing its emissions by 40% since signing the Climate Pledge, and locating warehouses primarily in communities of color that bear the brunt of Amazon's emissions impact.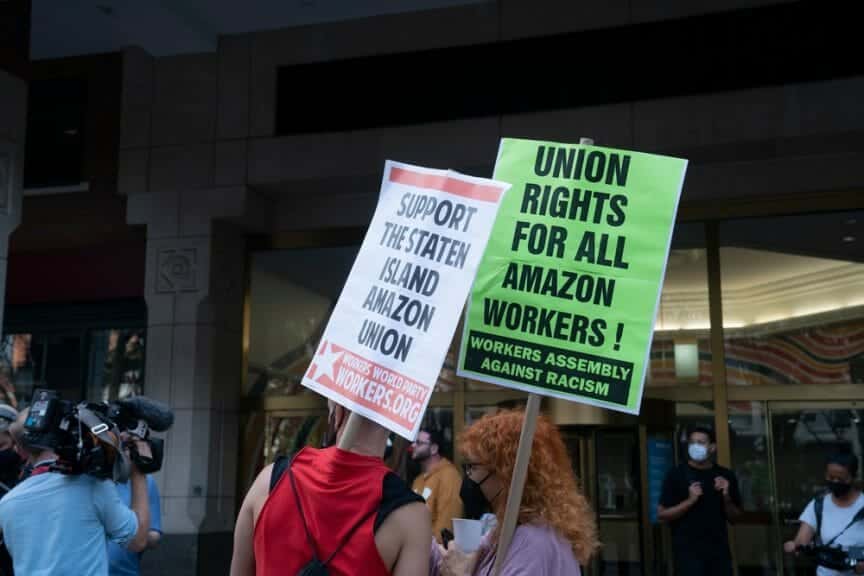 In a statement released last fall, AECJ stated that the company was prioritizing profit over the planet.
"Yesterday we learned Amazon's carbon emission increased another 18% last year and 40% since they announced the climate pledge. This was driven in part by a massive increase in warehouse construction. Once again, Amazon prioritizes profit over the environment," the statement read.

The Amazon Employees For Climate Justice
One Amazon employee present at the rally said he walked out because of Amazon's empty climate goals, which he feels are important.
"I attended the rally today because I'm fed up with Amazon making commitments on reducing emissions yet making zero progress towards those goals," the employee said. "I've biked in 106-degree heat in Seattle, a clear sign of the climate crisis, only to sit in meetings where leadership puts sustainability on the back burner by prioritizing profits at all costs. I feel like the only way to make my voice heard right now is coming together with a thousand other Amazonians and demanding that Amazon go further on climate, let alone keep the promises they've already made."

Current Amazon Employee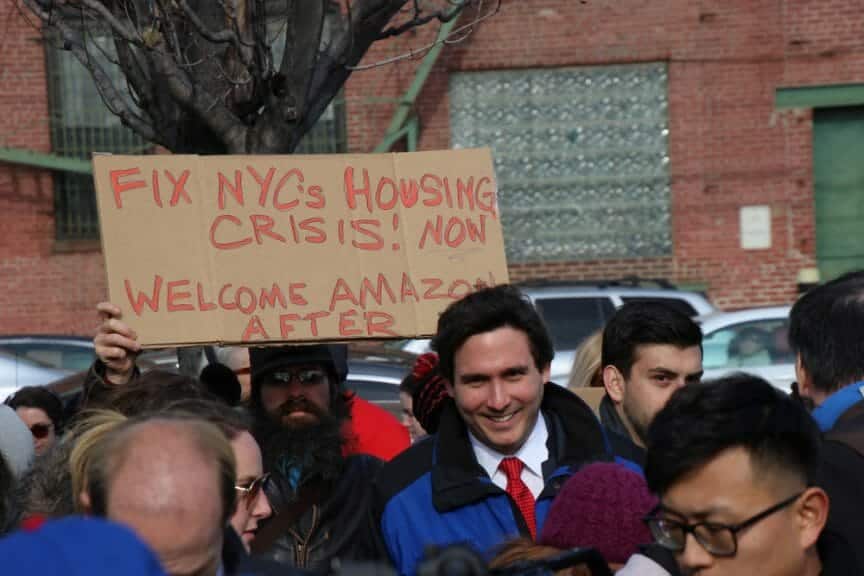 Employees Disagree with Company's Return-to-Office Mandate
In a joint statement with Amazon's Remote Advocacy group, both groups said the walkout and rally were also in protest of Amazon's return-to-office mandate, which was recently put in place requiring employees to be in the office at least three days a week.
"Many of us, including women, people of color, and workers with disabilities report that having autonomy in where we work improves not only our relationship with it, but also our ability to be seen and treated as equals," the statement read. "Amazon's top-down, one-size-fits-all RTO mandate undermines the diverse, accessible future that we want to be a part of."

Joint Statement from AECJ and Amazon's Remote Advocacy Group
Both AECJ and the Remote Advocacy group gathered pledges from Amazon employees agreeing to walkout. The most recent count stated that over 2,000 employees pledged to walk out, with over 1,000 employees in Seattle. Of those 1,000 employees, roughly 900 had planned to join the rally at the Spheres. Amazon estimated that around 300 employees walked out in Seattle. No one has recorded an official count of rally attendees.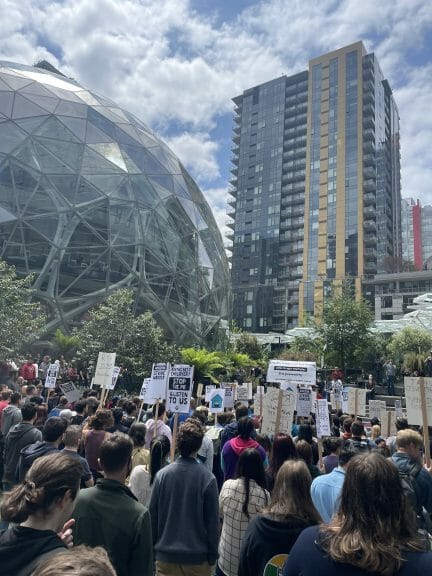 Speakers Fire Up Crowd Outside the Spheres
All of this led to the walkout and rally that took place this past Wednesday. As the clock reached a quarter past noon, a chant started over the live speaker and people gathered around the stone steps adjacent to the Spheres, mostly Amazon workers. The first speaker was then introduced: Pamela Hayter, an 8-year employee urging the company to reconsider its return-to-office mandate. Hayter was fired up.
"We're here today because we know it's the right thing to do. I've not been nervous; I've been fired up!" Hayter said to a cheering crowd. "We don't have to spend hours of our lives in traffic, hours of our lives in conference meetings."

Pamela Hayter / Current Amazon Employee
Eliza Pan spoke next, and read a statement on behalf of Abdirahim Muse of the AWOOD Center, an organization advocating for East African workers' rights in Minnesota.
"You can change Amazon if you organize!" The statement read.

Eliza Pan on behalf of Adbirahim Muse / AWOOD Center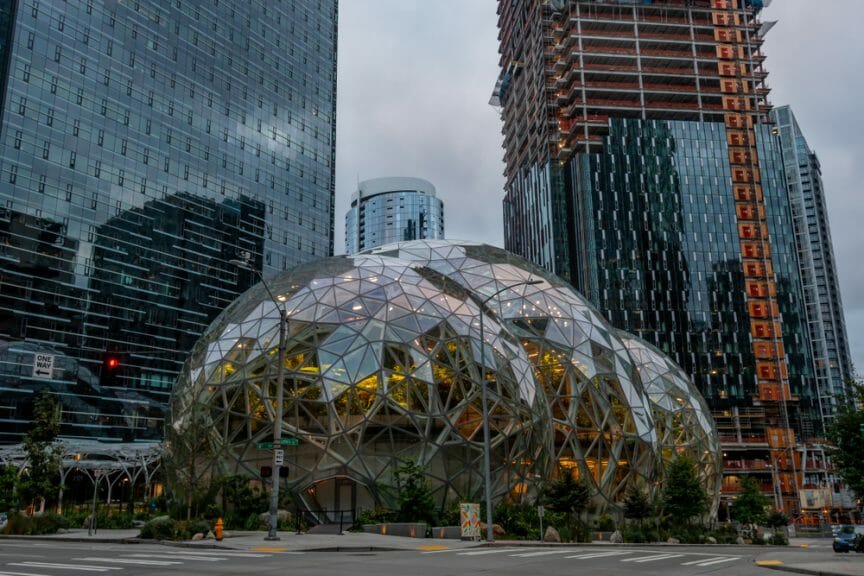 Shemona Moreno, Executive Director of 350 Seattle, a climate justice organization, also spoke at the rally. Moreno urged Amazon employees to keep pushing the company to become part of Seattle's Green New Deal, an agreement calling for the elimination of Seattle's pollution by 2030.
"I invite you to keep pushing Amazon to become part of the Green New Deal in Seattle," Moreno said. "The Green New Deal is about making the transitions we need to de-carbonize our economy, while organizing to put workers and communities of color at the center of decision making about the transition, so the system that got us into this crisis in the first place doesn't happen again."

Shemona Moreno / 350 Seattle
Moreno offered an optimistic look at what a future where Amazon has partnered with Seattle on the Green New Deal could look like, including all-electric delivery vehicles.
"The year is 2025. Seattle and Amazon are being transformed together by the Green New Deal. Workers are busy. At the port of Seattle they're installing gigantic plugs that look like something out of a children's picture book that allow container ships to plug in at their dock," Moreno envisioned. "This means ships no longer have to run their engines and emit huge plumes of black, smudgy smoke just to keep their lights on. At the same time, forklifts whirl all around the port and are all powered by electricity. Down on Marginal Way, trucks are still lined up to take the shipping containers to Amazon's fulfillment center in Kent, but those trucks are now electric, no longer diesel."

Shemona Moreno / 350 Seattle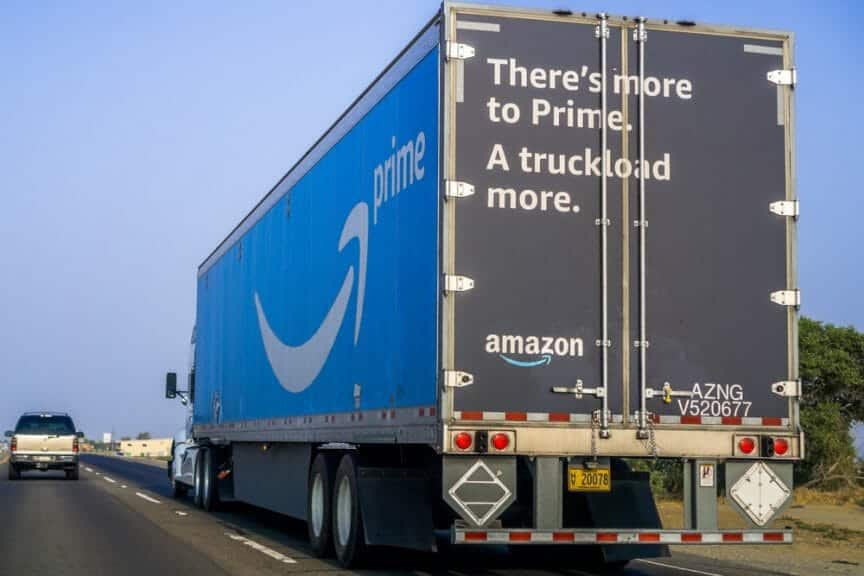 Moreno also made a key observation about the connection between climate goals and work-from-home policies.
"Here at headquarters, some workers are working at the office, but others, whose teammates are scattered around the world, don't have to come into the office just to sit in front of their same laptops they were using at home," Moreno said. "This shift saves an incredible number of commute trips, and more Amazon families decide that they can become one-car households."

Shemona Moreno / 350 Seattle
Amazon's Response and Next Steps
So far, the company has not said much in response to the walkout and worker requests. Just before the walkout this week, an Amazon spokesperson stated: "We respect our employees' rights to express their opinions."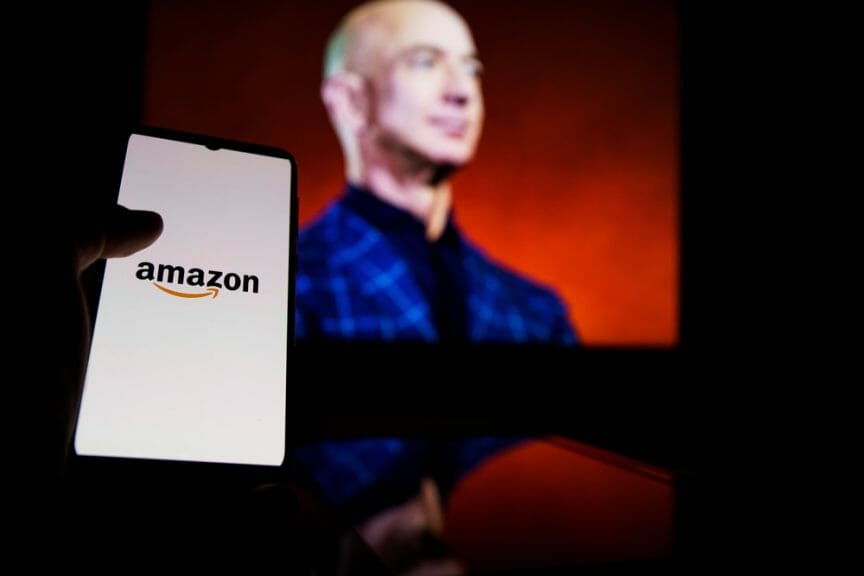 Another company spokesperson, Ben Glasser, said just before Wednesday's walkout that it will take time for employees to adjust to being back in the office, altogether ignoring the underlying issues prompting employees to walk out and rally.
"We understand that it's going to take time to adjust back to being in the office more and there are a lot of teams at the company working hard to make this transition as smooth as possible for employees," Glasser said.

Ben Glasser / Amazon spokesperson
Amazon Employees for Climate Justice is hosting "Lunch & Learn" events on June 20 and June 26 to further inform the public about Amazon's failure to meet its Climate Pledge. You can find sign-up details for the virtual event here.