Taking the internet by storm, Jellycat soft toys are making their way into millions of hearts. From hauls to wish lists and beyond, everyone is becoming utterly obsessed with the little smiley-faced plushies.
What is Jellycat?
Stuffed animals have been a loveable childhood companion for many providing comfort, joy, and love. Among the many brands, Jellycat stands out for their soft, quirky, and high-quality creations that have captured the hearts of people of all ages.
Founded in the UK in 1999, Jellycat has quickly become one of the most popular and recognizable brands in the world. According to their website, the name Jellycat was dreamt up by a child who loved jelly and cats and giggled at the thought of them together. And so, the Jellycat name was born.
An Ever-Expanding Collection
As most people likely came to know the brand, Jellycat is recognizable for their bashful bunnies with super soft ears which make the perfect gift, especially for children. Having now been in business for over 20 years, their collection has grown immensely to include everything from dragons to frogs and lobsters. There's something for everyone and every budget.
Following their growing popularity, the company introduced its iconic Amuseables collection which included some slightly more whacky creatures including plush flower pots, pastries, fruit, and more. With their catalog growing more and more each season, the choices are endless!
Why Does Everyone Love Them?
Why have these lovable plushies become so popular? For teenagers, young adults, and 20-somethings, Jellycats aren't just super soft cozy plushies, but can also be beautifully decorative additions to any room. Their playfulness and sense of humor set the brand aside from other soft toys, making them appealing to so many people, and their vast range on offer has encouraged people to continue adding to their collections.
Who Are The Favorites?
Thanks to TikTok and other major social media platforms, Jellycats have been introduced to millions. In recent months, users have been sharing their Jellycat collections, wish lists, and excitement for new additions in their videos. With bunnies and bears topping the list, what are the internet's favorites?
1. Love-Me Lobster
Added as an addition to this year's Valentine's Day collection, the Love-Me Lobster has quickly shot to the top of many wish lists and made its way into people's hearts. With suede heart-shaped claws and a fluffy red body, the little guy is perfect for cuddles or as a decoration! Appropriate for Valentine's day, it's no surprise this lobster has everyone feeling the love.
2. Flumpie Frog
Part of the Flumpie collection, Flumpie Frog is the happiest, squashiest little fellow you'll ever meet. With his tiny arms and legs, bright eyes, and super soft body, this guy is one of the most cuddle-worthy plushies on the list. Users online have shared how they instantly fell in love with Flumpie Frog who is just like 'an emotional support beanbag'. He fits right in with the internet's latest obsession with all things froggy, and his best-seller status is certainly proof! Froggy's big smile and friendly shape make him utterly irresistible!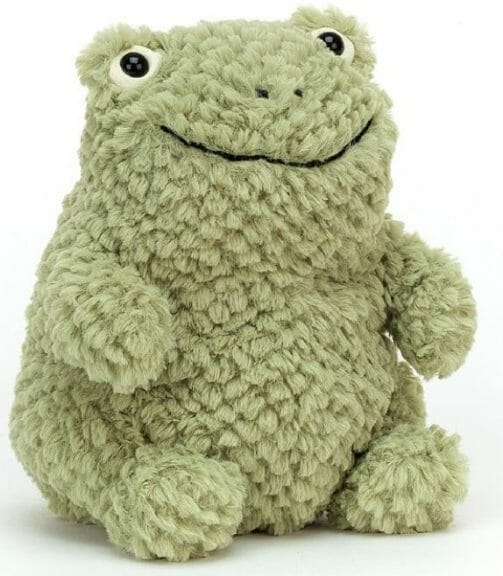 3. Amuseable Eggs
With their cheeky little expressions, Jellycats' egg collection has been an absolute hit with fans of all ages. From devilled egg to happy egg and fried egg, their expressions are what make them truly unique and loveable. At an affordable price, and not too much bigger than a regular egg, the Amuseable Eggs are an undeniable favorite.
4. Amuseable Croissant
The beautiful baked buddy, Amuseable Croissant is a perfect pastry delight. With the softest fluff and wonderfully folded curves, his little smile has made so many fall in love with him. Paired with his little swinging feet and goofy face, the golden boy is one of the internet's most adored.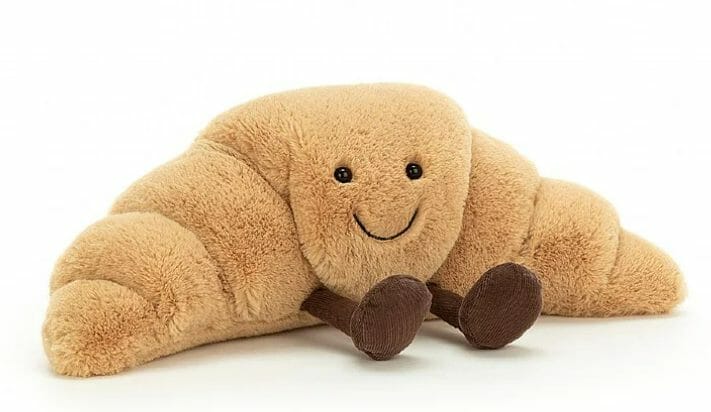 5. Dragons
As fairly recent additions to the Jellycat collection and the priciest on the list, the laying dragons are without a doubt some of the internet's most favorite soft friends. Available in sage, rose, lavender, onyx, snow, and more, the dragons are the perfect addition to a cushion cluster or living room. Their fabulously sweet wings, sparkle fur, and long tail make these guys utterly magical.
From the immense popularity of Jellycats, it is clear to see that they are much more than just toys. With soft and playful designs, their collectability and comfort make them the perfect companion for any stuffed toy enjoyer. So, if you're on the lookout for a new friend, look no further!