The Samsung Terrace is the latest in outdoor TV watching.
As we approach summer, temperatures have been rising. Finding ourselves outside more often, the Samsung Terrace has come at the right time.
This new television is actually the first model Samsung has made that is built specifically for outside viewing. With 2,000+ nits of brightness, the screen should be exceptionally visible even in direct sunlight. As with other of Samsung's products, the Terrace has anti-reflection tech.
Additionally, the model has an IP55 water and dust resistance rating, making it safe for all weather types. Except if there's a hurricane. Then take it inside. Otherwise, you're good!
Along with the screen, Samsung are launching a soundbar to pair with it. The Terrace Soundbar shares all of the outdoor protection the TV offers.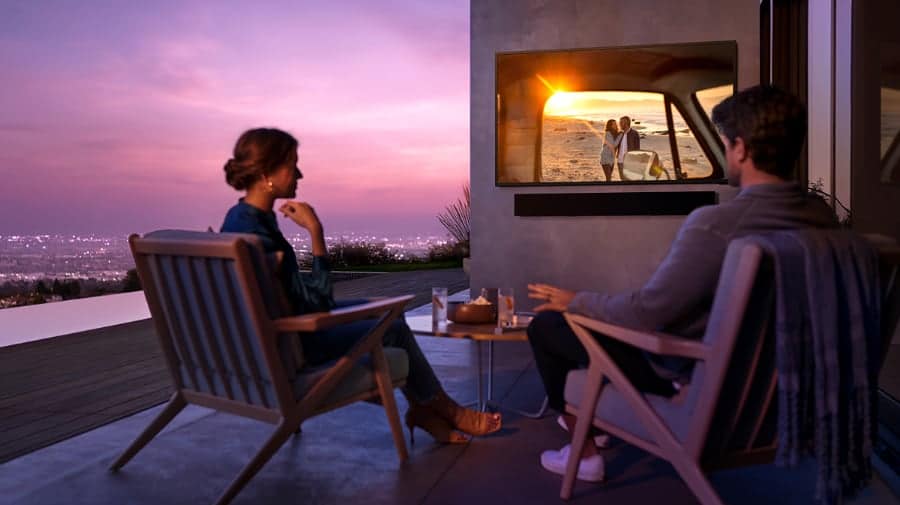 As a TV, the Terrace stands to be great, even if you take out its outdoors capabilities. The Terrace is a smart TV, and contains many of the qualities you'd expect from Samsung: Quantum HDR, Quantum Dot colour tech, Direct Full Array 16X local dimming and AI-enhanced 4K upscaling.
The screen is built for wall-mounting, and comes in three different sizes, depending on the outdoor wall you are working with. The sizes are 55, 65, and 75 inches.
How Much Will The Samsung Terrace Cost?
All these gadgets come at a price though. If you are looking for something on the smaller side, the 55 inch will cost you $3,455, whereas the 65 inch will be $4,999. If you're looking to go to the max, the largest and most expensive size is the 75 inch, at $6,499.
To add the soundbar, you'll have to pay an extra $1,199.99.
Right now, the Samsung Terrace is up for pre-order in the US and Canada. Shipping for the Samsung Terrace commences on June 5th, with the soundbar following on June 12th.
Though currently the Terrace is only available in the US and Canada, Samsung are planning to launch in Germany, Australia and New Zealand later this year.
Featured image via