Times are changing in 2022. Hybrid cars and now a hybrid work style. Is the future hybrid? What does this mean for old-school employers and recent grads.
Five am starts. Long, costly public transport journeys. Burn out. Missed family dinners and long trawls home in winter months. These are a few of our least favorite things. Everyday occurrences prior to 2020, that are perhaps, soon to be a thing of the past.
In March 2020, offices globally were forced to close due to the COVID-19 Pandemic. At the time employers and employees alike predicted no more than six weeks until they were back in the office every day.
Cut to Summer 2022 and a considerable amount of offices have adopted a hybrid working style. Many employees, particularly in the UK are now only required to spend part of the working week in the office. Employees now have the option of adopting a hybrid working style which means splitting their work between home and the office.
In some cases, employees and employers have opted to remain completely remote, communicating via Teams and Zoom.
It appears that the pandemic had one side effect that people are keen to prolong; the circumstances of the last two years have highlighted to employers that not only is it possible, but that a hybrid working style can be extremely beneficial for employees.
Hybrid Working. A Happy Compromise?
Isabella, who prior to March 2020 spent 4 hours and £20 a day commuting to her London-based office now prefers the hybrid working style. Once COVID-19 restrictions were completely lifted, Isabella's employers permanently changed their policies, requiring staff to spend a minimum of 3 days in the office, as opposed to the former 5 days.
When asked how the hybrid working style compares to her work life pre-March 2020, Isabella said:
"My well-being has generally improved as I no longer have to commute 4 hours per day. I have now gained that time back in the days I work at home therefore socializing with friends and family has been easier and overall I feel less tired. I feel my chug on the hamster wheel is reduced as I have a better work/life balance."
Not only has Isabella been able to benefit financially, saving considerable amounts on train fares weekly, but she has seen a significant impact on her well-being and relationships. Isabella was often left feeling burnt out whilst commuting every day and had less time to spend with family and complete household chores. Her work life had most definitely tipped the scales leaving Isabella struggling to find the time for her personal life.
A report by the University of New South Wales Business School shed light on six important ways that office life changed as a result of the pandemic. One key section of the report highlights that it may be possible to "reinvent workplaces as spaces for real collaboration" if companies adopt a hybrid working style.
The Associate Dean of Research and Professor in Organisational Psychology, Professor Anseel, explained that companies who choose not to return to their pre-covid working style will need to "need to reimagine the workplace as a place where people meet, brainstorm, have social gatherings, build social identity."
Isabella, a Senior Creative Artworker, has also emphasized how her work has actually benefited since adopting the hybrid working style.
"I have also changed up my working habits, by figuring out what's needed to be done in the office and what can be done whilst working from home. I prioritize tasks differently. For example, as I work more productively at home, I prioritize editorial tasks that require complete focus these days."
The 24-year-old also described how a hybrid working style has enabled her to become more self-reliant and confident in her ability. Working from home on certain days has pushed her to trust her own decisions more, instead of waiting for her colleagues to respond with their ideas.
For Isabella, the best thing to have come out of the pandemic appears to be the ability to adopt a working style that suits her needs more. When asked about the future of her career Isabella informed Trill Mag:
"I love hybrid working and won't go back to commuting 5 days a week if the commute is longer than an hour."
An article published on Gartner considers the future of working life and points out that Gen Z employees remain keen to have some form of workplace culture.
Employees like Isabella desire to maintain a strong balance between work and life. Isabella explained that when looking for future roles a key requirement will be a hybrid working style. It is important for her to sustain strong "work-family" relationships whilst also prioritizing her well-being by not commuting five days a week and diving headfirst into burnout.
The Gartner article goes on to state that the needs of the next generation of hires will "impact decisions surrounding redesigned office spaces, in-office onboarding support, and development opportunities." Implying that it will be newer graduates who determine the direction that offices move in a post-covid world.
Employers Response
As previously noted, COVID triggered a policy change in Isabella's company. This indicates that in some industries, employers have already acknowledged the increased desire for hybrid working opportunities.
Aisling, a London-based recruiter described the trends she has noticed since workplace restrictions were lifted.
She explained to Trill that companies appear to be taking one of two approaches.
Firstly, a number of employers have continued to hire for fully remote roles. In cases such as this Aisling highlighted benefits for both employers and employees. She notes that some companies are able to widen their search for recruits. Since a number of cities outside of London typically have a lower base wage, employing remote workers in these areas can "work out cheaper for the companies". On the other side of this, new recruits are using remote working to their advantage and choosing to work remotely in order to work abroad.
In June 2022, Bali announced a new visa for remote workers dreaming of an Indonesian escape. Their new Digital Nomad visa enables remote workers to live in Bali tax-free for 5 years, providing their income comes from companies outside of Indonesia. For employees who are comfortable working completely remote, the opportunities seem endless.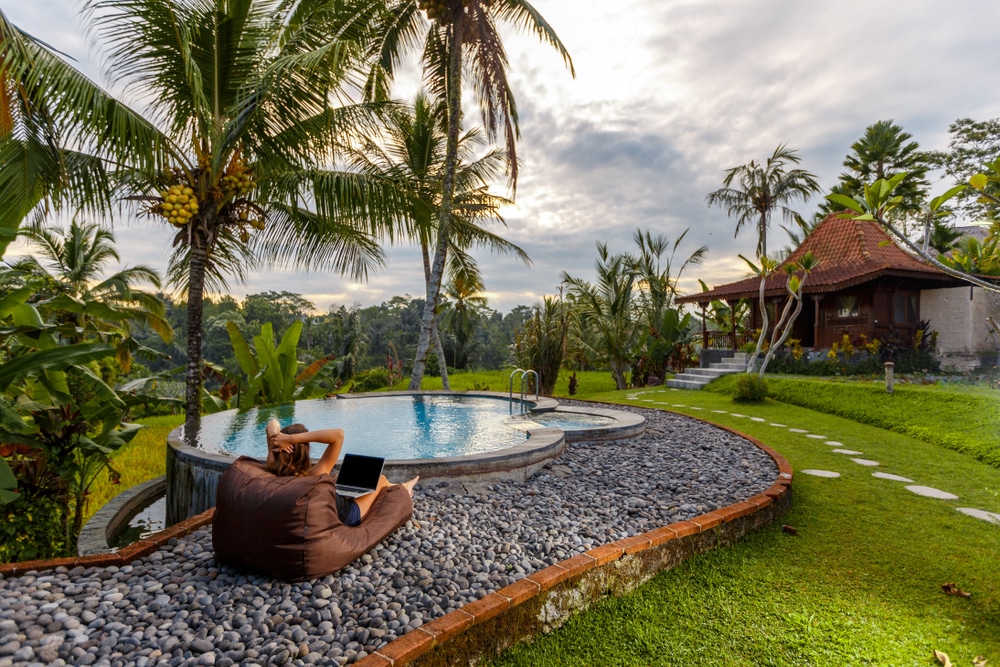 However, Aisling suggests that she has noticed a number of companies endeavouring to entice workers back to the office by offering the option of a hybrid working style.
She notes that this is often an attempt to re-energize the workplace culture. She explains that employers often prefer in-person onboarding, finding it far more efficient and useful. By providing the option of hybrid working, employers perhaps get the best of both. Companies can mandate that interviews and training sessions are carried out in person and set a minimum number of days staff are in office. And, they can ensure employee satisfaction by enabling staff to work from home on a number of days should they require.
"When it comes to the employees, it's typically the graduates who emphasize a desire for hybrid working. I think they want the flexibility that hybrid offers but they also want the opportunity to experience the workplace culture and have access to support"
A Generational Preference?
Mark a department director with 20 years of experience in his industry and has some concerns. He fears that with hybrid working could come a decline in productivity on days employees work from home. Mark, who works in property, emphasizes that it is very "dependent on the situation"; the industry and the individual. In creative roles that require strict, immovable deadlines he believes hybrid working may be more effective. However, he is concerned that certain individuals who require more motivation in the workplace will see their work suffer on days they work from home.
As with every topical issue, there will always be two sides to the debate. A promising list of pros, and as many countering cons. Employees such as Isabella who graduated shortly before the pandemic and are members of Generation Z. Their typical working experience has been either remote or more recently hybrid. In opposition to this, Mark, a millennial office worker is skeptical that the benefits will outweigh the costs. As Gartner suggests, the preferences of Gen Z employees seem to be making a significant impact.
The Answer?
Perhaps the answer is not as simple as 'hybrid working is the future'. The hybrid working model is desirable for a multitude of reasons, Aisling explained to Trill that employers are both aware of this and hesitant to remain some form of control over the workplace.
Would a model that monitors the productivity and results of workers while they work from home be more favorable? To avoid the drop in standards that Mark contemplates? Is it possible to implement a system that rewards those who meet their targets consistently with the chance of increased hybrid opportunities?
Equally, might employees appeal to their employers and compel them to actively promote a positive workplace that brings employee wellness and work culture to the forefront?
One Reddit user, the very one who inspired this piece, criticized the employers who used work culture as an incentive to work in office and then failed to provide it.
We're all well aware of how quickly and dramatically things can change. Recent global events continue to impact our day-to-day. Meanwhile, employers and employees strive to find the perfect balance between living to work and working to live.
Is there a way that we can find a solution that benefits both parties equally? Tell Trill about your working experience in the Post-COVID world. Are you back in the office full time, dreaming of the days you can forward clients to your mobile? Or are you thriving in an office that places "work family" above all else?