Hospitals aren't somewhere you'd associate with futurism, or even somewhere you'd be impressed with. The connotation remains that hospitals are stuffy, unwelcoming and perhaps, run down. But, this hospital in Norway is certainly bucking those assumptions with its ultramodern approach to healthcare.
The footage, first shared on TikTok, by twenty two year old nurse Lars, shows how staff navigate their way through their shift in Norway's Ahus hospital, in Lorenskog. The clip, which has now been viewed by millions, has gathered plenty of praise at the way the Norwegian healthcare system operates, in comparison to hospital's in other developed countries.
The nurses, instead of rocking up in those rather unflattering looking blue scrubs we're so used to seeing, scan their staff pass at a 'vending machine' where they simply choose what items of the uniform they need for the shift on the screen, which the machine then dispenses on a rail. Fancy, fancy.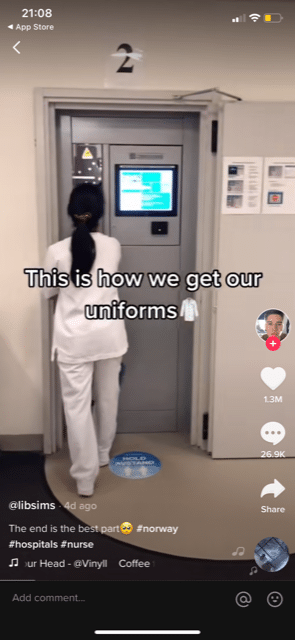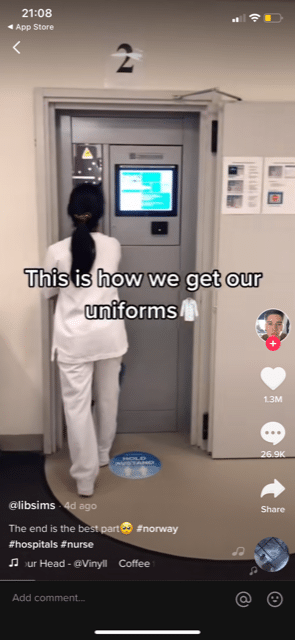 Furthermore, to save staff cleaning and drying clothes at their own the expense at home, they simply dump their scrubs down a laundry shift when their shift has ended and repeat the process again the next day. Oh, the dream…
And in some Willy Wonka and the glass elevator contraption, blood tests, blood bags, and medicines are transported around the hospital via a tunnel system to every unit. There are even self driving robots who whizz around the hospital sending deliveries to all the different wards. They even know how to use hospital lifts. Impressive, or slightly terrifying?
TikTok users have shared their amazement at the hospital, with one user writing: "The United States is so far behind in technology that it's embarrassing."
Another wrote: "The taxes may be higher but my god is it worth it, I would rather have a country like Norway and pay higher taxes tbh"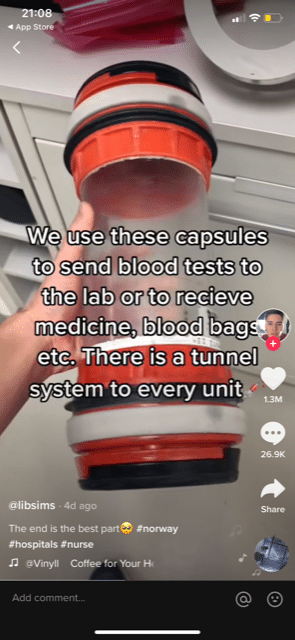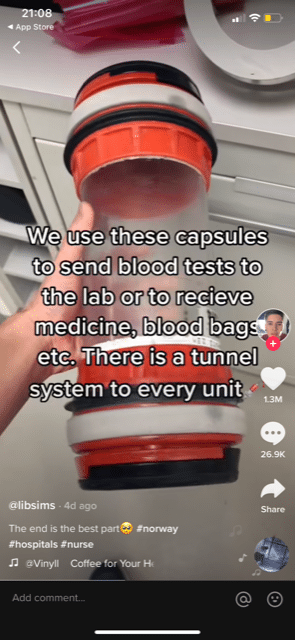 A common theme in the comment section was the comparison to Norweigan healthcare and the American spending of taxes on the military rather than improving its citizens healthcare.
Speaking to LADbible, Lars revealed his shock at the response to his TikTok has gained: "I didn't expect such a huge response. It's mostly positive but it has also caused a lot of discussion, which I believe is good."
"I can see some reoccurring themes about both how much tax we pay and how robots are taking jobs."
It then comes as no surprise that Norway ranks fifth on Forbes' list of the world's happiest countries.
Kudos to Norway, they're clearly doing healthcare right.
Juxtaposed to this, see how robots are helping in America…