Since Irene Forte Skincare added Pomegranate Hand Cream ($95) to their product line, they have partnered with The Lady Garden Foundation to donate £1.50 of all hand creams sold worldwide to the charity year-round. As part of International Women's Month in March (be sure to mark your calendars for next year!), the entire purchase price is donated.
The Lady Garden Foundation, a women's health charity in the United Kingdom, was originally founded and incorporated as The Gynaecological Cancer Fund in 2014 by Mika Simmons and Chloe Delevigne. The Lady Garden Foundation, who work closely with The Royal Marsden Hospital, holds many events throughout the year to raise funds for the charity, including various 5 & 10K races, a ladies' luncheon at London's Fortnum & Mason, and an annual Gala. The foundation is also no stranger to beauty and fashion partnerships like the one they share with Irene Forte as, since 2015, they have had collaborations with the likes of Topshop, Selfridges (a campaign that included iconic '90s supermodel Naomi Campbell), Gucci, Charlotte Tilbury, Tabitha Webb, Simeon Farrar, Stripe and Stare, Cult Beauty, and Models1.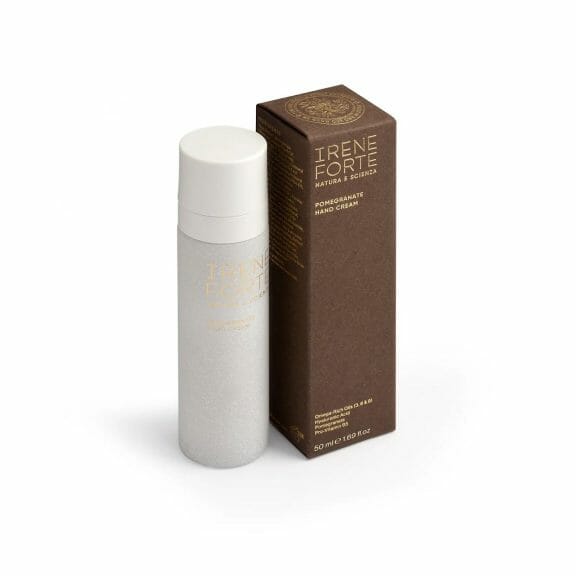 Now that you're aware of the amazing work done by The Lady Garden Foundation, why should you support the charity with a purchase of Pomegranate Hand Cream from Irene Forte? Put simply, once you try the hand cream, you might soon find that it will become a staple in your routine. The lightweight and luxurious formula includes pomegranate (of course!), oils such as sunflower, olive, avocado, and jojoba, aloe leaf juice, hyaluronic acid, and vitamins A, Pro-B5, C, and E. Another tick in the pro column is that the cream not only smells incredible but absorbs quickly and leaves your hands feeling smooth and silky, not greasy.
Much like you would be helping to give back to The Lady Garden Foundation with your purchase, you can also feel good about shopping with Irene Forte, as the brand is both B-Corp Certified and a certified member of Positive Luxury, an organization working to make the luxury market/industry more sustainable.
Speaking of sustainability, while yes, Pomegranate Hand Cream may be a bit of an investment, because of Irene Forte's commitment to the environment and making the brand and its products sustainable, the hand cream is refillable. Finally, since the formula is so rich and hydrating, you don't need to use it a whole lot so it will last you for quite some time.