Image: Flickr.com
McDonalds UK have finally joined the vegan revolution, having confirmed that vegan meals will join their menu next year.
The fast food franchise has lagged behind other chains in recent years, with vegetarian and vegan options limited to only a few meals on their menu. Greggs' vegan sausage roll has grown in popularity, with many consumers who have gravy running through their veins choosing to go vegan.
In 2017, McDonalds experimented with a vegan burger in Finland, but last week, McDonalds confirmed that they were introducing their first ever vegan-friendly happy meal, as well as a spicy vegetarian wrap to their UK menu next year. Surprisingly, vegan items are yet to join McDonalds menus in the US.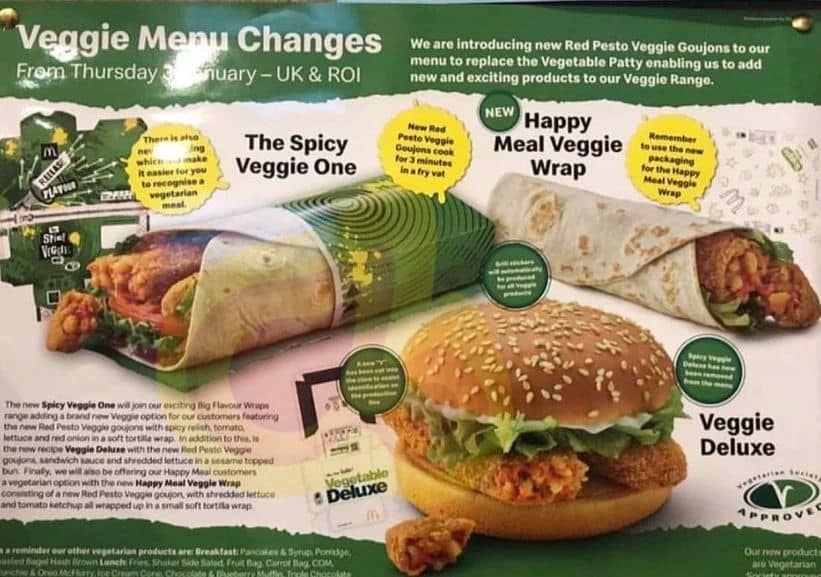 Animal rights group Peta, said that a vegan meal is the 'very definition of a happy meal.'
The new meals include:
– NEW Happy Meal® Veggie Wrap – 209kcal: made with a Red Pesto Goujon with Tomato Ketchup and Shredded Lettuce wrapped in a soft, toasted tortilla (RRP: £2.49)
-NEW Spicy Veggie Wrap – 364kcal: made with two Red Pesto Goujons, a generous dressing of Spicy Relish with Tomato, Lettuce and Red Onion all wrapped in a soft, toasted tortilla (RRP: £2.99)
Here is what McDonalds' head of food marketing had to say:
"In the last 12 months we've seen an 80% uplift in customers ordering vegetarian options at McDonald's, so it is time for the brand famous for the dippable McNugget to launch a dippable option for our vegetarian, vegan and flexitarian customers.
The Veggie Dippers are a delicious addition to our menu and we're looking forward to seeing what customers make of our first vegan Extra Value Meal and Happy Meal in the New Year."
In an era when more and more people are going vegan, McDonalds' foray into vegan is likely to be well received.
For more McDonalds news, here is when a Dad created his own McDaddy meal.