Image courtesy of coventrytelegraph.net
The Gods look upon us nicely this day as next week the KFC Double Down returns to the UK.
For many years people in the UK have heard tales and dreamt of consuming this glorious invention, two pieces of chicken instead of two burger buns to accompany a filling, the best filling, of bacon and cheese.
For too brief a time, back in October, we were able to bask in the glory, but this joy was taken too soon due to KFC's limited edition policy.  However, this joy to mankind will be soon returning to us as the Double Down returns next week.
In a stroke of brilliance KFC found an older post made by the SickChirpse twitter account and replied to said post. Then when someone asked about it they tweeted the date of 02/07/18. Next Monday to be correct!!
The moment can be seen here:
8 months on and this article may be relevant once more…

— KFC UK & Ireland (@KFC_UKI) 25 June 2018
02.07.18
02.07.18 pic.twitter.com/uFcLVpiQbx

— KFC UK & Ireland (@KFC_UKI) 25 June 2018
Judging by the popularity of the Double Down last year chances are that it will soon be sold out. But very subtle indeed from those smooth criminals at KFC.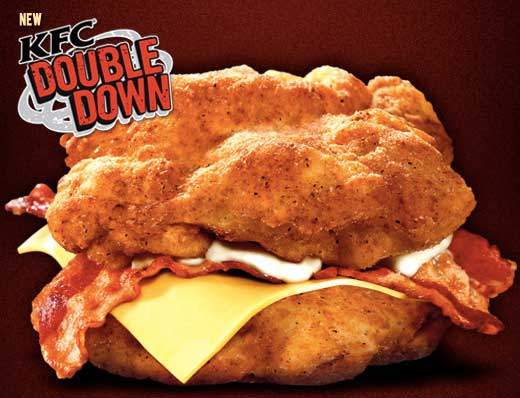 Image courtesy of  fastfoodnutrition.org
There is also a vegan alternative, For info why not read about it.