The weird and whacky world of science never ceases to amaze people, but one experiment has created quite a buzz – it's even been awarded an IG Nobel Prize.
It's not everyday that you see a rhino in mid-air. So when twelve were lifted into the sky in Zambia, it definitely was a shock. It was admittedly all for a good cause: Robin Radcliffe (Cornell University) was intrigued to find out if this would be a better way of transporting them.
Traditionally, rhinos are placed on their sides and lifted up whilst lying down, however this new technique proved to be very different. The rhinos were firstly tranquillised before having a helicopter lift them by their ankles, enabling them to be moved to a new area with ease.
What Were The Results?
It turns out that manhandling and tying up a rhino is actually a positive thing! Definitely shouldn't be tried without supervision though. Radcliffe discovered that when they're transported lying down, the rhinos experienced undue pressure on their lungs, which in time, could deflate them all together.
He also stated that when they lay on their sides for too long, the sheer weight of them can cause muscle damage as well as many other complications. Black rhinos are already an endangered species and anything that can help increase their lifespan is a very positive discovery.
Not only can this technique now be implicated for rhino translocation, it may also prove invaluable for other large animals, such as elephants. No wonder it won an IG Nobel Prize award.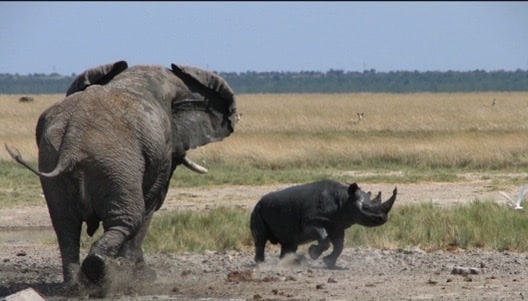 What Is An IG Nobel Prize?
In simple terms, it's a spoof equivalent of the Nobel Prize. It's not quite as prestigious or elite, but it still highlights many exciting new scientific findings each year. It's presented by comedic science magazine, Annals of Improbable Research, at a ceremony, but due to the ongoing pandemic, it all took place online this year.
Amongst the winners, included a study of bacteria in chewing gum found on pavements in different countries, variations in interactions between humans and their cats and how orgasms clear your nose. Definitely not quite at Greta Thunberg level.
And the prize isn't quite as valuable either. Radcliffe received a self-assembled pdf trophy print-out as well as a fake Zimbabwean cash prize. Let's face it, the real winners here are the rhinos, who can travel peacefully and painlessly.