The recent tragedy involving the murder of four University of Idaho students has sparked a social media frenzy. The story became national news only a few days after the deaths of Kaylee Goncalves, Madison Mogen, Ethan Chapin, and Xana Kernodle. As more details emerged about the night of the slayings, online detectives began to form their own speculations on who could be responsible for the crime.
#Idahofour
#Idahofour is a hashtag used by over 146.3 million Tik Tokers in reference to the murder of the four University of Idaho students. Clicking the hashtag leads you down a rabbit hole of videos detailing public information released by Idaho police about the case, complex theories, video memorials for the victims, and much more. It's not unusual for murder cases to gain social media traction but this is the most recent case to have created such an intense following among users outside of the true crime community.
What exactly about the case sparked such an intense interest among users? TikTok content creator, Stephanie Tleiji, has been reporting on the University of Idaho murders since November. "It was just so shocking to most because Moscow, Idaho had not had a murder in 7 years… The fact that four college students were brutally murdered in the middle of the night is shocking." She adds, "It almost sounds like a movie and that is why I think people couldn't help but want to know more about this case."
As of December 30, 2022, Idaho police have suspect, Brian Kohberger, under arrest for the murder of the four college students. But before the news broke out about Kohberger's arrest, many online users took to various platforms to spread awareness about the case. It seemed like every day new evidence would come out about the case prompting users to make new videos with updated information.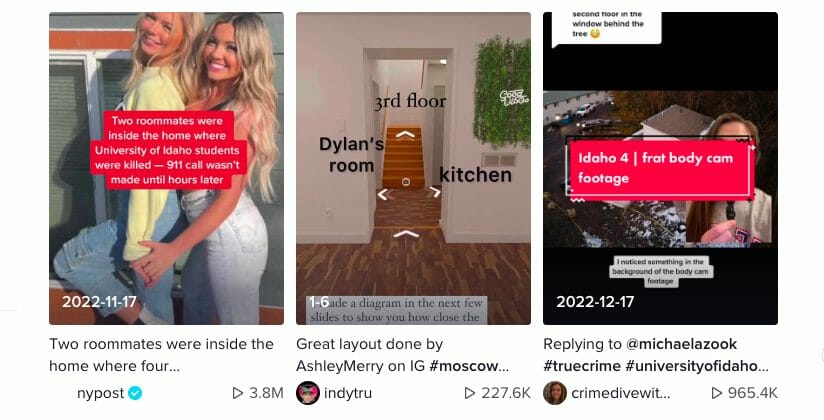 The various videos brought more and more viewers. But nothing brought as much interest in the case as a video of Kaylee Goncalves and Madison Mogen taken on the night of their murder. The video taken provided by a local food truck via their live stream, shows the two girls buying food only a few hours before they were murdered. The video prompted a lot of online discussions of suspicious behavior going on around the girls during the live stream.
Speculations Turned Accusations
After the video's release, many people began to point figures at a hooded individual who appears in the background. Users made various videos about the individual's strange behavior which sparked a lot of people's interest in who the hooded individual could be. The videos ranged from analysis of the individual's physical behavior to people's own enhancements of the video's audio.
The person was later identified as Jack Showalter, who had already been cleared of being a suspect by Idaho police. This only fueled more interest in Jack and many stated that they believe the police cleared him too early. The hashtag #JackShowalter began trending with videos detailing personal information that online detectives had uncovered about the Idaho student.
Videos such as this point out rumors regarding Jack and his past. None of the information being released by online videos about Jack was confirmed by the police.
Armchair detectives also began using the released information to conjure up their theories on who else seemed suspicious. Many of the accused included the two surviving roommates, Dylan Mortensen and Bethany Funke, Kaylee's ex-boyfriend Jack Decoeur, and even a professor at the University of Idaho.
The Price Of Accusing
These allegations created various conversations about motives and prompted many to release information on the individuals that could neither be confirmed nor denied. The online speculations fed rumors about the accused which resulted in people taking to their social media to send threats.
Stephanie Tleiji says she does not think it is appropriate for online detectives "to share a possible speculation with no facts to support it and actually say someone's full name" In her opinion, "It is not fair to cause uproar against an innocent human being just to monetize off of your platform."
Although we are not sure how far the threats towards the individuals went since most of the accused never spoke out about the accusations, professor, and chair of the school's history department, Rebecca Scofield, felt enough was enough. TikTok creator, Ashley Guillard, a self-proclaimed tarot reader posted dozens of videos accusing Scofield of orchestrating the University of Idaho murders. Scofield is suing Guillard for defamation claiming her videos are false and that she did not comply with two cease-and-desist requests demanding the takedown of the videos and an apology.
According to Scofields complaint, the online videos "have caused her significant emotional distress. She fears for her life and for the lives of her family members. She has incurred costs, including costs to install a security system and security cameras at her residence. She fears that Guillard's false statements may motivate someone to cause harm to her or her family members."
Went Allegations Go Wrong
When the police finally made the arrest of Brian Kohberger on December 30, 2022, many online users took to their platform to express gratitude to the detectives working on the case and point fingers at the online detectives who never once had Kohberger on their radar.
People's judgments of those involved or not involved in the murders also prompted responses from people who felt they needed to defend the accused. Many point out the harm that the allegations caused including a member of the Showalter family. Annika posted this video as a response to the TikTok accusations towards Jack Showalter on the day of Brian Kohberger's arrest.
The Power Of The True Crime Community
Just last year, the case of Gabbie Petito made its round on various social media platforms. The 22-year-old vlogger went missing in August of 2021 during a road trip with her fiancé. The case caught the attention of many who speculated about her whereabouts and her fiancé, Brian Laundrie. Online detectives spoke out about the details of the case and came together to uncover new information.
TikTok user, Miranda Baker, posted a video on September 17 claiming she and her boyfriend picked up Laundrie on August 2 at Grand Teton National Park. Baker spoke to officials about her encounter. Gabbie Petito's body was later discovered in Grand Teton.
Jenn and Kyle Bethune posted a video after speaking to officials about seeing the couple's van on August 27th. They claimed they recognized the van because of the Florida license plate they had spotted on it during their trip. They then posted video evidence on Youtube from their GoPro which had captured the van parked on the side of the road and what appears to be a person a few feet behind some bushes.
There are mixed rumors about whether or not this video helped locate Gabbie Petito's body which was found in Spread Creek Dispersed Camping Area. The van in the video however was later confirmed to be the couple's van.
The Future Of The True Crime Community
When true crime cases become public discussion they help bring light to cases that could otherwise have gone under the radar. The power of social media comes from its reach and influence on people. When used correctly, it's can be a tool for social justice. Sharing true crime information helps spread awareness to a level that traditional media can not. It could lead to one more clue in an investigation and simultaneously help spread awareness while allowing those who have lost their lives to be remembered.
As a TikTok content creator, Stephanie Tleiji, shares her opinion on the public taking interest murder cases. She says for her the pros include "bringing awareness that even if you live in a "safe community" you should still take precautions." As well as, "show support for the victim's family and community during this tragic time."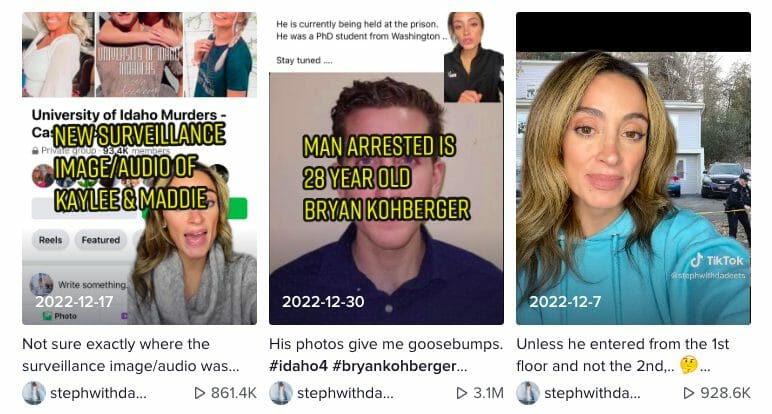 Tleiji shares, I want people to remember each and every one of the victims names." She goes on to say, "my goal was always to just get the news out there, inform people on TikTok. I did have a lot of people thank me for always just keeping them informed and not talking about all the speculations. But we do need to remember that in some cases such as Gabby Petito, "online detectives" helped solve the case so sometimes it could also be positive, it just depends on how the online detectives decide to go about using their platform."
As for the future of the true crime community, Tleiji says she thinks it will continue to grow. She believes its power however depends on the online detectives and what stories they chose to tell and how they chose to tell them. There is a sense of responsibility and humility that must remain at the forefront of any sensitive news coverage. Because at the end of the day, the goal is to spread awareness not create accusatory allegations. The impact of awareness is huge and could potentially bring detectives one step closer.