Recently, Netflix dropped a new show on their platform which had very little promo, but it seems this K-thriller has swiftly become a smash hit… (There are spoilers ahead!)
What if you found out that playing a bunch of school yard games could make you rich? Would you take part?
Well, in Netflix's new (and instant) hit show – Squid Game – hundreds of debt-ridden individuals have signed up to compete in six mini-games for a cash prize worth 45.6 billion South Korean won ($38 million).
There's just one small detail the players are unaware of… you lose, you die.
This is violently introduced in the first episode, after half of the player's are wiped out during a game of Red Light, Green Light. The shell-shocked winners move on to the second round, now terrified of what lies ahead for them.
But if you can stomach the events of episode one, what follows is a fantastically written horror thriller which has captivated viewers all across the world. This nine-part series is the first Korean show to reach the top of Netflix USA's top spot, and it's also number 1 in the UK.
It's no surprise how popular this show is amongst the generation of viewers that became hooked on murderous dystopian thrillers. In many ways, it's similar to Suzanne Collins' franchise The Hunger Games, except there is no larger fictionalised society outside of the game, just everyday South Korea. In other ways, it's like the 2000 film Battle Royale, but the players are adults instead of teenagers. Other viewers have likened it to The Cube, except in Squid Game the staff are visible and running around amongst the contestants, which adds an eerie layer.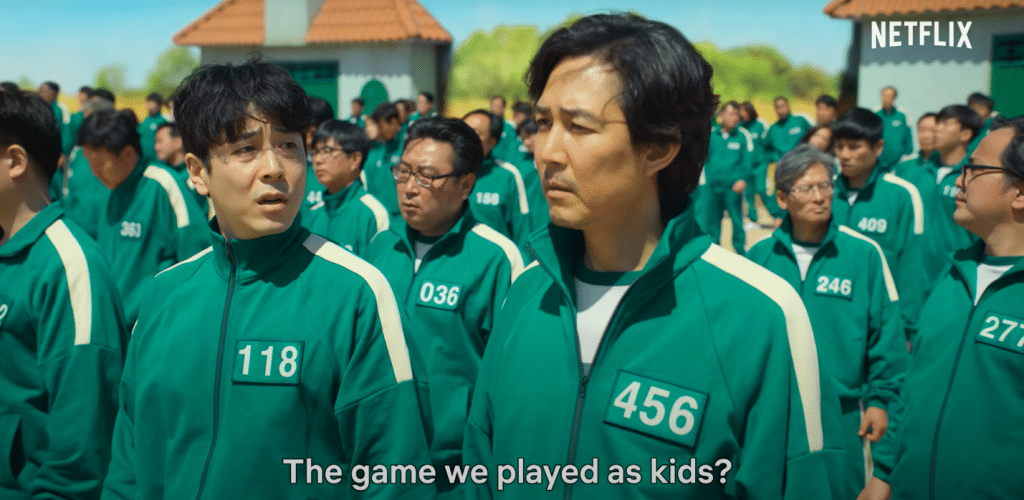 What most compare Squid Game to, however, is the 2019 Oscar-winning film Parasite. Another South Korean thriller which depicts a bloody and unsettling result of class divide. Although the analogy is overdone at times during the series, the terrifying games seems worth it compared to the half-lives they live with their unimaginable debts.
Although the eye-catching and playful set designs, and the masterful cliffhangers add to the shows binge-worthy appeal, it's the colourful cast of characters that keep us hooked.
The unlikely heroes are led by gambling addict Seong Gi-hun (Lee Jung-jae) who's just trying to do right by his family. He's also accompanied by his childhood friend Cho Sang-woo (Park Hae-soo), a disgraced banker who is trying to outrun the police, and nifty pickpocket Kang Sae-byeok (Jung Ho-yeon), a North Korean escapee trying to bring her separated family to South Korea.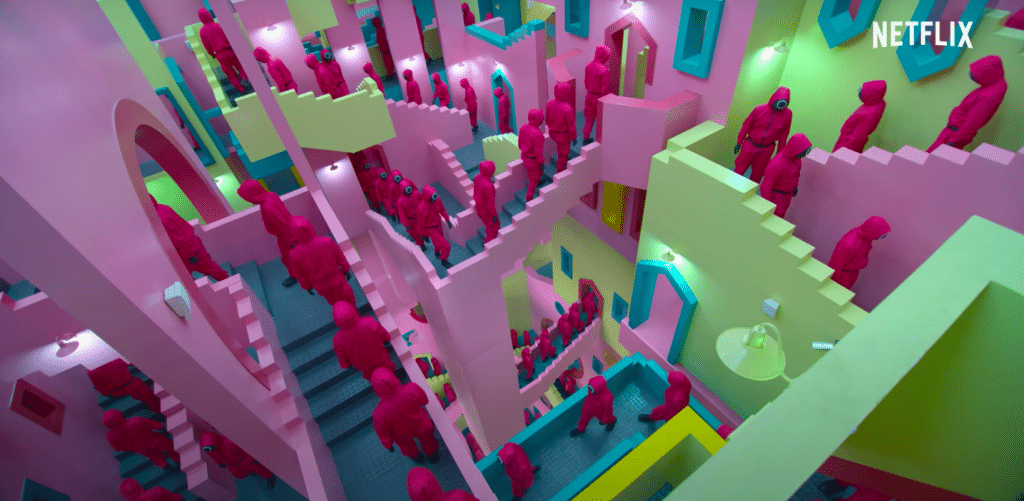 What Squid Game does well is taps into our cultural obsession with gameshows, and our desire to be entertained. However, an episode of backstories remind viewers that anyone's life can change with just a moment of bad luck. 
Squid Game is best watched like a movie, so I recommend setting yourself up for a binge-watching spectacular. Each episode varies in length, and most endings serve as a cliffhanger rather than a random break – so don't let that deter you. 
Although there are some pretty predictable moments, Squid Game will have your nerves on edge as your wait for each move.