The iconic teen drama series Gossip Girl significantly impacted pop culture during the mid-late 2000s and early 2010s. From fashion trends and scandals to publicity stunts and fatal attractions, Gossip Girl had viewers on the edge of their seats from the beginning to the end! During that time, every teenage girl fantasized about being the Blair Waldorf (Leighton Meester) or Serena Van Der Woodsen (Blake Lively) of their high school!
There are many fantastic teen drama series from the 2000s and 2010s, such as "The Sweet Life of an American Teenager" and "Zoey 101," What makes Gossip Girl so unique? To answer your question, what's interesting about Gossip Girl is that it began as a book series. Cecily Von Ziegesar, a #1 New York Times bestselling author, created a 14-book Gossip Girl series– catching the eye of an executive producer who ultimately turned her book series into a hit television series!
Gossip Girl Book Series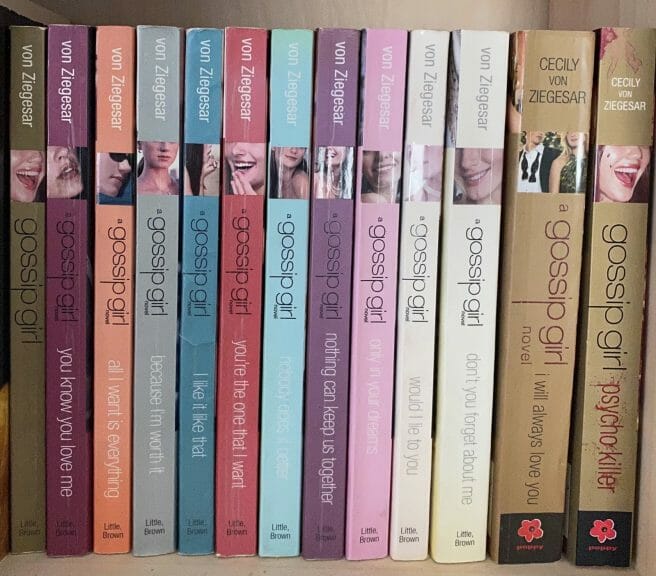 Gossip Girl (2002)
You Know You Love Me (2002)
All I Want Is Everything (2003)
Because I'm Worth It (2003)
I Like It Like That (2004)
You're The One That I Want (2004)
Nobody Does It Better (2005)
Nothing Can Keep Us Together (2005)
Only In Your Dreams (2006)
Would I Lie To You (2006)
Don't You Forget About Me (2007)
It Had To Be You (2007)
I Will Always Love You (2009)
Psycho Killer (2011)
Click to purchase the book(s) from Von Ziegesar's Gossip Girl series! 
Gossip Girl Reboot Vs. Original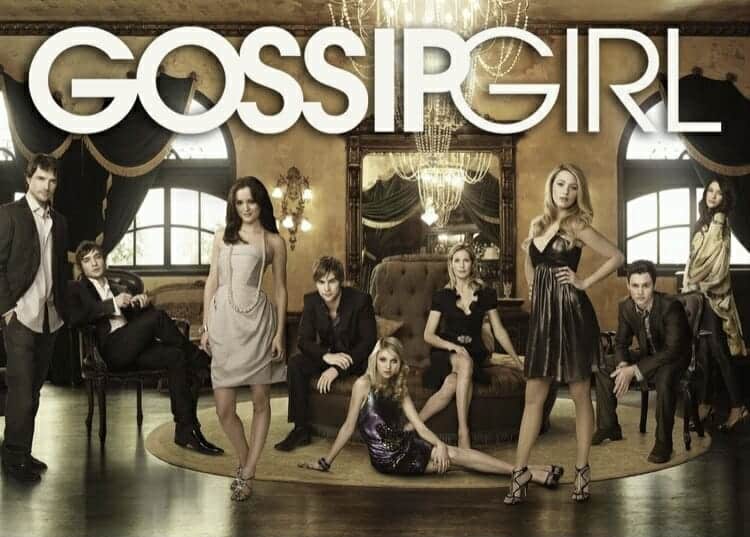 On July 8, 2021, the Gossip Girl reboot premiered on HBO Max– shocking viewers with its hardcore sex scenes, drug usage, and LGBTQ pride. In the original series, rated-R scenes were kept to a minimum. The focus was the drama occurring in the life of teenagers as they navigated through high school. If you haven't watched the Gossip Girl reboot, don't worry! I won't spoil the plot! However, I will share a couple of details!
The reboot is centered eight years after the Gossip Girl website went dark. As season one begins, viewers are introduced to a new group of elite private teen New Yorkers with only three things on their minds–money, sex, and power! Just when they thought they'd have a smooth sailing high school experience, a new Gossip Girl comes out of the blue–haunting them and their family in real life—spilling their dirty laundry all over Instagram!
Although ruining the lives of others isn't something that should be entertaining, having Gossip Girl antagonize elite teenagers and their families via social media was an excellent direction for the reboot because it intertwines with how the media, such as TMZ and TSR, often antagonize celebrities and their families in the real-world for clicks and views.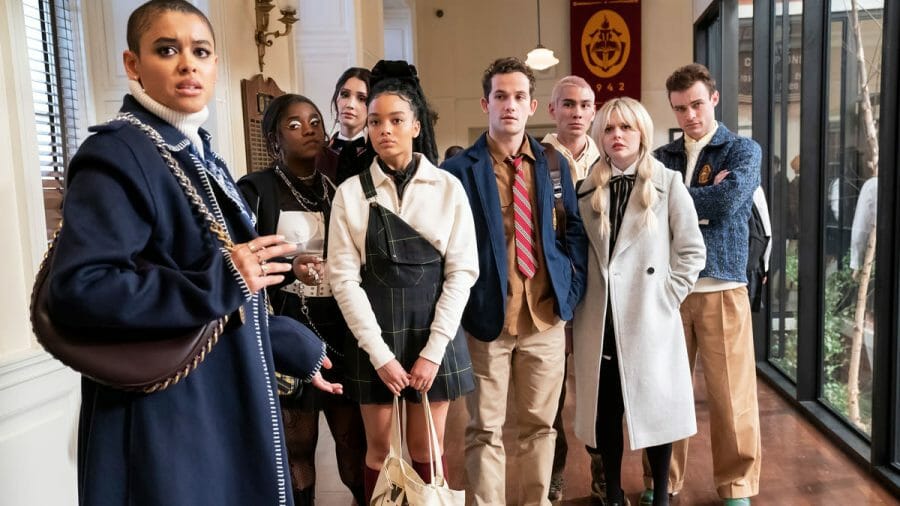 Regarding representation, unlike the original series, the reboot series offered viewers diversity and inclusion. For instance, in the reboot, there are characters from different ethnic groups, cultures, and backgrounds, such as Julien Calloway (Jordan Alexander), Zoya Lott (Whitney Peak), Monet De Hann (Savannah Lee Smith), and Luna La (Zion Moreno).
"Some elements of the original series have been improved, and the cast is much more diverse this time around, both in terms of race and sexuality. But there is something cold about the series. Everyone is slightly robotic."

Rachel Connolly, New Statesman (2021)
Love Triangle
The most interesting relationship in the reboot is Max Wolfe's (Thomas Doherty), Audrey Hope's (Emily Alyn Lind), and Aki Manzie's (Evan Mock) love affair! Usually, three's a crowd, but these three individuals are in lovewithn this romance! In America, polyamory relationships aren't accepted and have been deemed problematic by numerous love gurus on social media. Neverthelesss, these three individuals above surely make couples wonder if what's missing in their relationship is another particular person.
The new Gossip Girl takes a different approach with the evolving, dynamic relationship between
"Audrey (Emily Alyn Lind), Aki (Evan Mock), and Max (Thomas Doherty). In the show, Audrey and Aki are a long-time couple. We meet them when Aki is only beginning to understand that he is bisexual–enter Max–a pansexual alpha type who is confident and sexually experienced–a more consent-enthusiastic and virtuous Chuck Bass of sorts."

Elly Belle, Teen Vogue (2021)
Understanding The "Why"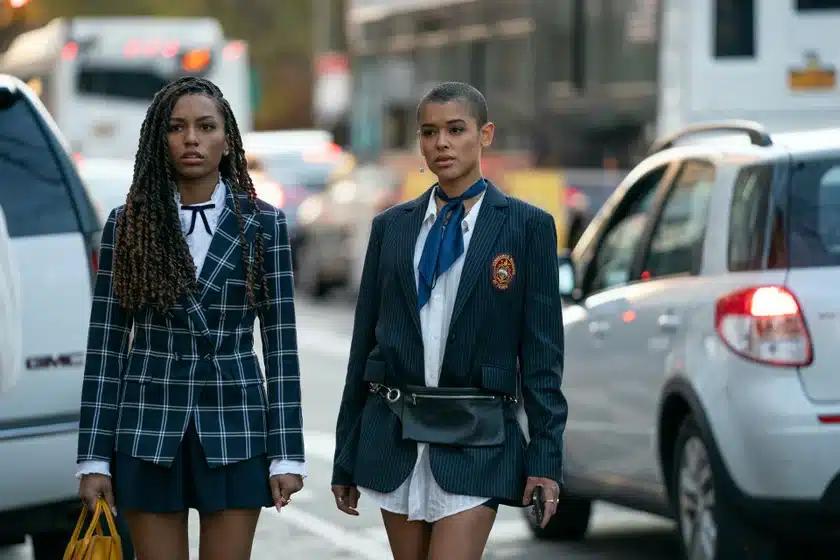 The mystery surrounding the cancellation of the reboot is unsettling. If it wasn't marketed as a teen drama series but rather a college-focused drama series, could the reboot have survived and outlived the original series? That sounds reason,ble right? However, we must remember, Euphoria, one of the most popular teen drama television series, is similar to the Gossip Girl reboot–only less elite. Although both teen drama series are explicit, the difference between Euphoria and the Gossip Girl reboot is popularity.
For instance, Zendaya (Rue Bennett) and Alexa Demi (Maddy Perez) are two of the most popular actresses on Euphoria. Every time a Euphoria episode airs, Zendaya and Alexa Demi trend on Twitter, TikTok, Instagram, et,c, for over 24 hours. So, as far as we know, the reboot has been canceled due to a lack of popularity, online engagement, and ratings. Make no mistake. Television shows have been constantly recycled throughout the years. Therefore, it's a possibility that there will be another Gossip Girl reboot shortly! 
-Xoxo, Gossip Girl