Isolation basically equals movies on your own. We all know that's no fun. Who are you meant to ask questions to? Who are you meant to turn towards to gasp at a scene with? Most importantly, who on earth are you meant to sing along to Moana with?
Well, it seems like Disney+ have got this sorted. Just in time for another lockdown, too (thanks, Boris). With GroupWatch, die-hard Disney fans can have virtual movie nights with friends and family just like before.
Perhaps this means that, if you've just finished university, you can rekindle old evening antics with your housemates, and snuggle down together to watch Beauty and the Beast with a hot chocolate. Or, you can fuel your aunt's love for Johnny Depp and by re-watching Into the Woods with her again whilst she is shielding.
If you are a Disney+ subscriber, you can have six members from your family of friendship group in one movie marathon. Hopefully, if all goes well, the release date will be as planned; October 30th (which, known to Disney+ or not, is also very timely for the release of The Mandalorian season two).
But you can go too far involving your friends and family in movie marathons, can't you? We don't want the annoying person to be messaging constantly 'but what's just happened?' or idle chit chat in the background about when the next socially distanced family meet-up is. Good job GroupWatch doesn't have a text chat feature, it means that no one will be distracted.
As a replacement, there is an inclusion of emojis on this feature. You can show you are laughing, crying, liking, or jumping with the six different emojis found on the details page of series and movies in the Disney+ library.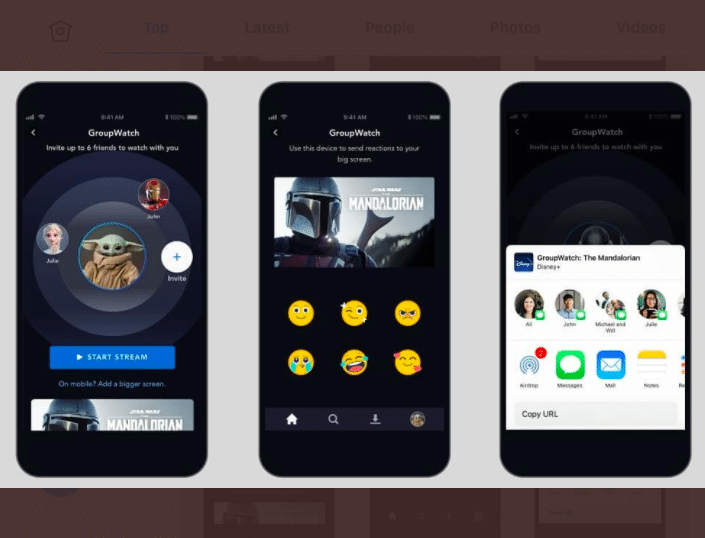 Either way, it seems Disney have got us covered. Whether we enter another lockdown or not, at least we'll have a way to do what we love from a safe distance.
Alternatively, if you fancied something to connect you to the world for a few minutes, take a look at these incredible live streams which offer a bit of nature's own magic.