Independent films always have a certain charm to them. Whether it's their potent narrative, masterful cinematography, or thought-provoking message, indies rarely fall victim to being called "too Hollywood." These types of films stand as testaments that a substantial budget isn't a necessity for creating a substantial film. Storytelling is the flavor of great independent films and when done just right, boy it is rich.
Here are the 10 most interesting indie films on Netflix.
LAST UPDATED: January 23rd, 2020
The Land of Steady Habits (2018)
Run Time: 98 min | IMDb: 6.2/10 | Rotten Tomatoes: 86%
Synopsis: Feeling trapped in the stifling, wealthy enclave of Westport, Connecticut, a man retires from his job in finance and leaves his wife in the hopes that it will renew his lust for life. He befriends a drug-addicted teen, sending him down a path of reckless, regrettable behaviour. His shameful actions cause him to question who he is as a father and, ultimately, who he is as a person.
0
American Honey (2016)
Run Time: 163 min | IMDb: 7/10 | Rotten Tomatoes: 79%
Synopsis: Star (Sasha Lane), an adolescent girl from a troubled home, runs away with a traveling sales crew that drives across the American Midwest selling subscriptions door-to-door. Finding her feet in this gang of teenagers, one of whom is Jake (Shia LaBeouf), she soon gets into the group's lifestyle of hard-partying nights, law-bending days and young love.
0
Locke (2013)
Run Time: 85 min | IMDb: 7.1/10 | Rotten Tomatoes: 91%
Synopsis: A man's (Tom Hardy) life unravels after he leaves a construction site at a critical time and drives to London to be present for the birth of a child conceived during a one-night stand.
0
Blue Valentine (2010)
Run Time: 112 min | IMDb: 7.4/10 | Rotten Tomatoes: 87%
Synopsis: Dean (Ryan Gosling) and Cindy (Michelle Williams) live a quiet life in a modest neighborhood. To the casual observer, everything appears normal, if a bit subdued. But a closer examination reveals a couple caught in a downward spiral. They appear to have the world at their feet at the outset of the relationship. However, his lack of ambition and her retreat into self-absorption cause potentially irreversible cracks in their marriage.
0
Frances Ha (2012)
Run Time: 86 min | IMDb: 7.4/10 | Rotten Tomatoes: 92%
Synopsis: A story that follows a New York woman, who doesn't really have an apartment. She apprentices for a dance company although she's not really a dancer, and throws herself headlong into her dreams.
0
Moonlight (2016)
Run Time: 111 min | IMDb: 7.4/10 | Rotten Tomatoes: 98%
Synopsis: A look at three defining chapters in the life of Chiron, a young black man growing up in Miami. His epic journey to manhood is guided by the kindness, support and love of the community that helps raise him.
0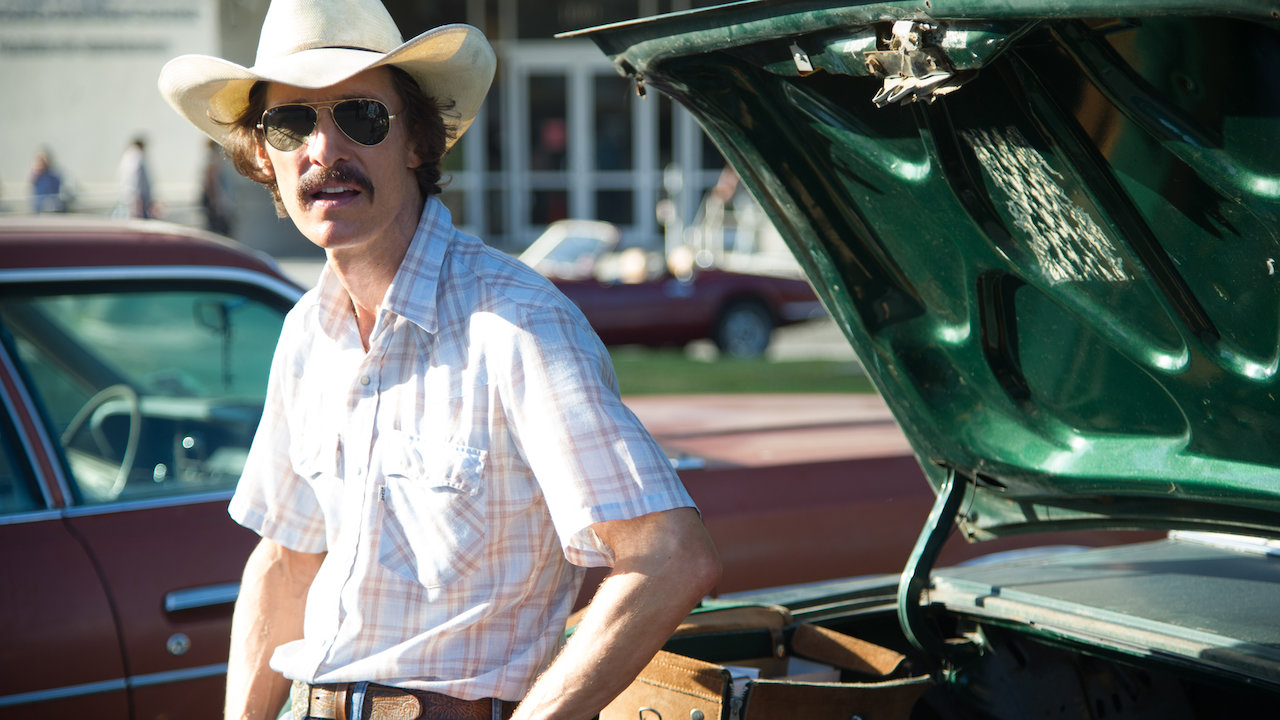 Dallas Buyers Club (2013)
Run Time: 117 min | IMDb: 8/10 | Rotten Tomatoes: 93%
Synopsis: In mid-1980s Texas, electrician Ron Woodroof (Matthew McConaughey) is stunned to learn that he has AIDS. Though told that he has just 30 days left to live, Woodroof refuses to give in to despair. He seeks out alternative therapies and smuggles unapproved drugs into the U.S. from wherever he can find them. Woodroof joins forces with a fellow AIDS patient (Jared Leto) and begins selling the treatments to the growing number of people who can't wait for the medical establishment to save them.
0
Trainspotting (1996)
Run Time: 93 min | IMDb: [8.1/10] | Rotten Tomatoes: 90%
Synopsis: Heroin addict Mark Renton (Ewan McGregor) stumbles through bad ideas and sobriety attempts with his unreliable friends — Sick Boy (Jonny Lee Miller), Begbie (Robert Carlyle), Spud (Ewen Bremner) and Tommy (Kevin McKidd). He also has an underage girlfriend, Diane (Kelly Macdonald), along for the ride. After cleaning up and moving from Edinburgh to London, Mark finds he can't escape the life he left behind when Begbie shows up at his front door on the lam, and a scheming Sick Boy follows.
o
Room (2015)
Run Time: 118 min | IMDb: [8.1/10] | Rotten Tomatoes: 93%
Synopsis: Held captive for years in an enclosed space, a woman (Brie Larson) and her young son (Jacob Tremblay) finally gain their freedom, allowing the boy to experience the outside world for the first time.
0