Would you believe that the stock price of a humble little video game store could take down some of Wall Street's top players? Well, in 2021, that's exactly what happened when a group of Reddit users banded together and invested in GameStop. The story quickly made history in the world of American finance. It's been turned into a book, a Netflix documentary, and an HBO miniseries — all within the span of three years. And now, the new film Dumb Money is taking it to the big screen.
The movie, which stars Paul Dano along with a large ensemble, will finally be tackling the story through a Hollywood lens. Now, obviously, dramatized movies about finance are nothing new. In fact, they have proven to be very successful when told with flair and style, like The Wolf of Wall Street or The Big Short. But if you're anything like me, terms like "short squeeze" or "hedge fund traders" will cause you to scratch your head more than you maybe should.
So, do you want to enjoy Dumb Money without having to know the ins and outs of Wall Street trading? Well then, Trill has you covered. We're breaking down the insane yet true story behind GameStop's meteoric rise in 2021 — from big money in the pockets of amateurs to huge losses for longtime investors.
How It All Started
Like any great American tale, the people it follows come from humble beginnings. The man at the center, Keith Gill, was a financial analyst from Massachusetts and a frequent poster on r/wallstreetbets. He was also active on Twitter and YouTube, where he regularly promoted GameStop's stock from as early as 2019. At the time, the stock price was at an all-time low of $3 and looking to drop even more. But despite what the market was indicating, Gill saw potential in investing. By 2021, a mass of Reddit users had followed his advice, and his initial investment shot up to nearly $48 million.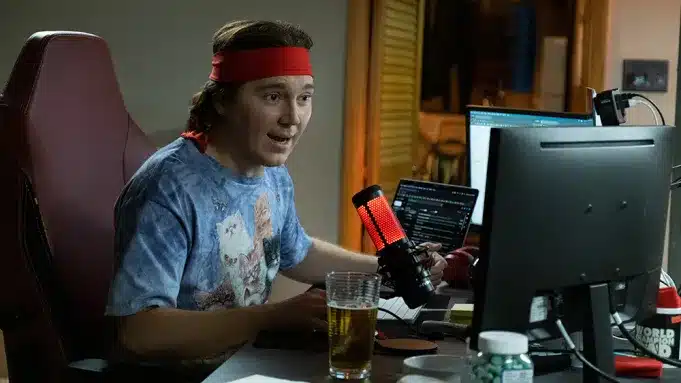 To call this kind of business unprecedented would certainly be the understatement of the century. But the celebrations didn't even stop there. The spread and popularity of GameStop on r/wallstreetbets worked wonders for everyone who invested. As more and more shares were bought, the stock price jumped from $19.94 to $347.51 in under three weeks. By the end of January 2021, GameStop investors were trading up to 175 million shares a day, essentially becoming rich overnight. This all seemed well and good for a while. But little did these Redditors know that threats from Wall Street were lurking just beneath the surface.
The Fallout
Climbing the financial ladder in America is all about taking risks. However, for hedge fund traders on Wall Street, the rise of GameStop might've been the most taxing of their lives. Just before the price shot up, the top dogs in trading had planned on "shorting" the GameStop stock or betting that it would fail. After it did the exact opposite, they lost upwards of $6 billion in what's known as a short squeeze — when a shorted stock price rises instead of falls. Needless to say, this sent Wall Street into a frenzy. Suddenly, all the initial investors, Gill specifically, had a target on their backs they never could've seen coming.
This method of buying and trading stock led by amateur investors made a lot of folks in finance very upset, not just those who lost money. Some brokerages banned selling GameStop altogether, while others claimed the system was being manipulated. Gill ultimately suffered the most when an investigation was launched into his social media affairs through MassMutual, the company that employed him. Gill claimed not to have solicited any investments from his followers, especially not for his own profit. Regardless, MassMutual was fined $4 million in September 2021 for not regulating his activity online.
So, Where Does 'Dumb Money' Come In?
Obviously, this story is wildly unique and food for much thought, whether that's about financial ethics, Wall Street greed, or anything in between. It should be no surprise then that it's now a feature film. Based on the material alone, we can only hope it'll be entertaining and worthwhile for audiences this weekend. But considering the events have already been documented in book and documentary form, what exactly is Dumb Money going to bring to the table that we haven't seen yet?
While Hollywood doesn't always do right by true stories, rest assured that Dumb Money has everything it needs to succeed. The events are still very modern, meaning a wider audience is likely to show up that otherwise wouldn't have. The cast is filled with stars, including Paul Dano, Shailene Woodley, Seth Rogen, Sebastian Stan, and America Ferrara, among others. The movie is also helmed by Craig Gillespie, who is no stranger to bringing insane true stories to life after directing I, Tonya, and executive producing Pam & Tommy. It's safe to say that, in the case of Dumb Money, there was no one better suited for the job.
So, now you've got a full rundown of the GameStop phenomenon. Looks like all that's left to do is to see the movie. With a story like this and a promising creative vision, you won't want to miss it. Yes, even if you are utterly clueless when it comes to finance, like so many of us.
Dumb Money is now playing in limited theaters and will be wide-released this weekend on September 29th.