For Friends fans around the globe, the news we've all been waiting for has finally arrived. THE show of the '90s, and pretty much forever since will see the cast getting back together to reminisce about their time on the show.
Sadly, this is just a one-off, but fans will get to see their favourite characters from the show, Rachel Green (Jennifer Aniston), Monica Geller (Courteney Cox), Phoebe Buffay (Lisa Kudrow) Joey Tribbani (Matt LeBlanc), Chandler Bing (Matthew Perry) and Ross Geller (David Schwimmer) gather to candidly discuss the comedy phenomenon we've all grown to love.
It wouldn't be Friends without some special guests however, the team have enlisted some pretty famous faces to join them, the likes of Cara Delevigne, Lady Gaga, Justin Bieber and David Beckham – as well as former guests stars such as Reese Witherspoon, Tom Select and Elliot Gould.
Speaking ahead of the special, Aniston said that while fans have absolutely been itching for the special to hit screens, it's been a little harder to organise given the Covid restrictions the industry is facing, which meant preparation was longer than anticipated.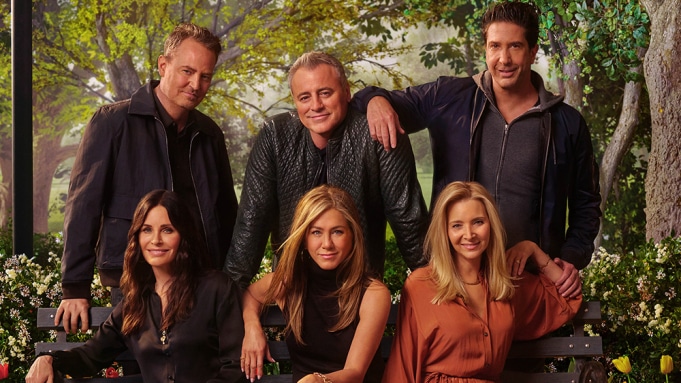 Speaking to Deadline, Aniston said:
"It's going to be super. You know what? This has also given us more time to make it even more exciting and more fun than it would have been.

"So, I choose to see it as the glass is half-full that it got postponed.

"Look, we're not going anywhere. You're never going to get rid of Friends, sorry. You're stuck with us for life, guys."
Cox said, ahead of filming, that she was just excited to finally get back into a room with the rest of the cast after nearly 20 years away from the show.
Speaking on an episode of Kevin Nealon's web series titled Hiking With Kevin she said –
"The exciting thing is that we're all going to get together for the first time, in a room, and actually talk about the show."

"We're going to have the best time."

Aniston added: "It's going to be great. We really haven't all done that and actually sat there and talked about and reminisced about this incredible experience that we had."
When the announcement for the reunion dropped last February, fans were, thrilled about the announcement, but unsurprisingly, they probably didn't think they'd have to wait this long.
The reunion will air on HBO Max on 27 May.
Consider yourself a hardcore Friends fan? You need to check this out…