After Roman Roy's dramatic plunge into a sea of Fifth Avenue protesters in the heart-pounding finale of "Church and State," we're left with 38 episodes of Succession behind us, eagerly anticipating the upcoming supersized 90-minute finale. With each episode spanning just about a day, "With Open Eyes" has a mere 24 hours to tie up loose ends, conclude subplots, and bring closure to our beloved (but oh-so-dysfunctional) Waystar Royco crew.
So, let's dive headfirst into the breach once more and speculate about what lies ahead for our terribly problematic yet endlessly entertaining TV friends.
The burning question on everyone's mind is, who will emerge as the new CEO? Kendall seems to have the upper hand after the events of "Church and State." With the support of the godfather himself, Frank, and a newfound ruthlessness reminiscent of his father, Kendall has expertly manipulated the narrative surrounding Waystar Royco, thanks in no small part to Hugo's conniving ways and media connections. It would be a Shakespearean twist for Kendall to ascend to the throne by emulating the father he once tried to eliminate time and again, as Roman so aptly pointed out.
But let's not dismiss Shiv just yet. While she may not possess the same business acumen she believes she has, her recklessness knows no bounds when it comes to securing the top spot. (And let's not forget how much she resembles her detested mother, casually joking about outsourcing her child-rearing duties.) And then there's Roman, whose apparent pre-grief over Logan's demise might just be a façade. Sure, this guy may have given us a neofascist president, but Kieran Culkin's portrayal of a shattered and broken youngest son was nothing short of heart-wrenching. Perhaps Roman's departure from Logan's wake, walking amidst the anti-Waystar Royco protestors, signifies a complete abandonment of the family. Whether it's a liberating decision or a self-destructive one, only time will tell. For now, my money is on Kendall, rising to power like a Godfather, embracing the very role he swore he'd never assume.
Ah, the turbulent love affair of Tom and Shiv. Will they find their way back into each other's arms? It's a gamble, but I'll wager a yes. Brace yourselves for two utterly dreadful parents, perpetually miserable, and deserving of every ounce of pain they inflict upon themselves. Let's all hum along to the Mountain Goats' "No Children" as we envision their future together: "In my life, I hope I lie, and tell everyone you were a good wife. And I hope you die. I hope we both die…"
And what about Connor? The curious thing about Connor is that he'd probably find contentment in any corner of the world, armed with his peculiar blend of ineptitude and self-sufficiency. Whether it's Marcia's former abode (the one he likely overpaid for), that New Mexico ranch where he and Willa once resided, or the exotic lands of Slovenia, Slovakia, North Korea, South Korea, Oman, Peru, Tajikistan, or Uruguay—Connor will adapt. As long as he has a few creature comforts and an internet connection, he'll be just fine. Willa, on the other hand… well, that remains to be seen. But as they say, till death do they part, and so on and so forth.
Colin's fate hangs in the balance, and I struggle to imagine a worse path for him than aligning himself with Kendall. Sure, he may be lonely and directionless, but remember when he held the upper hand, knowing about Kendall's involvement in that unfortunate waiter incident? Joining forces with the same Roy scion would strip him of any leverage, even if Kendall is doing his best Logan impression—an impression that Colin, his perhaps closest friend, won't take lightly. I wish for a future where Colin can peacefully attend therapy in jeans, but I fear that fate may not be in the cards for him.
Now, let's talk about Fikret. With Jess out of the picture (good for her!), I believe Kendall will tighten his grip on Fikret, holding him close. Go ahead, Fikret, ask for that raise!
And what about Ebba? As Shiv leaked information about the CEO brothers to Lukas Matsson, her harassed head of communications, Ebba spilled the beans on GoJo's internal workings to Hugo. Here's the latest scoop: At Shiv's suggestion, Matsson proposed an American CEO to the soon-to-be president, Jeryd Mencken, in hopes of securing the GoJo deal. When did Ebba switch sides? Hard to say, given the "one episode, one day" format that keeps significant narrative developments hidden from view. But I suspect Matsson will regret showering Ebba with all those blood bricks before the dust settles on this whole affair.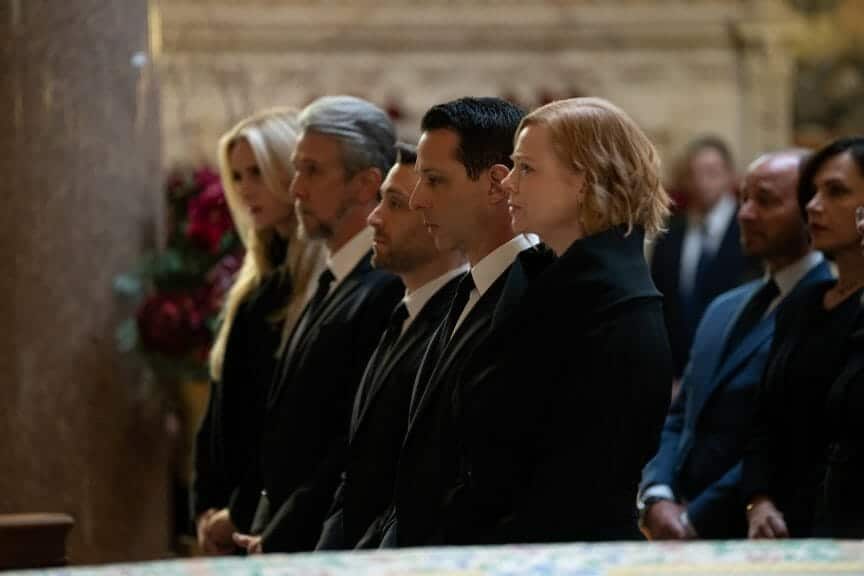 And speaking of the GoJo deal, Jeryd Mencken proves to be quite the slippery snake, doesn't he? While I hesitate to fully endorse Kendall's assertion that Roman "fucked it up," I can't deny that Waystar Royco and ATN stand to gain very little from their partnership with Mencken. He owes his presidency to them, yet he wields the power to dictate his involvement in the GoJo acquisition. With Mencken and Matsson wreaking havoc as chaotic agents (with questionable sympathies, to say the least), I wholeheartedly believe Matsson's claim that Mencken agreed to let the deal go through. Why not toy with the CEO brothers and assert his dominance? After all, isn't the president of the United States the boss of everyone?
And what about Gerri? I hope she's done with Waystar Royco for good. And if the GoJo deal goes through, I hope she gets rehired to work alongside Karolina. Yes, they held leadership positions in a company that perpetuated darkness in men, as Uncle Ewan so eloquently put it. But isn't feminism about granting women the freedom to engage in reprehensible and morally bankrupt pursuits, just like men? Go ahead, ladies, boss it up!
Now, let's address the pressing issue of Greg's increasing repulsiveness. The prevailing theory suggests that Greg will eventually surpass Tom in power and status, and in the latter half of season four, he does exactly that, much to our surprise. He cunningly aligns himself with Matsson and, perhaps, even Mencken, readily accepting any humiliating task thrown his way to climb the corporate ladder. Best of luck to our dear "Sexy" Greg as he hurtles toward a soul-crushing existence, lining his pockets with each degrading endeavor.
And as we bid adieu to Logan's funeral in "Church and State," which brought together nearly every character in Succession, it's safe to assume that for most of them, this is our final farewell. Uncle Ewan finally got to deliver his long-awaited "he was mean" speech directly to Logan's face. Marcia delivered one last devastating blow to Shiv ("He broke my heart, and he broke your hearts too"). Kerry found solace among the other women who loved and lost Logan. These moments felt like fitting closures for these characters. Perhaps Sandy and Sandi Furness might make an appearance at the potential board meeting in the finale, but for many of Logan's family members, "Church and State" served as a suitable goodbye.
Now, the burning question: Where is Stewy? I ask on behalf of those enlightened viewers who recognize Stewy Hosseini as the hottest person on the show. Where could he be? He didn't attend Logan's funeral, likely because he already paid his respects during that mini-wake at Marcia's apartment, where he shared a hug with Kendall. It's not like Stewy had any fond feelings for Daddy Roy. Kudos to Stewy for staying true to his principles, but come on, give us one more glimpse of that man in a perfectly tailored turtleneck! If the final episode truly turns into a boardroom showdown as Kendall suggests, we can still hold onto hope.
And what about "Kalispitron: Hibernation"? Will it manage to recoup its budget? A sunk cost of $225 million, three weeks of reshoots, and exorbitant demands for nonunionized workers to fulfill CGI requirements! Will Waystar's movies division become a "hit machine pumpin'" or face a Dark Universe-esque failure?
Last but not least, does Karl get his Greek island with his brother-in-law? Let me reiterate: I certainly hope so. And Frank better have a standing invitation!
These musings offer some potential directions for the final episode of Succession's fourth season. As a language model, I can't provide definitive answers, but I hope these insights contribute to your enjoyment and anticipation of the show's finale.