Get your tissues ready, because the fourth and final season of Netflix's Sex Education is finally coming! Before the big release on September 21st, let's go over everything we know about the show's upcoming finale.
A Quick Recap
It's been almost exactly two years since Sex Education season 3, which released on September 17th, 2021. And those two years have been long. Understandably, a few of us might need a recap of what happened in the last season. Where exactly did our enigmatic cast leave off?
Let's start with our main characters: Otis and Maeve, sex clinic extraordinaires and everyone's favorite will-they won't-they couple. So… will they or won't they? Going into the fourth season, we're still not entirely sure. They made progress in season 3, sharing dramatic kisses and rainy confessions. In the last episode, though, all that progress fades away as Maeve announces that she's leaving for America.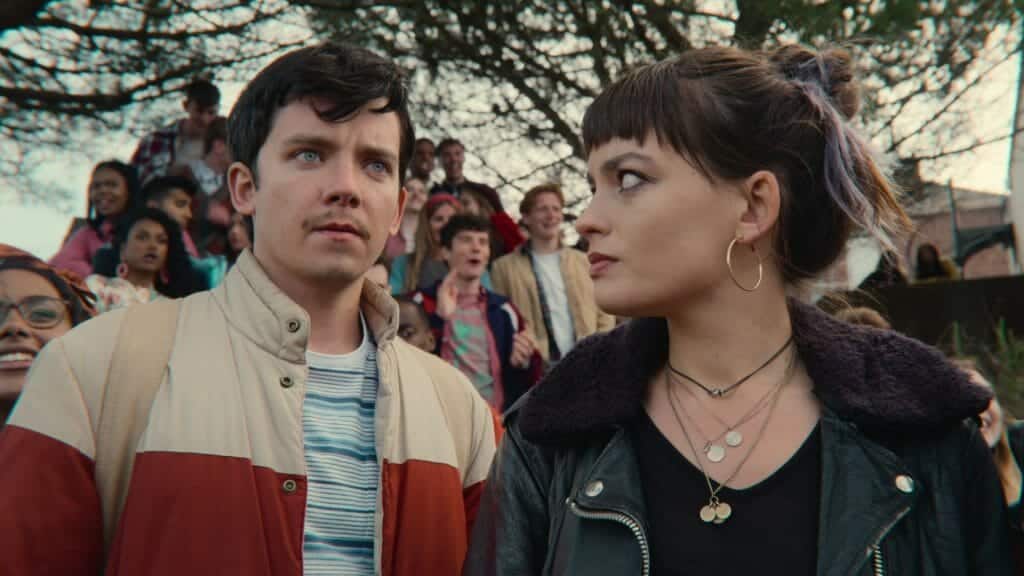 Our next couple—my personal favorite—ended on an even worse note. Adam and Eric, who have gone through one of the most transformative arcs in the show, are officially broken up. While Adam was still not ready to come out or openly display his sexuality, Eric began experimenting with a more free and liberating way of life. Eric felt stifled by Adam's fear, and he broke up with him. From the looks of it, both boys will now try to figure out who they are individually.
As for our other characters, here's the rundown. Lily and Ola kiss while UFO-watching; Adam's parents divorce. Aimee breaks up with her boyfriend to begin a journey of healing post-sexual assault. Otis's mother, Jean, has a new baby—but the father might not be who she expected. Finally, after a number of sex-related scandals, Moordale Secondary closes down, leaving all the remaining students to seek education elsewhere.
Season 4 Trailer: Let's Finish Together
On Tuesday, September 12th, Netflix released the official trailer for Sex Education Season 4. There's a lot to cover in just two and a half minutes, so let's break it down!
First of all, we see Maeve and Otis conducting a time-honored ritual of long-distance relationships: sexting. True to their characters, Maeve snaps a quick picture without much thought, and Otis spends about an hour in the bathroom trying to send one in return. Sometimes, Otis, that's just how it goes.
The next clip shows Otis and Eric at their new school, Cavendish College. Along with the new location, we see a couple characters getting it on in new ways: Cal, Eric, and Aimee. Each character seems to be branching out from their previous relationships and forging into new territory, whether with a partner or by themselves.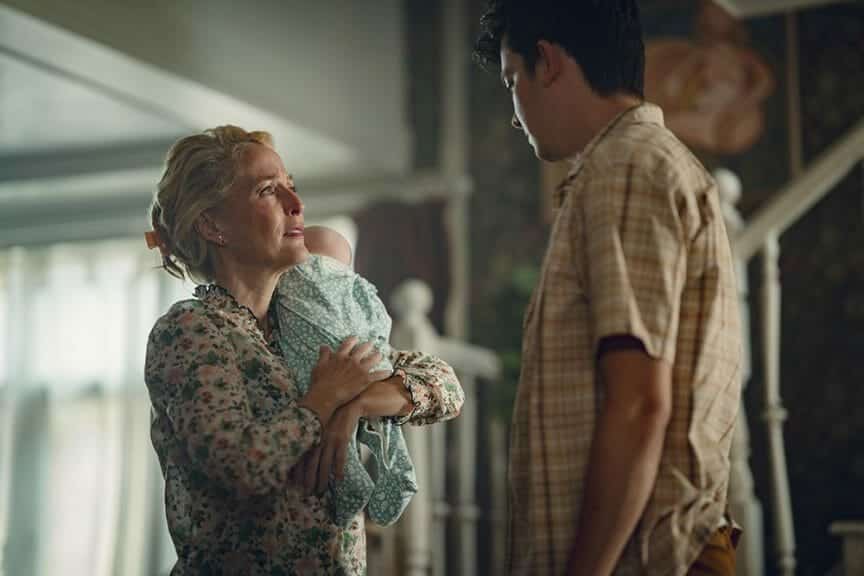 Halfway through the trailer, we see the twin struggles of Otis and Jean as they foray into their respective sex-therapist careers: Jean moonlights as a radio therapist, while Otis meets some tough competition at Cavendish. We also see Jean with her new baby, Joy, while admitting that her partner left her because he wasn't the father. It seems that she's struggling as a parent in more ways than one, as Otis tells her: "I know it's been hard, but I still need a mum."
New (and Old) Relationsips
Finally, during a long-distance phone call, Otis tells Maeve: "People are doing all these new things, and I feel like I'm getting left behind." Some of the "new things" that we see in the trailer include Aimee's art, Adam's horses, Eric's dancing—and, alarmingly, a possible new love interest for Maeve. Maybe Otis should worry about getting left behind!
The trailer finishes up with a rekindling friendship (or maybe something more?) between exes Otis and Ruby, a special guest appearance from Dan Levy of Schitt's Creek, and some heartwarming reunions. It's a quick sequence, but it looks like we might be able to expect reconciliations between Eric and Adam, as well as Adam and his father, Michael. My fingers are crossed for both!
A Bittersweet Graduation
Though each and every season of Sex Education has been a roaring success, it is finally time for the show to come to a close. Show creator Laurie Nunn released a letter to fans on July 5th which explained her team's decision to end the show.
"Writing this feels bittersweet, as we've decided the fourth season will also be the final installment of our show. This was not an easy decision to make, but as the themes and stories of the new season crystallized, it became clear that this was the right time to graduate."

Laurie Nunn, Sex Education Creator
While we'll all be sad to see such a well-done show reach its conclusion, it's clear that a lot of love and effort has been put into Sex Education's final season. So get your tissues ready—you're going to need them!
To read more about Netflix's Sex Education, click here.