In a surprising new addition to Tiger Kind mythos, A television show has been announced set to portray the rise of Joe Exotic! Even more shocking, the role of the "Tiger King" himself belongs to none other than Nicolas Cage, despite the fact that Joe envisioned himself being played by Brad Pitt. 
Despite his long career, this will be Cage's very first television role. He's starred in many movies, winning an Academy Award for his work in "Leaving Las Vegas." In addition to this, he has also received tons of praise over the years for his numerous other films.
This show, made by both CBS and Imagine Television Studios, is set to be released as an eight-episode "limited series". seems to be a biographical take on the life of Joe Exotic. It aims to portray just how exactly the everyday man, Joe Schreibvogel became the widely known wild man known as Joe Exotic.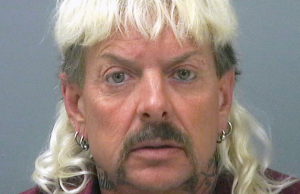 In addition to portraying Joe Exotic's rise, the show will also shed light on both his efforts to keep his park open and some focus on Carol Baskin, his nemesis.
Variety reports that the show itself will be based on a series of articles published in Texas Monthly by Leif Reigstad called, "Joe Exotic: A Dark Journey Into the World of a Man Gone Wild."
Amazingly, this isn't the only spin-off from the Netflix series as yet another show is set to be released with actress Kate Mckinnon both playing the role of Carol Baskin and producing the show. This show will be based on a podcast that featured Joe Exotic.
If the show was any indication, these spin-offs are sure to reveal a great amount of insight into the lives of these people. Showing the world who they were before they came to be such heated rivals as we see them today.
For more "Exotic" news check out this article detailing the comeback of the mullet following the release of Tiger King by Jarrod Ribaudo.